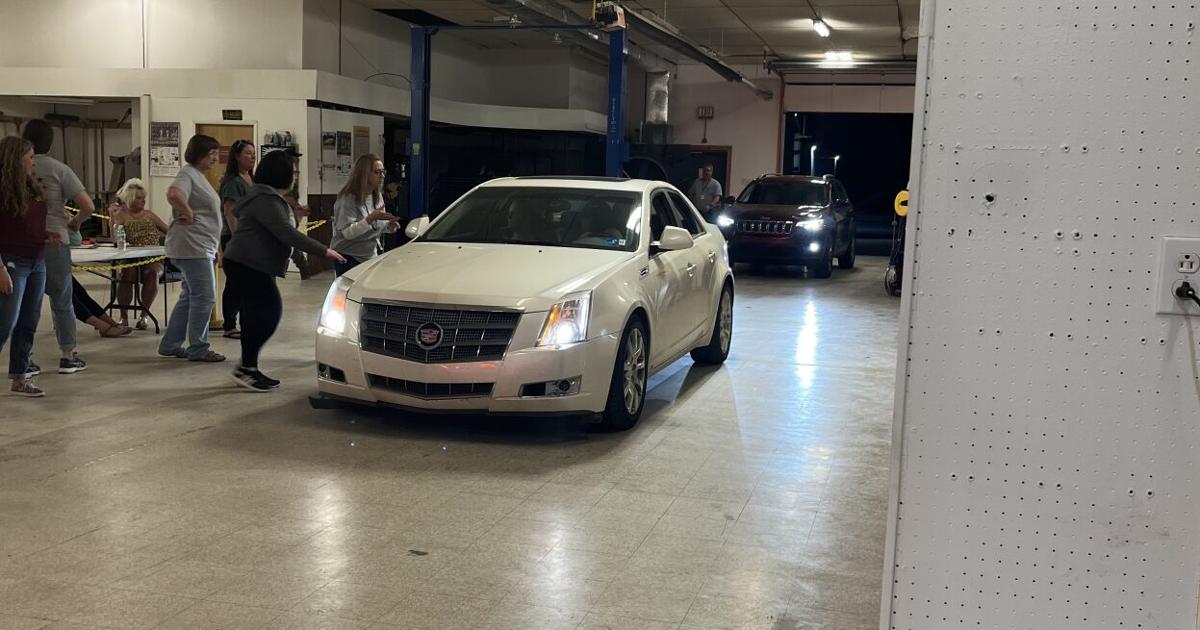 This story contains updated information that will not appear in the print edition story before deadline.
FAIRMONT — Just a fraction over 25 percent of Marion County voters cast ballots in this year's Primary Election, according to unofficial numbers from the Marion County Clerk of Court.
A total of 9,242 ballots were cast by absentee, early voting at on election day, which also marked the rollout of completely new voting machines across Marion County. Marion County Clerk of Court Julie Kincaid said she is grateful for how well the election day went.
"Our new machines worked rather smoothly, we did have a few bumps when some of the polling places were opening, they were just trying to get into the groove of using them and understanding everything about them. We were able to iron everything out, so that worked out," Kincaid said. "We had a few issues with ballots jamming because they do have the paper, hand held ballot. So that was new, we figured out the remedies for that, so it went incredibly well."
Kincaid, who was up for her first election having been appointed County Clerk in mid-2020 to replace former County Clerk janice Cosco who served marion County for almost 40 years. Kincaid said she is grateful the voters put their trust in her.
"I am very relieved at this point that I have won this race. It's a great blessing that I have," Kincaid said. "It's been a lot of work getting here, a lot of hard campaigning and not only campaigning, but working at the same time was quite a challenge for me, so I am glad that everything is wrapping up now. But I am grateful to the voters of Marion County that they did chose me as their next County Clerk.
Kincaid defeated fellow Democratic challenger Cecily McAteer Enos by a vote of 2,641 to 1,868. With no Republican on the November General Election, Kincaid will return to office.
In terms of carrying out a successful election, Kincaid said she wanted to remind voters that the poll workers are who make it happen out in the field. She said she grateful for their hard work.
"Again, I thank all of the poll workers because we don't do this by ourselves, it's a cooperative effort by everyone involved and we're very grateful for everyone in Marion County that helped make this a success," she said.
In the Marion County Board of Education race, which is nonpartisan, two incumbents were leading at press time.
Middletown District candidate Tom Dragich — a current board member — was on top of voting having garnered 4,467 votes. In second place in total votes was current Board Vice President Donna Costello, candidate for the West Augusta District, who had 3,582 votes. In third, was Palatine District candidate George Boyles who received 3,036 votes.
Coming in fourth was real estate agent Jack Oliver who received 2,532 votes for his run for the Middletown District seat. In fifth place was activist and political consultant Nicole Walls who received 2,419 votes in her bid for the Middletown District seat.
West Augusta District candidate Jamie Crigler sixth with 1,900 votes. She was followed by Palatine District candidate Robin Blair who garnered 1,574 votes. Coming in eighth place was Fairmont City Councilmember Barry Bledsoe who received 1,373 votes in his bid for the Middletown District seat.
Dragich was at the election center Tuesday night where he said he wanted to thank all of the former teachers and all of his friends who turned out to vote for him.
"I think we have the opportunity to overcome all of the challenges that hit us in the last couple years and I look forward to working to do better," said Dragich, who has served 8 years on the board of education. "I think we've learned so much during the last two years and I have confidence in the quality of teachers we have that we're going to be able to meet the needs of our students."
He said he wants the Marion County Board of Education to aspire to become the best board in the state of West Virginia. He also said he looks forward to welcoming George Boyles to the board.
"I think Donna (Costello) has the same type of thoughts that I do and I think George (Boyles) will bring a common sense approach that we'll be needing to have. I want Marion County to develop the best board in the state and I've always wanted closer relationships with Fairmont State, Pierpont and WVU and I think that's the goal we need to follow."
If these unofficial results hold, there will be a Republican and a Democrat going head to head in the November General Election for a seat on the Marion County Commission.
At press time, in unofficial voting tallies, former West Virginia House of Delegates member Michael Angelucci was on top of voting on the Democrat's side. Angelucci received 2,232 votes, while Christopher Wolfe received 1,091 votes, current Mannington Mayor Lora Michael received 836 votes and Matthew Smith received 343 votes.
On the Republican side of the ticket for Marion County Commission, Michael DeVaul came out on top with 1,548 votes. Elijah Dean came in second in Republican balloting with 908 votes, Austin Boylen came in third with 790 votes and Dan Salai came in fourth with 539 votes.
It appears DeVaul and Angelucci will go head-to-head in the November General Election for the county commission being vacated by Commission President Randy Elliott.
Angelucci said he was humbled and appreciative of the support Marion County voters have shown him, but his work is not over.
"I'm humbled and I am so appreciative that the people of Marion County believe in me, have seen the work that I have done along with House Delegates Caputo and Longstreth and want to bring that experience to the courthouse and I am truly humbled right now," Angelucci said.
He said he is looking forward to the November General Election and looks forward to talking with and meeting voters between now and November.
"So, being humbled, winning the Democratic nomination also means that I have to continue to campaign to show the people of Marion County what my vision is," Angelucci said. "My vision has been jobs, economic development, helping with health care, but I want to be able to use what I've done in the past. The advances that I've been able to show what we need to accomplish in Charleston and bring that experience to Marion County."
In the District 74 race for the West Virginia House of Delegates, incumbent Republican Guy Ward was defeated by Mike DeVault by a tally of 890 votes to Ward's 746. DeVault will face popular Monongah Mayor John "Johnboy" Palmer in the November General Election. While unopposed, Palmer garnered 1,247 votes.
In the Republican balloting for the District 76 race, former Democratic and Independent candidate Jon Dodds squeezed by over Toby Heaney 511 votes to 505 votes. Dodds will face Democrat Joey Garcia in the General November Election. While unopposed, Garcia collected 1,359 votes in Democratic balloting.
Voters also voted to keep three local levies going for parks, libraries and transportation.
The levy to provide funding for the Marion County Parks and Recreation Commission 6,726 yes votes and 2,363 no votes. The levy to provide funding for the Marion County Public Library System received 6,559 yes votes and 2,193 no votes. The levy to provide funding for the Fairmont-Marion Transit Authority received 6,444 yes votes and 2,452 no votes.
At 9:12 p.m. Tuesday night, the Associated Press called the Republican Primary race saying Rep. Alex Mooney had defeated Rep. David McKinley for West Virginia's 2nd Congressional District.
It was a hard fought race that pitted Mooney — the Trump acolyte — against McKinley who had support from U.S. Sen. Joe Manchin.
In ads that ran in the runup to election day, Manchin defended McKinley for voting for the Biden Infrastructure Bill saying it was because the Mountain State needs new roads and bridges.
Manchin also attempted to correct the record for McKinley who did not support the failed Biden Build Back Better Bill, despite Mooney saying McKinley supported what many called runaway "liberal spending."
At press time Tuesday night, some familiar names were leading in their respective races.