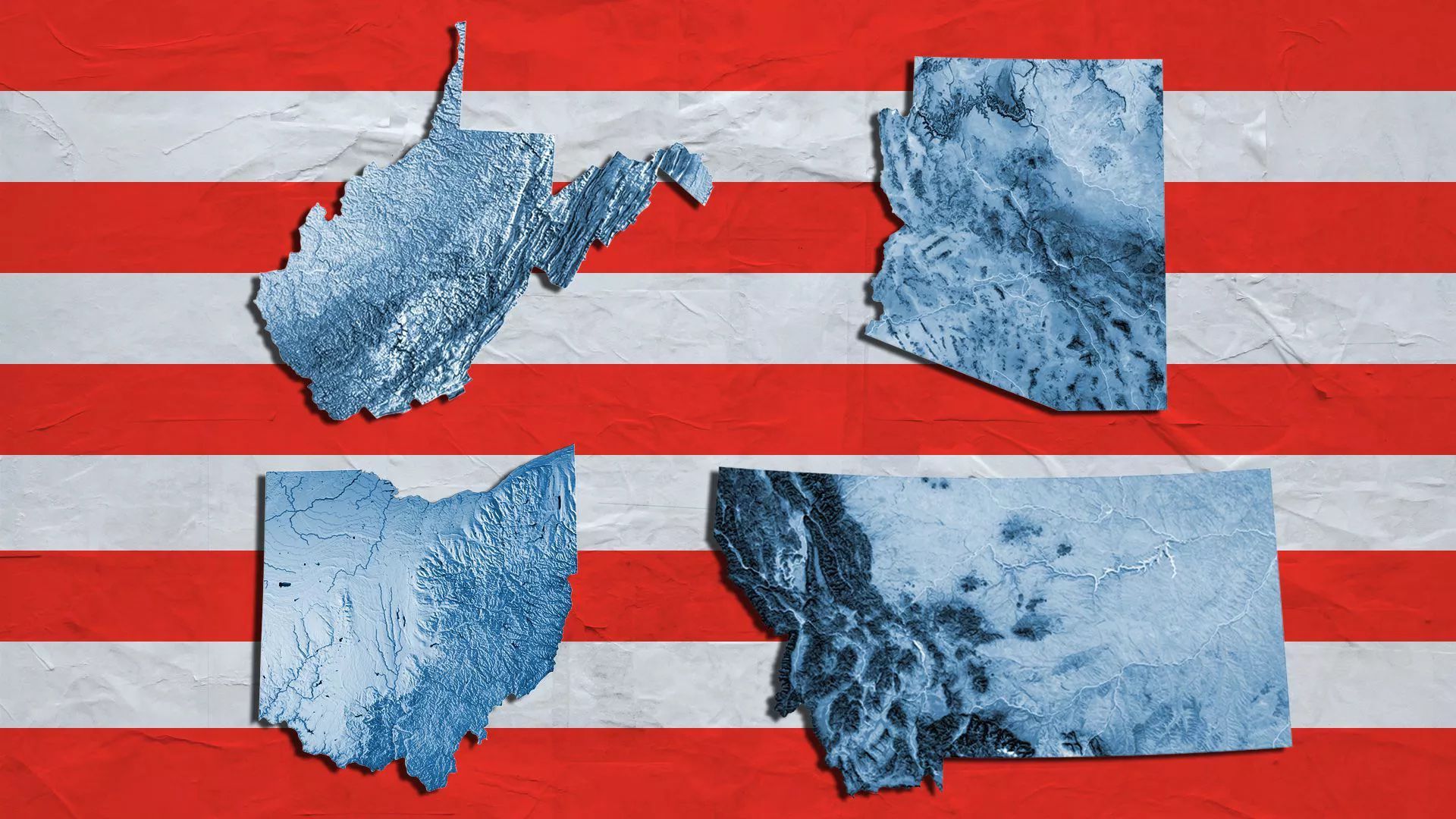 Illustration: Sarah Grillo, Shoshana Gordon/Axios
After last year's midterm fail, Republicans are licking their chops at an enviable outlook for snatching the Senate majority in '24.
Why it matters: The four Senate tossup races are in red (West Virginia, Ohio, Montana) or swing (Arizona) states — part of a strongly GOP-favorable '24 Senate map.
"Democrats on Defense," The Cook Political Report headlined its opening Senate race ratings (subscription).
23 Ds are up for reelection — and just 11 Rs.
"Democrats are defending all 3 seats they hold in states that Donald Trump carried for president in 2020 — Montana, Ohio, and West Virginia," notes Sabato's Crystal Ball, from the UVA Center for Politics.
Here's a Senate cheat sheet
1. West Virginia: This is the GOP's best pickup opportunity, since it's the second-most Trump-friendly state on the map.
Sen. Joe Manchin (D-W.Va.) is the only Democrat who can win in this red state — but he's no guarantee to run for a third term.
Popular Gov. Jim Justice (R-W.Va.), a former Democrat, is strongly considering a run. He'd be the toughest GOP opponent Manchin faced in his long political career.
2. Ohio: Ohio, a one-time battleground, is fast becoming Republican turf, with the GOP scoring a clean sweep in last year's midterms. But Sen. Sherrod Brown (D-Ohio) has an enviable brand as a labor-friendly Democrat who has won over blue-collar voters that drifted to Trump.
He has already announced he's all-in for a tough campaign.
Republicans expect a crowded primary to challenge him.
3. Montana: The GOP's ability to pick up the seat held by Sen. Jon Tester (D) comes down to candidate recruitment — and whether the popular red-state senator runs for re-election.
Republicans are worried that two prospective challengers have serious political baggage: Rep. Matt Rosendale (R-Mont.) lost to Tester in 2018, and hails from the hard-right wing of the House GOP caucus. Rep. Ryan Zinke resigned as Interior Secretary amid ethics investigations.
4. Arizona: Democrats fear that a potential three-way race, with Democratic voters split between Sen. Kyrsten Sinema (I-Ariz.) and Rep. Ruben Gallego (D-Ariz.), could hand the seat to Republicans.
Most of the rumored GOP candidates hail from the MAGA wing of the party — including losing 2022 gubernatorial candidate Kari Lake.
Original News Source Link

Running For Office? Conservative Campaign Consulting – Election Day Strategies!