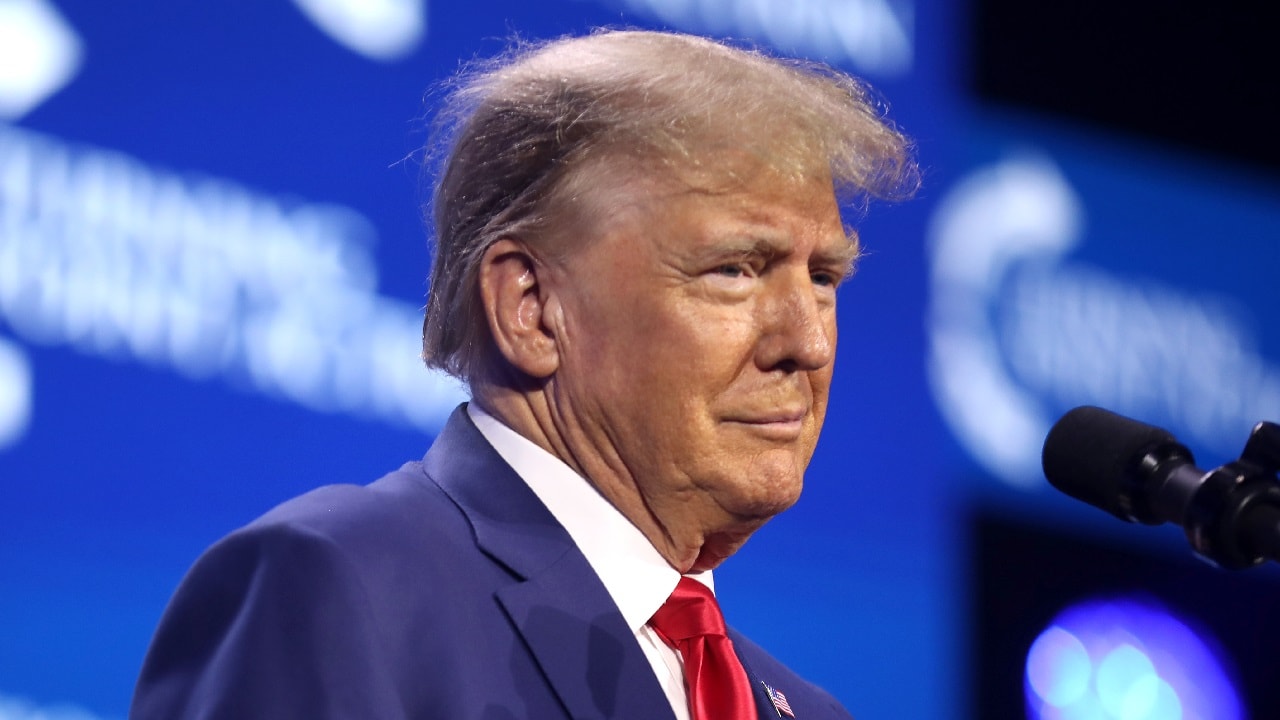 It's not his largest lead, but Donald Trump still leads his rivals by more than 40 points: The latest Morning Consult tracking poll is out, and it continues to show former President Donald Trump with a huge lead in the Republican presidential nomination contest.
Donald Trump Dominates
Per the poll, Trump has 57 percent support among Republicans, giving him a big lead over the rest of the field. Gov. Ron DeSantis is in second place with 14 percent, while Vivek Ramaswamy is in third with 9 percent. Mike Pence and Nikki Haley each have 6 percent, while Gov. Chris Christie has 3 percent, while Tim Scott is at just 2 percent.
Asa Hutchinson, Doug Burgum, and Will Hurd are all listed with zero percent support.
There hasn't been much change in the race in recent months, Scott has lost a few points of support, while Ramaswamy, despite some whispers that he might overtake DeSantis into the race's #2 spot, has not done so. But Trump remains far in the lead, even if his lead has dropped from 47 percent to 43 percent since early August.
According to Morning Consult, President Biden continues to lead Trump in a hypothetical head-to-head matchup 44-to-42, while Biden leads DeSantis 43-to-38. Another poll, from CNN, earlier this month, showed head-to-head matches between Biden and several Republican candidates.
Nikki Haley, per CNN, performs best against Biden in that polling, winning 49-to-43 percent, while Trump would lead Biden 47-to-46. Christie, Pence, and Scott would all lead Biden as well, although DeSantis was tied with the president. Biden would lead Ramaswamy.
"Views of Biden's performance in office and on where the country stands are deeply negative in the new poll," CNN said in its story about the poll. "His job approval rating stands at just 39%, and 58% say that his policies have made economic conditions in the US worse, up 8 points since last fall. Seventy percent say things in the country are going badly, a persistent negativity that has held for much of Biden's time in office, and 51% say government should be doing more to solve the nation's problems."
In another poll this week, Trump has a big lead over the other Republican candidates in the early primary state of South Carolina, even though two of his opponents are from that state and have been elected statewide there.
The Washington Post-Monmouth University poll shows that Trump has 46 percent support in that poll, while Haley has 18 percent and Scott has 10 percent.
Things are less happy for the former president in the first caucus state, Iowa, according to a report this week. Trump lost the Iowa caucuses in 2016 to Ted Cruz — although he claimed at the time the caucuses had been rigged – and his supporters fear that a Trump win is less than assured in January.
According to NBC News, some Trump allies in Iowa are " growing concerned that his lead in Iowa's first-in-the-nation caucuses isn't built to last." The NBC story quoted a dozen Trump allies and local officials in that state.
Among those worried, the report said, is Trump's oldest son.
"One Trump-supporting source who has worked in Iowa, who spoke out in an effort to spur change in the campaign, described a phone call with the former president's son Donald Trump Jr. in which he worried about a lack of experience on the campaign's Iowa team and said multiple times that they need 'an adult in the room,'" the NBC report said.
Don Jr., however, told NBC News that the report was "100% fake news, in what is likely the last breath from the dying Ron DeSanctimonious campaign."
Trump was in Iowa last weekend, where he attended a football game and visited a fraternity house.
"President Trump is making the strongest play for Iowa of all the candidates, and it's reflected in the polling where he consistently leads by nearly 30 points," Trump spokesman Jason Miller told NBC.
Author Expertise and Experience
Stephen Silver is a Senior Editor for 19FortyFive. He is an award-winning journalist, essayist and film critic, who is also a contributor to the Philadelphia Inquirer, the Jewish Telegraphic Agency, Broad Street Review and Splice Today. The co-founder of the Philadelphia Film Critics Circle, Stephen lives in suburban Philadelphia with his wife and two sons. Stephen has authored thousands of articles over the years that focus on politics, technology, and the economy for over a decade. Follow him on X (formerly Twitter) at @StephenSilver, and subscribe to his Substack newsletter.