In 2020, an average training flight over Georgia left A-10C Thunderbolt II pilot Capt. Taylor Bye without landing gear and a cockpit canopy.
Whenever a military air training exercise goes awry, potential loss of life and irreparable damage to airframes are always the greatest concerns for every service. In April, a new Government Accountability Office (GAO) report disclosed that 300 Army and Air National Guard helicopter crashes resulted from pilot error.
This report followed the most recent Black Hawk crash that killed two crew members from the Tennessee National Guard in February.
While human error is a factor, airframes and their components can also malfunction.
In 2020, an average training flight over Georgia left A-10C Thunderbolt II pilot Capt. Taylor Bye without landing gear and a cockpit canopy. Stunningly, Bye was able to land the airframe with minimal damage to the plane or the runway and without injury.
The mishap- what happened?
On April 7, 2020, Bye was conducting a typical surface attack ride during a training exercise around the Grand Bay Bombing and Gunnery Range in Georgia. During this ride, A-10 pilots fly their airframes to shoot enemies on the ground at low altitudes. When Bye tried to launch the A-10's gun, however, she encountered "several failures that prevented her landing gear from deploying, caused panels to fly off and sent her canopy soaring through the sky," according to the Air Force's official release.
"My initial reaction was to climb away from the ground and then look at my engines," said Bye. "The amazing thing about the A-10 is even though all these things happened, I had two perfectly working engines and hydraulic systems."
Since Thunderbolts are typically flown in pairs of two or four for support, Bye's wingman Maj. Jack Ingber was able to help guide her safe landing. As noted by Ingber,"When anything (unusual) happens, it's apparent and very easy to spot it and fix it. It's my primary job to think of everything that (Bye) is not because she has a massive handful of an airplane that is falling apart." With the aid of Ingber's observations and a chase aircraft, Bye ultimately landed the A-10 with minimal damage.
An overview of the Thunderbolt II:
Following World War II and some aerial failures at the beginning of the Vietnam War, then-Secretary of Defense Robert McNamara tasked the Air Force to develop tactical aircraft with long-range strike and fighter-bomber capabilities.
This program resulted in the F-111 Aardvark and the F-4 Phantom II. While the Phantom was a formidable airframe, some flaws including a lack of loiter time caused the service to design a new fighter-bomber. At this point, the A-10 was conceptualized.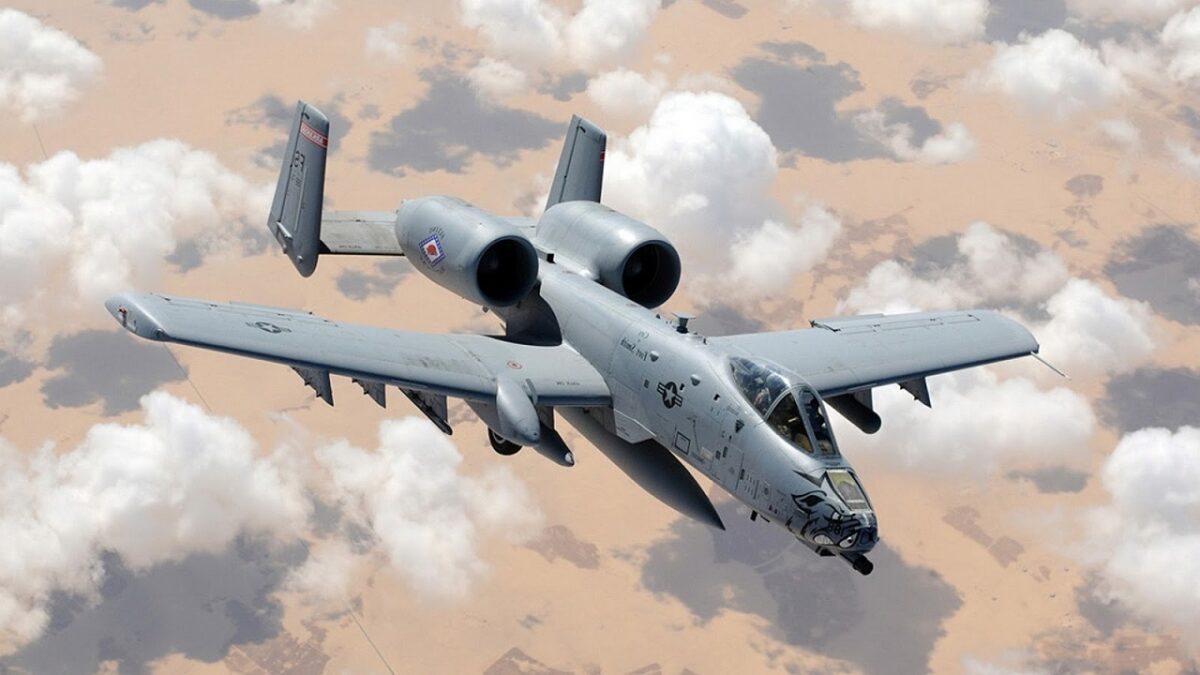 Commonly referred to as the "Warthog," the A-10 Thunderbolt II is perhaps one of the most revered and iconic airframes in U.S. military history. The "flying tank" can carry a massive amount of ground and air attack weapons, making it a prime wartime plane to deploy.
Able to fly at slower speeds and at altitudes of a mere 100 feet, the Thunderbolt has proven to be a critical aerial asset to the U.S. military in combat. The Thunderbolt of known for its capability to fly at low altitudes to fire at enemy ground troops, which is the exact procedure Capt. Bye was practicing when her A-10 malfunctioned.
Maya Carlin, a Senior Editor for 19FortyFive, is an analyst with the Center for Security Policy and a former Anna Sobol Levy Fellow at IDC Herzliya in Israel. She has by-lines in many publications, including The National Interest, Jerusalem Post, and Times of Israel. You can follow her on Twitter: @MayaCarlin.