At Stage 5, officials ask everyone to take extra measures to contain the virus, such as avoiding dining out and shopping in-person—regardless of vaccination status—and continuing to wear a mask at all times. Those that are unvaccinated are asked to avoid all gatherings and stay home.
The news comes as hospitals and ICUs fill at an unprecedented rate, likely due to the hightly contagious Delta variant.
According to APH Interim Health Authority Desmar Walkes, the current surge is "by far the fastest and most aggressive that we've seen" as hospitalizations—nearly all of which are the result of unvaccinated patients getting sick—continue to rise.
Unlike past surges, Walkes said ICUs have seen a worrying trend- young people are being admitted at much higher rates.
"ICU staff are seeing a younger population in our hospitals," Walkes said. "Patients in the ICU are sicker and stay in the hospital longer than a week prior searches, putting more strain on hospital resources. ECMO machines, which are life support machines that are often used as a last resort, are now used on people as young as 19 years old."
The city has seen a rise in pediatric cases as well. Children under 12 are uneligible for vaccinations and are thus more vulnerable to catching the disease, which officials have discovered can be transmitted to vaccinated adults.
As officials plea for residents to wear a mask and the unvaccinated to avoid nonessential trips, residents are still free to make their own choices as Gov. Greg Abbott's executive order keeps local mandates from being issued. And while some businesses such as Waterloo Records and BookPeople are once again heeding the guidance by requiring masks again, the majority of businesses in Austin are not.
Walkes pled with businesses to once again adhere to masking and social distancing policies as they did in the past.
"Our businesses are at the core of the success that we've seen in our past surges," Walkes said. "We need your help too. In recent days, when I've spoken to business leaders, they're up for the challenge. We know that there have been struggles in many businesses, and know that many of these businesses are just getting back on their feet. We want to keep our business community open and thriving."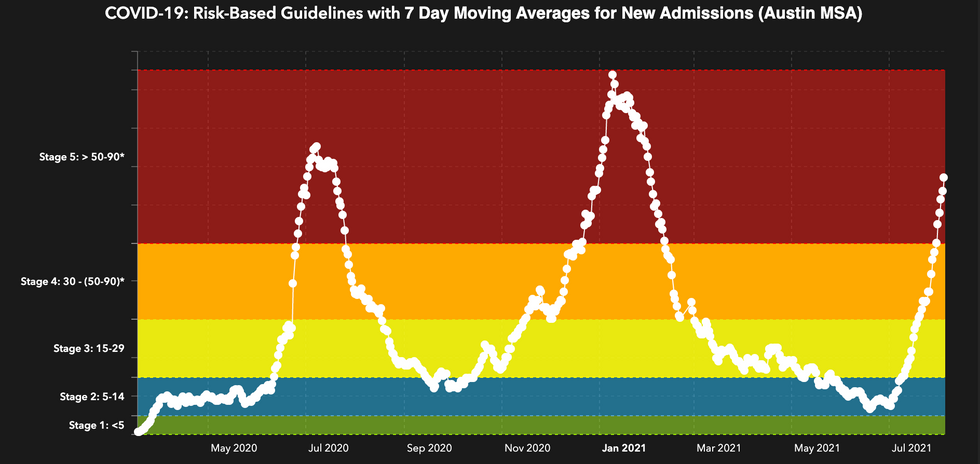 (Austin Public Health)
To reach Stage 5, hospitalizations needed to surpass a seven-day average of hospital admissions of 50, which it surpassed last Friday; it is now at an average of 67. The last time Stage 5 was met was in December.
The more contagious Delta variant along with the unmitigated spread of the virus in unvaccinated people has been attributed to the recent spike.
Health leaders have renewed their focus on vaccine outreach due to the spike in cases. As the Centers for Disease Control and Prevention revealed the Delta variant was as contagious as chickenpox—which requires 90% to get vaccinated for herd immunity—APH has changed its herd immunity threshold to at least 80% vaccinated, up from 70%.
"Getting vaccinated is your best possible defense from getting sick, hospitalized or dying," Walkes said.
Those that are unvaccinated have made up about 80% of those hospitalized with COVID complications in the past two weeks, according to APH.
The three local hospital systems are being overwhelmed with COVID patients, they said in a statement recently, as the Delta variant spreads and a nursing staffing shortage persists. ICUs have been at critical levels for days in the 11 county Trauma Service Region of 2.3 million people, fluctuating at 16 staffed beds, according to APH last week.
Hospitals have a "surge plan" in the case that beds run out, including sourcing supplemental staff and arranging for the return of an alternate care site. APH is monitoring the situation and has not started going forward with a plan as of Thursday.
This story was updated at 12:20 p.m to include new info released by health authorities at the press conference.