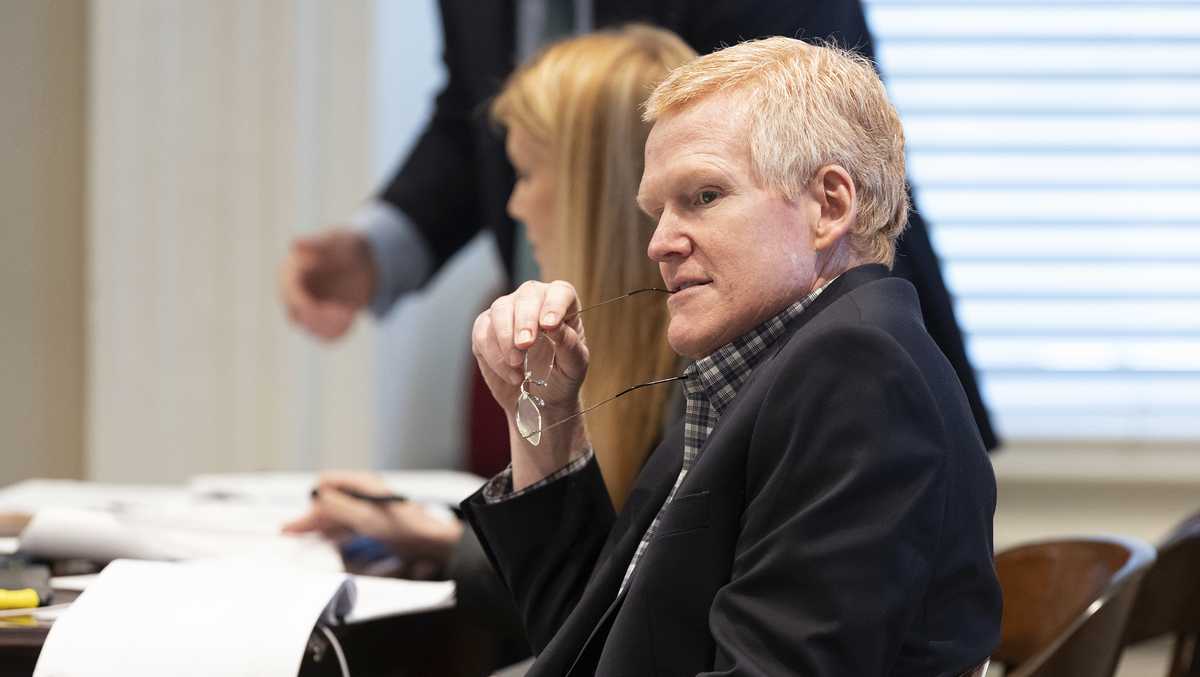 Court is in recess until 9:30 a.m. Thursday. Come back to watch live coverageThe jury is seated and the highly anticipated murder trial of disbarred attorney Alex Murdaugh is underway.Murdaugh has pleaded not guilty to murdering his wife, Maggie, and son, Paul, at the family's hunting lodge in June 2021.Murdaugh Murders TimelineMurdaugh Murder Mystery Interactive Map: Dates and locations surrounding 5 Lowcountry deathsWatch Wednesday's opening statements in full below:On Wednesday, both prosecutors and defense attorneys delivered their opening statements at the Colleton County Courthouse. Each side took about 30 minutes to give their arguments.Murdaugh was seen tearing up as his defense attorney, Dick Harpootlian, explained to the jury in gruesome detail the injuries Maggie and Paul sustained, and how it left Alex traumatized."Alex, stand up," Harpootlian instructed his client. "This is Alex Murdaugh. And Alex was the loving father of Paul and the loving husband of Maggie. …You're not going to hear a single witness say their relationship and Alex and Maggie's relationship was anything but loving, how they went to a baseball game the week before, how they sent texts and emails indicating a loving relationship."The prosecutor, Creighton Waters, painted a much different picture of Murdaugh.He told the jury that a key piece of evidence in the case has to do with the cell phones belonging to Alex and the victims.He said, despite Murdaugh insisting that he was not there when his wife and son were killed, cell phone evidence will prove otherwise. He added that a video taken on Paul's phone, minutes before the murders, will prove Alex was with his wife and son."At 8:44 p.m. and 55 seconds, Paul recorded a video. He was down at the kennels because he had been talking to a friend of his, and you're going to hear from this friend, because his friends dog was in the kennels and they thought there was something wrong with his tail. Paul was recording a video of it to send to his friend…you'll hear from witnesses that identify Paul's voice, Maggie's voice and Alex's voice," Waters said.Below file video: Alex Murdaugh calls 911 after discovering bodies of wife, sonSeveral members of the Murdaugh family were seen inside the courtroom on this first official day of the trial.Alex Murdaugh's surviving son, Buster, his brothers John Marvin and Randy, and his sister were seen sitting behind him in the courtroom.As for the jury, selected just hours before the opening statements, it is comprised of eight women and four men. The six alternates include four men and two women.Witness testimony is expected to begin Thursday. There are 255 listed witnesses.Initial report: It was June 7, 2021 when two members of the prominent Murdaugh family in South Carolina were found shot to death on their property.Since that time, the investigation into the deaths of Paul and Maggie Murdaugh and the arrest of the man who called 911 that night, disbarred attorney Alex Murdaugh, has led to international headlines. RELATED South Carolina attorney: It's very possible Alex Murdaugh could get a hung jury at murder trialMurdaugh family held South Carolina's 14th circuit solicitor position for nearly a centuryMurdaugh housekeeper's wrongful death settlement led to the discovery of more financial crimesBelow video: WJCL Special Report: The Trial of Alex Murdaugh
Court is in recess until 9:30 a.m. Thursday. Come back to watch live coverage
The jury is seated and the highly anticipated murder trial of disbarred attorney Alex Murdaugh is underway.
Murdaugh has pleaded not guilty to murdering his wife, Maggie, and son, Paul, at the family's hunting lodge in June 2021.
Watch Wednesday's opening statements in full below:
On Wednesday, both prosecutors and defense attorneys delivered their opening statements at the Colleton County Courthouse. Each side took about 30 minutes to give their arguments.
Murdaugh was seen tearing up as his defense attorney, Dick Harpootlian, explained to the jury in gruesome detail the injuries Maggie and Paul sustained, and how it left Alex traumatized.
"Alex, stand up," Harpootlian instructed his client. "This is Alex Murdaugh. And Alex was the loving father of Paul and the loving husband of Maggie. …You're not going to hear a single witness say their relationship and Alex and Maggie's relationship was anything but loving, how they went to a baseball game the week before, how they sent texts and emails indicating a loving relationship."
The prosecutor, Creighton Waters, painted a much different picture of Murdaugh.
He told the jury that a key piece of evidence in the case has to do with the cell phones belonging to Alex and the victims.
He said, despite Murdaugh insisting that he was not there when his wife and son were killed, cell phone evidence will prove otherwise.
He added that a video taken on Paul's phone, minutes before the murders, will prove Alex was with his wife and son.
"At 8:44 p.m. and 55 seconds, Paul recorded a video. He was down at the kennels because he had been talking to a friend of his, and you're going to hear from this friend, because his friends dog was in the kennels and they thought there was something wrong with his tail. Paul was recording a video of it to send to his friend…you'll hear from witnesses that identify Paul's voice, Maggie's voice and Alex's voice," Waters said.
Below file video: Alex Murdaugh calls 911 after discovering bodies of wife, son
Several members of the Murdaugh family were seen inside the courtroom on this first official day of the trial.
Alex Murdaugh's surviving son, Buster, his brothers John Marvin and Randy, and his sister were seen sitting behind him in the courtroom.
As for the jury, selected just hours before the opening statements, it is comprised of eight women and four men. The six alternates include four men and two women.
Witness testimony is expected to begin Thursday. There are 255 listed witnesses.
Initial report: It was June 7, 2021 when two members of the prominent Murdaugh family in South Carolina were found shot to death on their property.
Since that time, the investigation into the deaths of Paul and Maggie Murdaugh and the arrest of the man who called 911 that night, disbarred attorney Alex Murdaugh, has led to international headlines.
RELATED
Below video: WJCL Special Report: The Trial of Alex Murdaugh
Original News Source Link

Running For Office? Check out Conservative Campaign Management