'Is he OK?' 'Someone get him a cane.'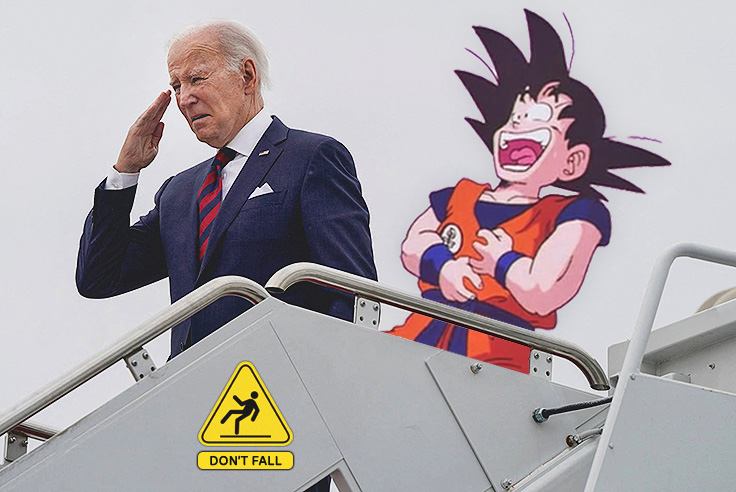 What happened: President Joe Biden attended the G7 Summit in Japan, where he nearly tripped walking down some stairs and was ruthlessly mocked by a bunch of Japanese youths on a popular live-streaming site for anime nerds.
What they're saying: Niconico users commenting on live footage from the G7 Summit in Hiroshima, site of the morally justified U.S. nuclear strike in 1945, were reportedly "obsessed with [Biden's] age and demeanor," and ridiculed our frail octogenarian president as a "grandpa."
• "He's older than my grandpa," one user wrote. "Is he OK?" quipped another anime nerd in response to Biden's visibly decrepit physical condition. "Someone get him a cane," remarked another.
Why it matters: It is the second time in as many months that the Japanese, perpetrators of the infamous 1941 sneak attack on Pearl Harbor, have humiliated Biden and the country he purports to lead.
• Japan defeated the United States in baseball, a sport we invented and taught them how to play, on American soil to win the World Baseball Classic in March.
Bottom line: The anime nerds aren't wrong. Biden, 80, is way too old to be president. He should be resting comfortably in a nursing home, not running for a second four-year term in office that he is unlikely to survive, according to science.
Fun fact: Japan is one of the only countries on Earth with an average life expectancy (84 years) greater than Biden's age. Average life expectancy in the United States is just 76 years by comparison. When Biden was born in 1942, less than a year after the Pearl Harbor atrocity, average life expectancy was 66 years.
READ MORE:
'Remember When We Used to Win?' A Sonnet to Honor the 75th Anniversary of the Hiroshima Blast
Original News Source

Running For Office? Conservative Campaign Management – Election Day Strategies!