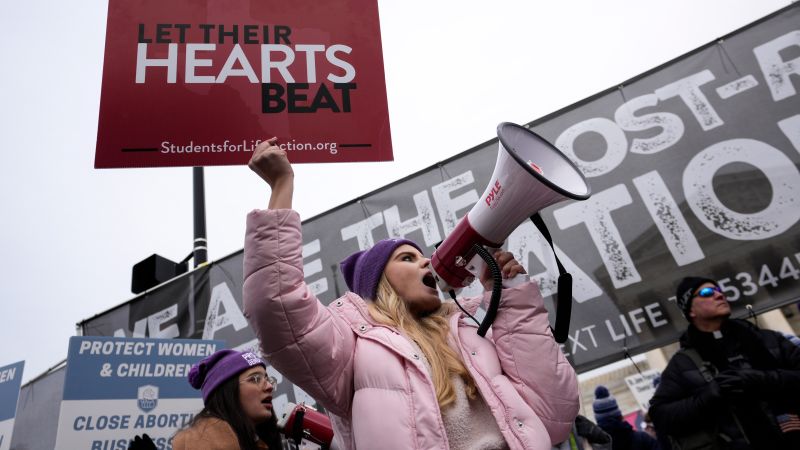 Anti-abortion advocates from across the country will gather in Washington, DC, on Friday for the annual March for Life – the first since the Supreme Court's conservative majority ended the federal constitutional right to an abortion.
This year's march marks a turn in the fight against abortion rights, with opponents' primary goal of overturning Roe v. Wade met and half of all states having banned or restricted access to abortion in most cases. But anti-abortion advocates contend that their work isn't finished as they aim to advance legislation that restricts abortion at the state and federal levels, including setting a minimum federal standard on the procedure.
"The pro-life movement has just experienced a major victory in the fall of Roe v. Wade, but our work to build a culture of life is far from complete," Jeanne Mancini, the head of March for Life's Education and Defense Fund, told CNN via email.
This year's march – the theme of which is "Next Steps: Marching Forward into a Post-Roe America" – "will reflect upon the Dobbs decision as a critical milestone but will also be a time to look forward to the next steps," Mancini said, referring to Dobbs v. Jackson Women's Health Organization – the case that led to Roe's reversal.
National Right to Life Committee President Carol Tobias anticipates "a celebration" among those gathered but said activists are "realistic." "We will protect unborn children and their moms through the law where we can and, where we can't, we will work through educational efforts and resources to make abortion unthinkable," she said.
Ahead of the march, leading anti-abortion group Susan B. Anthony Pro-Life America said it is focused on pushing "strong pro-life protections" in Florida, Nebraska, Virginia and North Carolina this legislative session.
"How we figure out what our goal is, our legislative goal in each state, is to ask the question: What is the most ambitious we can be, truly ambitious, for life and for moms, and when?" the group's president, Marjorie Dannenfelser, told reporters in a press call this week.
She acknowledged that there's "very little that can be done at this particular moment" on the federal level given that Democrats hold the White House and the Senate and noted that Congress is unlikely to set a federal minimum standard on abortion this session.
Still, she said the movement is "building momentum."
"This year, we march with fresh resolve as a brand-new pro-life movement," Dannenfelser said, adding, "This is week one and the very beginning of a new life for a new movement – a moment of innovation, a moment of excitement, and a moment where we are building momentum."
The first March for Life in January 1974 was organized to lobby Congress in hopes of a legislative solution to the court's landmark Roe decision handed down a year earlier. Realizing that such a solution would take time, founder Nellie Gray vowed to hold the march each year until the court's decision was overturned, with its route came to typically ending on the steps of the Supreme Court.
This year, the route will end at the US Capitol building "to symbolize that the battle post-Roe has shifted to the legislature," Mancini told CNN.
Outside the legislative push, Students for Life of America President Kristan Hawkins said the march provides a chance for activists to network and strategize about how they can further expand abortion restrictions.
March for Life plans to continue its annual march in DC and expand its state program so that they're marching in as many as 10 states this year, according to Mancini.
The group is also encouraging marchers to "support the pregnancy resource centers and maternity homes which are the hands and feet of the pro-life movement, providing support and resources to women in need who want to choose life, and we advocate for public policy that would aid them in their mission to offer women authentic choice," Mancini said.
Friday's rally will begin at noon and feature speakers including Republican House Majority Leader Steve Scalise, former NFL coach Tony Dungy, and Mississippi Attorney General Lynn Fitch, who won the case that resulted in the overturning of Roe.
Original News Source Link

Running For Office? Check out Conservative Campaign Management