Attorney General Kris Mayes, a Democrat, told officials that her office would file a lawsuit against the county if the measure were approved.
Arizona's Mohave County on Nov. 20 voted against hand-counting all ballots for the 2024 election—the second time the county has done so this year.
The Mohave County Board of Supervisors voted 3-2 against the proposal after Arizona Attorney General Kris Mayes, a Democrat, told officials that approving the proposal would mean directing election workers to violate the law. She warned that her office would file a lawsuit if the measure were approved.
A hand count was also rejected in early August after Board Chairman Travis Lingenfelter said he couldn't justify the cost given that Mohave County's budget deficit already stands at about $16 million. County election officials had said it would take 245 new workers to count all ballots by hand.
Mr. Lingenfelter, who voted against the measure both times, said he put the proposal on the Nov. 20 agenda because he told state Sen. Sonny Borrelli, a Republican from the Mohave County community of Lake Havasu City, that he would do so if enough volunteers lined up to do the counting and if someone agreed to cover litigation costs.
A 2024 recount effort was estimated to cost $1.1 million,
reported
local media, citing election officials. Meanwhile, Mohave County is dealing with an $18 million budget deficit.
But a
letter
to the county issued by attorney Bryan Blehm, who had helped GOP candidate Kari Lake in her election-related lawsuits, said he would represent the county at "no cost" regarding any lawsuits that might be triggered by a hand recount.
"Any litigation will be 100 percent private pay," wrote Mr. Blehm, who had worked for Cyber Ninjas—a firm that was involved in Maricopa County's hand-count review in 2021.
Volunteers Offered
Meanwhile, Mohave County GOP Chair Jeanne Kentch told Mohave officials that she promised 300 volunteers to help with any hand recount efforts, saying they expect "zero compensation."
"The Republican voters of Mohave County understand the importance of holding a hand count," said Ms. Kentch, reported AZCentral. "They understand the need to validate votes and prove the process of an actual hand-count can work."
Some who spoke at a hearing expressed concern that not allowing a hand-recount process would lead to voter fraud.
"You cannot put a price on voter confidence," Jennifer Esposito, a Republican running for the Mohave County Board of Supervisors, said at the hearing, according to the paper. "If I were sitting in your seat, this is something I would be willing to go to jail for … and I do not say that lightly."
However, some Democrat officials said the proposal to approve a recount is legally questionable and they claimed that voters could be disenfranchised.
"You sow doubt in the integrity of elections every time you bring this up," Mohave County Democratic Central Committee Chair Elaine Downing told a hearing, according to the news outlet.
Ryan Esplin, a deputy county attorney who advises the board supervisors, told them that no law specifically authorizes the proposed hand count. He urged sticking with the machine count "because we know those are legal."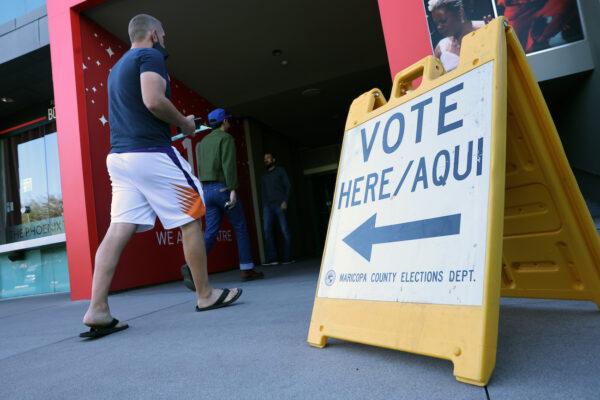 "I'm more persuaded by the arguments that the attorney general is making than I am with some of the counterarguments that I've seen," Mr. Esplin said. "And I'm of the opinion that you have an uphill battle to win in court on the hand-count argument."
As for Ms. Mayes, who was elected in 2022's midterm elections, she also sent a letter to Mohave County's board this week,
warning
, "I want to make sure you know that a 'yes' vote would direct your Elections Department to violate the law.
'Bad-Faith Actors'
"As Arizona's chief law enforcement officer, I have an obligation to warn you that the legal consequences would be serious," she wrote, adding that she is concerned that some members of the board received "incorrect legal advice" from individuals she described as "bad-faith actors."
"The resulting delays, inaccurate results, and illegal procedures from hand counts will then be used to call into doubt valid election results," she further asserted. "The Board should not endorse this attack on the democratic process."
Other counties across the United States have explored tabulating ballots by hand as well. Prior to the 2022 general election, rural Cochise County in southeast Arizona pursued a hand count before it was stopped by a judge. A similar effort in Nye County, Nevada, was also subject to litigation in the past year.
A poll carried out earlier this year found that Republican voters are largely distrustful of the vote-counting process for next year's presidential contest, which may pit former President Donald Trump against President Joe Biden in a rematch of the 2020 election.
An Associated Press-NORC Center for Public Affairs Research poll found that only 22 percent of Republicans have high confidence that votes in the upcoming presidential election will be counted accurately contrasted with 71 percent of Democrats.
The survey found that independents were also largely skeptical about the integrity of the 2024 elections. Just 24 percent have the highest levels of confidence that votes will be counted accurately.
The Associated Press contributed to this report.
Original News Source Link – Epoch Times

Running For Office? Conservative Campaign Consulting – Election Day Strategies!