TUCSON, Ariz.—If there was one constant in the Arizona primary, Democrats tended to vote by mail, Republicans in-person.
At least, that's the way it was at the polling place at Ellie Towne Flowing Wells Community Center in Tucson, a city where the partisan voter split is roughly 50/50 Republican versus Democrat.
According to the City of Tucson website, a total of 286,203 ballots in six precincts were mailed in the 2022 primary on Aug. 2.
Among Republican voters, the issue boiled down to trust—or distrust—in the electoral system.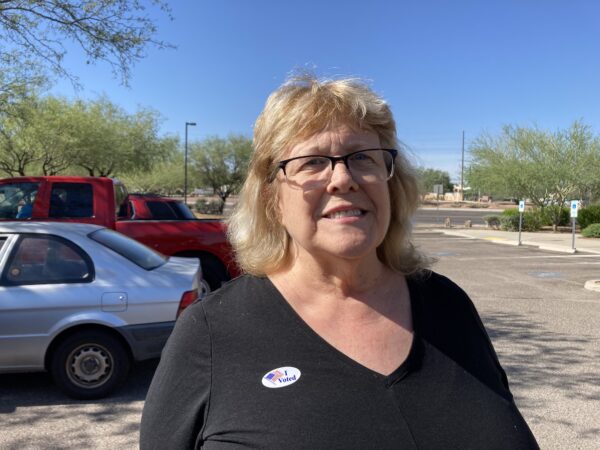 Many opted to vote in person to cast their ballots correctly, said precinct poll director Heather Scott.
Some GOP voters also wanted to know how they could track their ballot online, she said.
"We're getting a lot of people coming in with early ballots," Scott told The Epoch Times. "Our demographic usually is that Democrats come in [to vote] towards the end of the day. With COVID, everybody wanted to vote by mail."
Scott said voter turnout was "pretty busy" at 9 a.m.—"busy if we get more than 10 people in an hour, that's busy. Because, normally, we don't.
"I like that it's open to all the precincts. Now, we're getting a variety of people—not just my regular people, which are few and far between. They come sporadically throughout the day. We're getting a rush now and then, which is much nicer."
Voters 'Keyed Up'
Scott said election workers were braced for a coming spike in voters arriving later in the day.
"I think we're going to see it spike quite a bit. They're keyed up about this election. There's also this sense that we need to go out and vote."
Sallie Grumka of Tucson said while she voted for a straight Republican ticket—all America First candidates endorsed by former President Donald Trump—she's still concerned about voter fraud.
"They're going to do it in November," she told The Epoch Times.
"These people cheat," another Republican voter said. "This is their whole motto—this is who they are. But listen. The Lord is in charge. Little miracles can happen all through this tribulation.
"The Democrats are unredeemable at this point," he told The Epoch Times.
Mike of Tucson said he voted for the full slate of Trump-endorsed Republicans: Kari Lake for governor, Blake Masters for U.S. Senate, Mark Finchem for Arizona Secretary of State, and Abe Hamadeh for Arizona Attorney General.
"I think I feel [about the election] the way a lot of people feel. There's a lot of uneasiness, a lot of questions," he told The Epoch Times. "We all hope for a fair election. It's disheartening" when voter fraud occurs.
Criticism of System
"I can only imagine what it's going to be in the general election. If things go seriously [awry], I think that's a potentially bad situation. I think people have lost faith in the system. The Democratic Party seems to be the evil party. There's no other way to put it."
Another Republican voter said she voted for every America First candidate except for Masters, because "he's from California."
Regarding election integrity, "one would hope" all goes well in the primary.
"All you can do is show up, vote, say a few prayers, and ask the guy upstairs—hey, we need a little help down here," the woman told The Epoch Times.
Still, she believes the federal electoral system is "broken" but not beyond repair.
"We haven't passed the tipping point because millions of us that have been silenced are just there—waiting. Some of the braver ones have been out protesting," the woman said.
Ronald Arney of Tucson, a registered Republican, said he voted for Republican candidates with Trump's stamp of approval.
"We need to retake control of our government. We need to get the [swamp] out of D.C. Because of what happened in the last election, people are starting to crack down," Arney told The Epoch Times.
"A lot of people aren't trusting that mail-in ballot stuff anymore."
Rena Arney said she voted the same way as her husband and hoped the November election goes "the Republican way."
"I don't like what's happening in Washington at all. I don't trust the Democrats as far as I can throw them. I can't stand [Nancy] Pelosi. I don't like the way she does things.
"[President Joe] Biden is sick. He's not capable of running this country," Rena Arney told The Epoch Times.