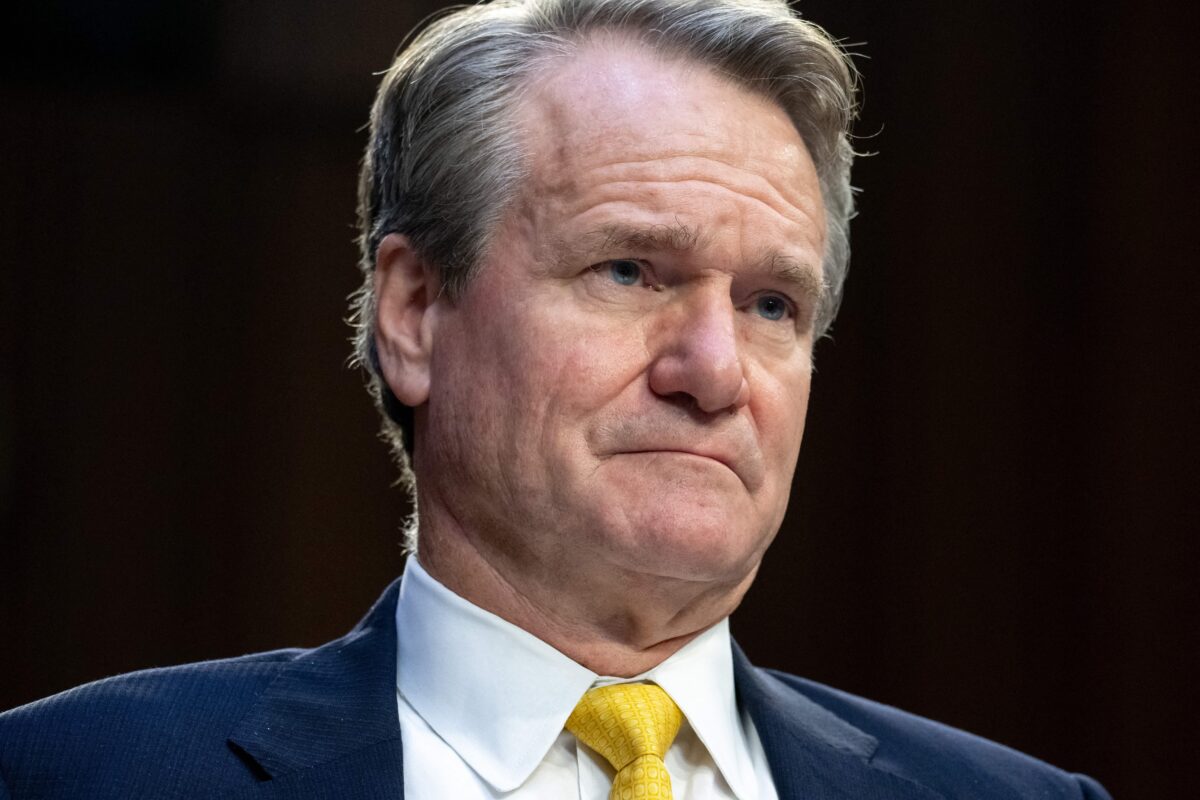 Bank of America CEO Brian Moynihan told shareholders this week that "we are capitalists," after a massive backlash from critics over his bank's stance on the environmental, social, and governance (ESG) agenda.
The head of America's second-largest bank is under heavy fire as Wall Street executives face increasing criticism across the country for adopting progressive ESG goals.
"I've sometimes been surprised to be asked, including at congressional hearings, 'Are you a capitalist?'" Moynihan said in the bank's annual report published on Mar. 7.
"You might also find the question unusual. Of course I answered, 'Yes,'" he proclaimed.
The word "capitalism" is mentioned 22 times in BofA's latest annual report, spanning 222 pages, rising from 16 times from first quarter 2022, reported Reuters.
Reuters also noted that the number of references to ESG fell to 36 in 2023 from 59 last year.
"Capitalism provides the money, the creativity, and the expertise to solve the needs of society," wrote Moynihan, adding, "we enable our customers to drive capitalism."
Financial Industry Under Attack for Promoting ESG Agenda
BofA rose to become the industry leader in ESG bonds across the United States last year after creating a new ESG advisory and financing solutions board in late 2021.
The bank is also North America's top player in green and sustainability-linked loans and in U.S. municipal "green" bonds.
BofA has been further expanding its presence in ESG equity capital markets, but dozens of states are now opposing these equity goals.
Meanwhile, several financial giants, including BlackRock, KKR, Carlyle Group, and Blackstone Group have reportedly noted in their annual reports that the backlash against ESG investing could present a "material risk" to their businesses, especially involving fundraising, reported the Financial Times.
Several Republican lawmakers and state governors have warned the CEOs of banks and asset managers to avoid imposing what they call "woke capitalism" on their clients and American businesses.
Senator Joe Manchin (D-W.Va.), in a bipartisan move, voted this week to block a Department of Labor rule allowing retirement fund managers to use ESG standards in their investment decisions, but the resolution is likely to be vetoed by President Joe Biden, and there are not enough votes to overturn it.
The anti-ESG backlash is expected to become a major political issue for the 2024 presidential election season.
'Woke Capitalist' Agenda Accused of Endangering Investment Earnings
Many top financial lending institutions and investment firms have been accused of defunding companies, canceling certain individuals and organizations who do not agree with ESG talking points, such as climate change, workforce diversity quotas, gun control, and abortion.
Conservative activists and politicians have accused executives and financiers who are pushing this agenda of putting their ESG considerations ahead of their shareholders and company earnings.
However, many investors have already started to pull back from ESG funds, after recently defunding U.S. energy companies, as skyrocketing oil prices hurt returns.
Still, some of the largest asset managers like Blackrock, which lost $4 billion in a state-led backlash, have largely stood by their social justice and environmental goals, despite mounting pressure from conservatives.
Legislators in Republican-controlled states have considered or have passed laws requiring state pension funds to divest from money managers who use climate or racial equity goals as a litmus test in their investments.
Authorities in states like Texas, Florida, Louisiana, and Missouri have each pledged to pull investments in their government pension funds from Blackrock, citing concerns that its pro-ESG efforts could impact investor returns.
State officials nationwide have also launched investigations into BlackRock and State Street over their votes on shareholder proposals.
Although BofA is the largest corporate issuer of ESG-themed bonds in America, it still maintained $36 billion in lending commitments to energy companies at the end of last year.
BofA CEO Still Supports ESG Agenda Despite Claims
Moynihan told Reuters back in in January that "capitalism is the system that will drive the best outcome, and so we believe in profits and purpose," he said, pointing to the bank's record earnings in 2021 alongside its rising wages and a raft of employee benefits across childcare, health, and education.
On the other hand, the BofA CEO remains one of the loudest proponents of stakeholder capitalism, an ideology promoted by the World Economic Forum in Davos, in which the socially correct opinions of private corporations supersedes that of their own shareholders, investors, and even governments.
Moynihan wrote about his concern whether companies should share profits or pay people fairly and equitably.
His report further outlined BofA's ESG additional goals, including a pledge to achieve net-zero greenhouse gas emissions by 2050 and issue $1.5 trillion in sustainable finance by 2030.
In stakeholder capitalism, the personal interests of shareholders, workers, and local communities are no longer taken into account, as they are to be guided by a socially and environmentally aware business elite.
Proponents of ESG at investment firms and businesses believe that it is essential that companies take environmental and social factors into account. They say that failing to address rising sea levels or successfully market to marginalized groups would have a negative affect on future profits.
Reuters contributed to this report.
Original News Source Link

Running For Office? Conservative Campaign Consulting – Monthly Rates!