Bennet aide Yousof Omeish joined congressional walkout, charging boss isn't 'listening' to the people of Colorado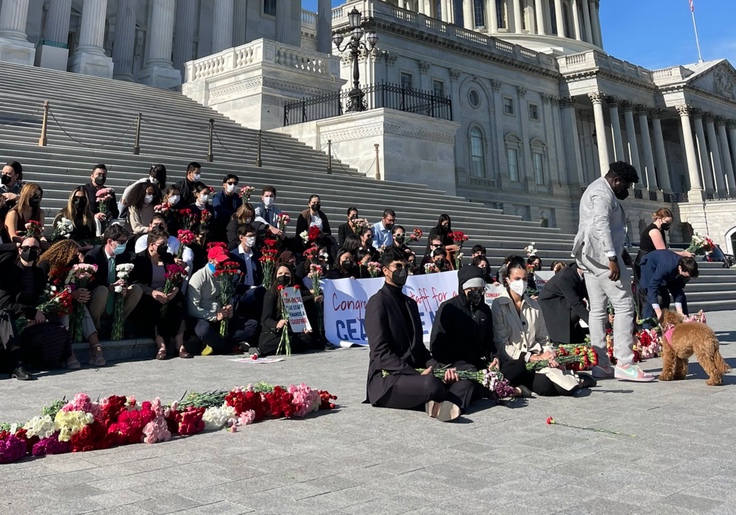 A staff assistant to pro-Israel Democratic senator Michael Bennet (Colo.) participated in a Nov. 8 walkout that saw congressional staffers call for an Israeli ceasefire that would leave Hamas's leadership intact and Israeli hostages captive in Gaza, the Washington Free Beacon has learned.
Sources identified Yousof Omeish in a photograph of the walkout, which shows him holding a sign saying, "CONGRESS YOUR STAFF DEMANDS A CEASEFIRE." Omeish, like many participants, wore a mask to obscure his identity. The 2022 Yale graduate joined Bennet's office in February, according to his LinkedIn.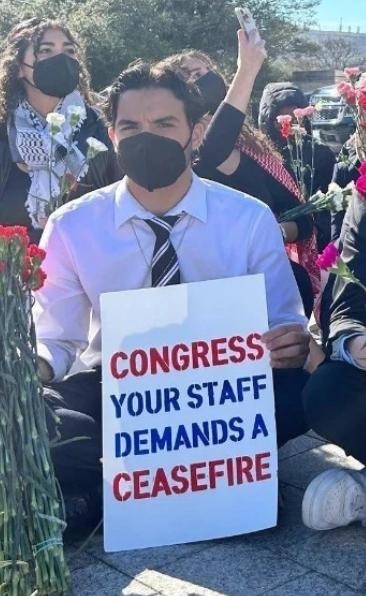 Bennet has yet to yield to his staffer's public demands, but a spokeswoman for his office told us that staff "are allowed to express their opinions on issues of public concern as private citizens" and that their actions "do not reflect the senator's personal views or policy positions." She did not explain how somebody with a history of anti-Israel activism came to be on the senator's staff.
Omeish and other protest participants said they were "no longer comfortable staying silent" as their "bosses on Capitol Hill" ignore their constituents.
"Most of our bosses on Capitol Hill are not listening to the people they represent," a newly formed group called "Congressional Staff for a Ceasefire Now" said in a statement ahead of the protest. "We demand our leaders speak up: call for a ceasefire, a release of all hostages, and an immediate de-escalation now."
Omeish, who did not respond to a request for comment, has accused Israel of "genocide" and called on his alma mater, Yale University, to divest from an Israeli defense company.
Omeish's father, Esam Omeish, a Libyan-born American physician based in Northern Virginia, served on the Virginia Commission on Immigration but resigned abruptly after videos surfaced showing him bashing Israel and calling for "jihad."
In one recording, Esam charged that an "Israeli agenda … controls our Congress and holds us hostage." In another he told attendees at a December 2000 protest, "You have learned the way and you have known that jihad is the way to liberate your land."
Omeish's sister, the Muslim-American activist Abrar Omeish, has espoused similar rhetoric, telling a 2021 graduating class at Justice High School to embrace inner "jihad."
As a Fairfax County School Board member, Abrar Omeish accused her colleagues of plotting a "sneak attack" when they issued an Oct. 12 statement in support of Israel.
"It's disappointing that my colleagues would do that behind my back after conversations that I had with them in saying that the statement represents everybody's views," Abrar said before referring to Israel as an "apartheid regime of occupation."
Before joining Bennet's office, Yousof Omeish worked as an intern at the Council on Foreign Relations, a Washington, D.C., think tank that in September hosted a private, invitation-only event with Iranian president Ebrahim Raisi. Raisi has threatened Israel's destruction and praised Hamas's Oct. 7 attack as a "glorious operation."
Omeish also served as deputy campaign manager for Muad Hrezi's congressional bid in Connecticut. Hrezi in 2022 mounted an unsuccessful primary bid against Democratic congressman John Larson, a campaign that he hoped would move the Democratic Party to the left on health care and other issues. Hrezi has defended Hamas's terrorist attack on social media—last week, he shared a post that called for the "full story of October 7."
"Everything the west and the media is telling us about is a lie I guarantee it," the post said. "There have been multiple reports of Israel killing their own citizens on October 7 that the western media buried."

Original News Source – Washington Free Beacon

Running For Office? Conservative Campaign Management – Election Day Strategies!