The government's pressure campaign on big tech companies to censor users, including the claim that Facebook was "killing people" by not cracking down enough on purported misinformation, was not coercive, Biden administration lawyers argued in a new motion.
Even if government officials "urged social media companies do more to contain misinformation, any content moderation decisions made by social media companies ultimately 'rested with' those companies," the lawyers said in the Nov. 22 filing, which asks a judge to toss the high-profile case that accuses the government and big tech firms of colluding to censor users in violation of the First Amendment.
"Even emphatic requests or strongly worded urging, see … (President Biden saying failing to take action against misinformation results in 'killing people'), do not plausibly amount to coercion," the lawyers added.
Hundreds of messages between government officials and big tech workers were made public through discovery in the case, which was brought by the attorneys general of Louisiana and Missouri and later joined by users who were censored by one or more platforms.
The messages showed Facebook and other companies repeatedly communicating with officials about taking down posts and banning users over misinformation.
In one message, a Facebook worker said that the company had taken steps against the so-called "disinfo dozen," or a group of users who were identified by a nonprofit as being responsible for much of the alleged false and misleading social media content regarding COVID-19.
"We hear your call for us to do more and, as I said on the call, we're committed to working toward our shared goal of helping America get on top of this pandemic," the worker said, speaking to Department of Health and Human Services officials after a meeting.
In another missive, White House official Rob Flaherty pressured Facebook to take action against "mis- and -disinformation" and "hesitancy-inducing content."
The U.S. Centers for Disease Control and Prevention, meanwhile, flagged specific posts that it said should be taken down.
The documents show clear collusion, a lawyer involved in the case told The Epoch Times.
"It's clear that the government was telling Facebook and Twitter and other social media companies what to do and that they were responding and they were doing that, deleting accounts, taking down posts, etc., which really corroborates our state action theory," the lawyer, Jenin Younes, said.
The White House and other parts of the government also publicly said that big tech companies should take more action against alleged false and misleading information.
"We're flagging problematic posts for Facebook that spread disinformation," Jen Psaki, the then-White House press secretary, said during a 2021 briefing, adding that the administration was advising big tech companies to "create a robust enforcement strategy" and to "take faster action against harmful posts."
The evidence the plaintiffs presented, including the discovery documents, led to the judge overseeing the case approving the depositions of eight officials believed to be or confirmed to be part of the pressure campaign.
Dr. Anthony Fauci, President Joe Biden's chief medical adviser, was scheduled to be deposed on Nov. 23.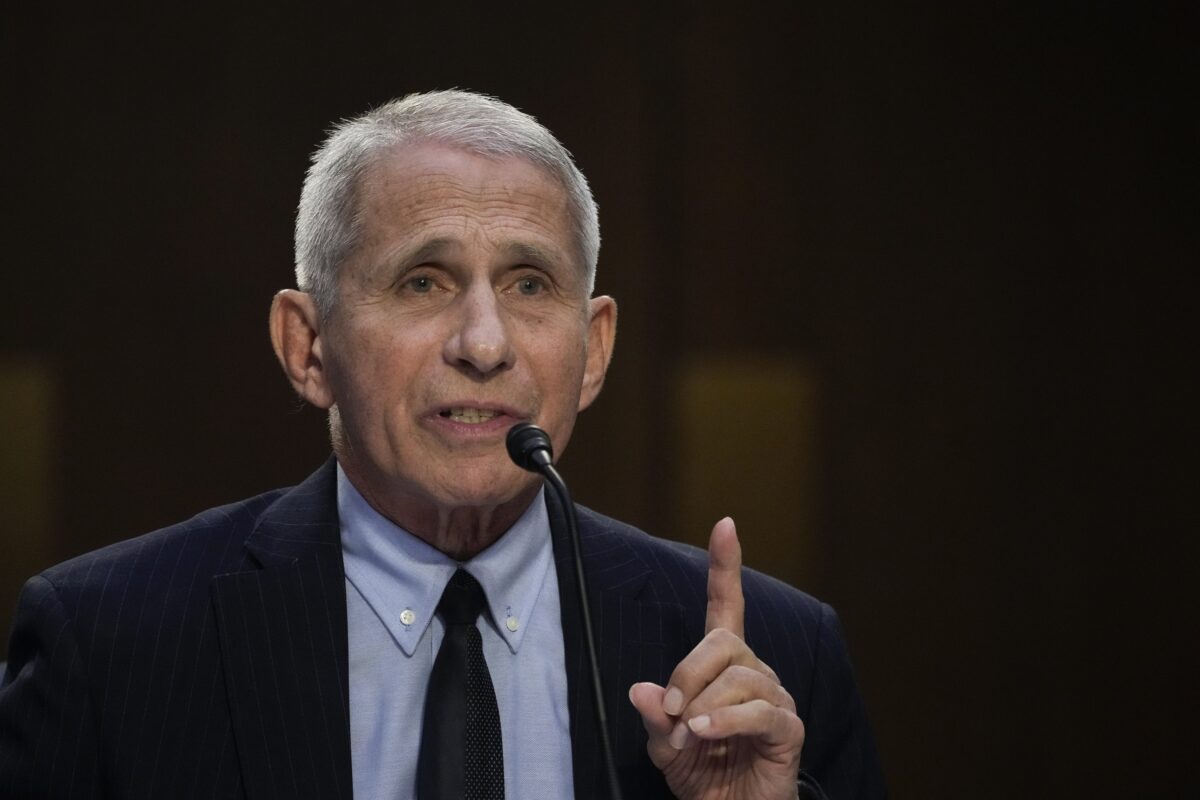 Inadequate
In the motion to dismiss, filed nearly two months after the latest amended complaint, government lawyers said the evidence was inadequate to prove First Amendment violations.
The email correspondence produced in discovery "underscores that the various Defendants' statements to social media companies that Plaintiffs challenge here are far short of being 'coercive,'" they said.
"Indeed, the statements in those e-mails illustrate that, rather than compelling a social media company to take specific action against particular content, government employees provided information or made recommendations that the companies, as private entities, could take into consideration and respond to as they deemed appropriate," they added.
The complaint does not plausibly allege that the government was behind any specific action that the big tech companies took, the motion also stated.
"No Defendant is alleged to have dictated that a particular social media company take any particular content moderation measure with respect to any Plaintiff or resident of a Plaintiff State," the government lawyers said.
Officials have repeatedly made clear that social media companies are ultimately responsible for defining misinformation and choosing how to address it, according to the motion. One example was Surgeon General Vivek Murthy saying in the "confronting health misinformation" document (pdf) that "any definition" of misinformation "has limitations" and that "it is important to be careful and avoid conflating controversial or unorthodox claims with misinformation."
The complaint does offer instances "in which some officials strongly implored social media companies to take greater action against misinformation on their platform," the government acknowledged. "But even strong urgings, using heated rhetoric, are fundamentally distinct from actions that 'dictate the decision,' or so 'significant[ly] encourage[],' a social media company to take specific action against specific content that the company's action must be attributed to the Government."
Even if the court rejects the motion to dismiss, it should remove Biden as a defendant because the judiciary generally cannot second-guess presidential decisions, the government said.