President Joe Biden on Sunday was asked about the situation at the southern border after Title 42 expired.
He said that it is "much better than you all expected," while riding his bike near his vacation home in Rehoboth, Delaware.
He also said he had no immediate plans to visit the border, for doing so would "just be disruptive."
Biden's comments came after Secretary of Homeland Security Alejandro Mayorkas said on May 14 that the flood of illegal immigrants anticipated following the expiration of Title 42 on Thursday has not happened, and that the Biden administration has designed and put in place effective immigration regulations.
"Over the past two days, the United States Border Patrol has experienced a 50 percent drop in the number of encounters versus what we were experiencing earlier in the week before Title 42 ended at midnight on Thursday," Mayorkas told CNN's "State of the Union" program on May 14.
However, in the two days prior to Title 42 ending, U.S. border officials had already started reporting daily records of 10,000 encounters with illegal immigrants entering the United States each day.
Mayorkas said U.S. Border Patrol had about 6,300 encounters with border crossers on May 12—the first day after Title 42 expired—and another 4,200 on May 13. That's lower than the more than 10,000 crossings per day before Title 42's expiration.
Mayorkas warned however that "it is too early" to know whether the increased influx of immigrants has peaked.
"What the secretary failed to say is that this week has seen more crossings than any week in our history," Rep. Mark Green (R-Tenn.), chair of the Committee on Homeland Security, noted in response to Mayorkas. "Yes, there was some anticipation and so people started coming across at higher numbers, in fact record-breaking numbers at the first part of the week."
Green continued, noting that U.S. Customs and Border Protection (CBP) "said a 40 percent increase is expected with Title 42 gone. That's another 9 million people in two years. I mean, they've already let 5.04 million encounters and 1.5 million got aways as they've tried to manage border security and not secure our border. So, no, I'm sorry. I disagree with the secretary."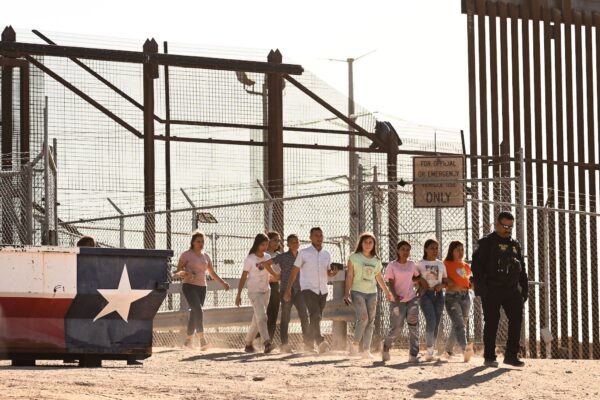 Federal Judge Blocks Biden's New Parole Policy
A federal judge issued a temporary restraining order on Thursday night (May 11), against the Biden administration's new parole policy that would have replaced Title 42.
The policy titled "Policy on Parole with Conditions in Limited Circumstances Prior to the Issuance of a Charging Document" would release the illegal immigrants without a court date.
Judge T. Kent Wetherell II issued the order in a ruling in Florida v. United States (Case number: 23-cv-9962).
Wetherell also blocked another U.S. Customs and Border Protection (CBP) parole known as "Parole + Alternatives to Detention (ATD)" in a separate case, Florida v. United States (Case number: 21-cv-01066) in early March.
The "Parole + ATD" policy allows CBP to release illegal immigrants into communities after a national security and public safety evaluation.
The Justice Department (DOJ) asked the judge to stay both orders and said they will appeal two rulings by the court by May 15 at the U.S. 11th Circuit Court.
Overcrowded Processing Centers
Rep. Tony Gonzales (R-Texas) said videos he recorded at El Paso showed that the border situation is worse than it's being portrayed.
"This is what I'm hearing on the ground from mayors, from Border Patrol agents, from embedded media, everyone is saying it's not that bad. So on Friday, I visited El Paso and went to the Central Processing Center," Gonzales said on CBS' "Face the Nation" on May 14.
"In the El Paso sector, there's over 6,000 people that are in custody in this particular facility. It's meant to house 1,000 people, it's housing over 3,000," Gonzales said. "In one of these rooms … the max capacity is 90 people; there was over 400 in here, that's a 450 percent capacity."
He noted that another room, which was intended to hold 120 people, was holding over 700 people.
"We can't allow 'not that bad' to be the normal," Gonzales said, before adding that an unaccompanied minor had died while in the custody of the Department of Health and Human Services last week.
"The president should surge immigration judges to the border and that person should get their case heard in days, not years," he explained. "Right now, in El Paso, if you apply on the one app, I was at the port of entry, if you apply on the one app, your court date is 2031. I mean, that's eight years from now."


Former South Carolina governor Nikki Haley also criticized the Biden administration.
"Five million illegal immigrants have crossed the border. I went with Congressman [Tony] Gonzales 400 miles along that border. And what I saw was unbelievable," Haley told CBS's "Face the Nation."
"You have ranchers that get up and get their coffee in the morning and go see if someone died crossing the fence.
"They pick up any little kids left over and take them to Border Patrol. When you talk to sheriffs, sheriffs say before 7 a.m. they've rounded up illegal immigrants, turn them over to Border Patrol who documents them and then releases them until their court date three or four years from now. You ask Border Patrol what they do, and they said, 'We're glorified babysitters.'"
'Bad Policies'
Chad Wolf, a former acting secretary at the Department of Homeland Security (DHS) during the Trump administration, said that the ongoing illegal migrant crisis at America's border could have been avoided.
"This is a crisis not because of a lack of resources or a lack of authorities. This is a crisis because of bad policies that were put in place almost two years ago," he said.
"So, they could change this crisis, and they can help solve this crisis if they wanted to by implementing certain policies. They don't want to do that. And so they will continue to tell you that they have a plan and that they're executing this plan. But it doesn't seem to be working. For 27 months now, it hasn't worked."
"And so I'm not sure that what they're doing here recently is going to work either. Instead, what we see is astronomically and record-breaking numbers month after month after month."
Rising Migrant Numbers
According to data from the U.S. Customs and Border Protection (CBP), border patrol agents only encountered 458,088 illegal aliens in the Southwest land border in fiscal year 2020.
This jumped to 1.73 million in fiscal 2021, with monthly encounters rising to six digits after Joe Biden became president in January 2021. In fiscal 2022, encounters came in at 2.38 million. The first six months of fiscal 2023 have already seen 1.22 million encounters.
Talking about El Paso, Wolf pointed out that he saw "thousands of folks here earlier in the week on city streets because they're doing mass releases into the streets."
Trump's Comments
Former president Donald Trump has slammed the Biden administration for allowing Title 42 to expire.
"With today's termination of the final remnants of Title 42, Joe Biden has officially abolished what remained of America's borders and turned the United States into a dumping ground for illegal aliens from all over the world," he said in a May 11 statement.
Because of Biden, "our border is gone, our sovereignty is gone, our national security is gone." Since coming to office, over 6.3 million illegal crossings have taken place under the Biden administration, Trump said.
Ross Muscato, Frank Fang, and Allen Zhong contributed to this report.
Original News Source Link

Running For Office? Conservative Campaign Consulting – Monthly Rates!