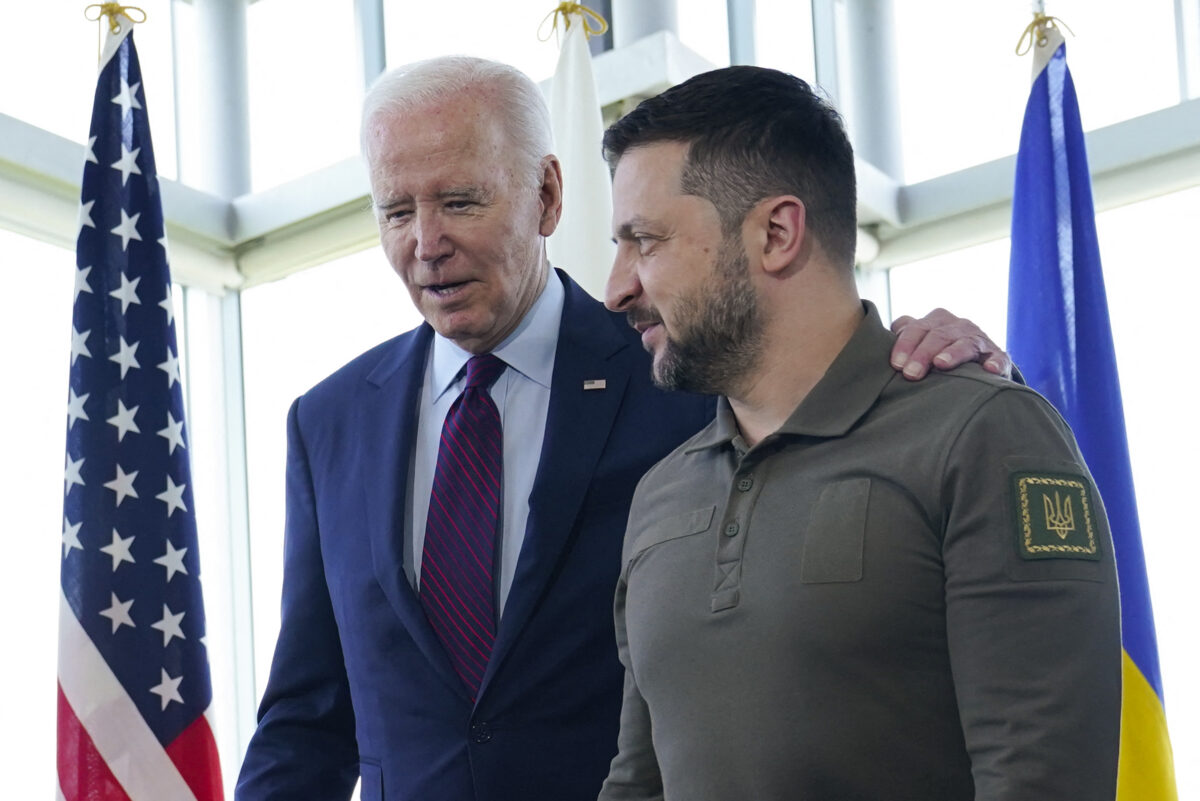 President Joe Biden said on May 21 that Ukrainian President Volodymyr Zelenskyy personally assured him that Ukraine would not use Western-supplied F-16s in Russian territory.
"I have a flat assurance from Zelenskyy that they will not use [the F-16s] to go on and move into Russian geographic territory," Biden said at a Sunday press conference in Japan. "But wherever Russian troops are within Ukraine in the area, they wouldn't be able to do that."
Biden met with Zelenskyy on Sunday at the Group of Seven (G-7) summit in Hiroshima, two days after the president told G-7 leaders that the United States would support an international effort to train Ukrainian pilots on F-16 fighter aircraft.
"I told [Zelenskyy] the United States, together with our allies and partners, is going to begin training Ukrainian pilots on fourth-generation fighter aircraft, including F-16s, to strengthen Ukraine's Air Force as part of a long-term commitment to Ukraine's ability to defend itself."
Biden portrayed the move as beneficial to "the security and prosperity of the American people," which he said "are substantially increased by working in concert with our closest allies and partners to build a future of greater economic strength and resilience in a world that is more peaceful and stable."
U.S. allies in Europe, who would furnish the jets themselves, praised the decision. In the past, the West has hesitated to furnish these supplies to Ukraine, fearing that it could draw NATO into the conflict or otherwise escalate the war.
UK Prime Minister Rishi Sunak called the announcement "welcome."
"The UK will work together with the USA and the Netherlands, Belgium and Denmark to get Ukraine the combat air capability it needs," Sunak wrote in a Twitter post. "We stand united."
German Chancellor Olaf Scholz echoed the sentiment, saying, "The project has a message for Russia: Russia cannot count on winning if it bets on a long war."
Biden on Sunday also announced a new $375 million aid package to Ukraine, including ammunition, artillery, and armored vehicles.
'Enormous Risks'
Biden's comments came after Russia warned that the West would be taking "enormous risks" by furnishing Ukraine with F-16s. The Russian defense department vowed to shoot down any U.S. jets in Ukrainian airspace.
Asked about these comments, Biden said the jets are "a risk for them [the Russians], not for us."
Biden previously ruled out the possibility of the United States providing Ukraine with F-16 fighter jets. Ukraine has been pushing its allies for advanced warplanes to help defend its airspace, but the United States and its partners had feared this could lead to further escalation with Russia.
National security adviser Jake Sullivan said that the new move to furnish Ukraine with these jets was a result of the "exigencies of the conflict" that didn't exist before.
The U.S. State Department confirmed the additional U.S. security assistance, which marks the 38th drawdown of U.S. arms and equipment for Ukraine as it continues its fight against Russia after Moscow invaded Kyiv in February 2022.
The United States "will continue to stand with our Ukrainian partners as they defend themselves from Russia's war of aggression," the department said in a statement.
"This security assistance package includes additional ammunition for High Mobility Artillery Rocket Systems, artillery ammunition, anti-tank weapons, armored medical treatment vehicles, trucks, and trailers to transport heavy equipment, spare parts, and other field equipment essential to strengthening Ukraine's defenders on the battlefield.
"Russia could end its war today. Until Russia does, the United States and our allies and partners will stand united with Ukraine, for as long as it takes," it said.
The new aid comes after Pentagon officials said it made an accounting mistake that overestimated the military aid sent to Ukraine by at least $3 billion. Up until Biden's latest announcement, the United States has committed more than $37.6 billion in military aid to Ukraine, per an updated fact sheet (pdf). Of that, more than $36.9 billion has been sent to Ukraine since February 2022.
Biden's decision to send jets to Ukraine comes as congressional Republicans have become skeptical of U.S. military intervention in Ukraine, with some calling for an end to assistance and an audit of the money sent to the Eastern European nation thus far.
Emel Akan and Mimi Nguyen Li contributed to this report.
Original News Source Link

Running For Office? Conservative Campaign Consulting – Monthly Rates!