President Joe Biden is spending another weekend in his home state. Instead of staying at his Wilmington, Delaware home, where classified documents were discovered more than one week ago, he is choosing his Rehoboth Beach residence.
During a White House press briefing on Jan. 20, a reporter asked, "The president is going to his home in Rehoboth Beach today. Does that have anything to do with classified documents being found at Wilmington and nothing being found in the other home?"
Press secretary Karine Jean-Pierre responded by saying, "I'm just going to continue to be prudent and consistent and respect the Department of Justice process. As it relates to his travel, as you know, he often travels to Delaware on the weekends. I just don't have anything else to share."
Biden visited his Wilmington house on Jan. 13, a day after Attorney General Merrick Garland appointed special counsel Robert Hur to investigate the discovery of classified documents from Biden's tenure as vice president in the house's garage and library and his former office at the Penn Biden Center in Washington.

On Jan. 19, Biden was touring California and assessing the damage caused by deadly storms that have hit the region in recent weeks.
In a press conference, Biden said he has "no regrets" about opting not to inform the general public about the finding of the classified materials ahead of last November's midterm elections.
"You know, what quite frankly bugs me is that we have a serious problem here we're talking about," Biden said in an exasperated tone. "We're talking about what's going on. And the American people don't quite understand why you don't ask me questions about that."
Biden added, "Okay, look, as we found, we found a handful of documents were failed, were filed in the wrong place. We immediately turned them over to the archives of the Justice Department."
He is "fully cooperating and looking forward to getting this resolved quickly," he explained.
"I think you're going to find there's nothing there. I have no regrets," Biden said. "I'm following what the lawyers have told me they want me to do. That's exactly what we're doing.'"
The first batch of documents was found on Nov. 2 last year at the Penn Biden Center. A follow-up search resulted in the discovery of more materials on Dec. 20 in the garage of Biden's Wilmington residence. More documents were located in that home's library on Jan. 11 and Jan. 12.
On Jan. 12, Biden told a television news reporter that the classified materials were stored in a locked garage with his Corvette.
"I'm going to get the chance to speak on all of this, God willing, it'll be soon," Biden said. "But I said earlier this week—and, by the way, my Corvette is in a locked garage—it's not like it's sitting out in the street," Biden responded.
"People know I take classified documents and classified material seriously," Biden added. "I also said we're cooperating fully and completely with the Justice Department's review."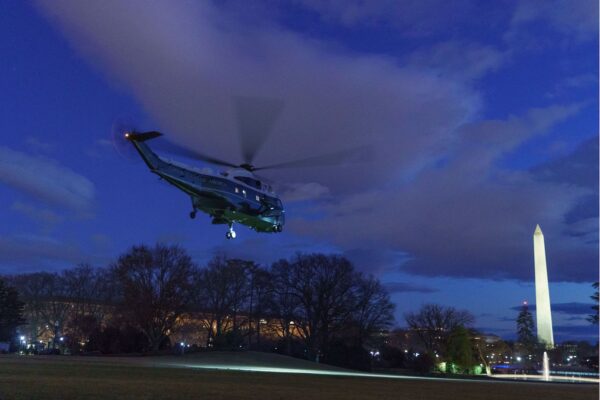 Speech to Mayors
On Jan. 20, Biden touted what he has done since taking office on the two-year anniversary of his inauguration.
In a speech at the White House to a bipartisan group of mayors visiting Washington for an annual meeting, Biden highlighted an array of legislation passed during his term.
"Now, two years in, it's clearer than ever that our plan is working," Biden said "We're building the economy from the bottom up and the middle out, not just the top down."
Later in the day, he emerged from the White House at 5:40 p.m., posed for selfies, and shook hands with supporters as he drifted away from media members and boarded Marine One.
He arrived in Rehoboth Beach and departed in a motorcade for his weekend respite around 6:45 p.m.