Conspiracy theorist Alex Jones said he will likely invoke his Fifth Amendment rights against self-incrimination after being subpoenaed by the House select committee investigating the Capitol insurrection.
On his far-right show, Jones said he would invoke the Fifth Amendment not because of his own potentially illegal deeds but because the committee members are "political criminals that have an axe to grind," per Politico.
According to the statement released by the committee yesterday, investigators are seeking Jones' testimony about his alleged involvement in the planning of the January 6 rally that culminated in the Capitol attack.
In case you missed it yesterday: the House select committee investigating the Capitol insurrection issued five more subpoenas to right-wing political operatives, including former Trump associate Roger Stone and conspiracy theorist Alex Jones.
Hugo Lowell reports:
The subpoenas demanding documents and testimony expand the select committee's inquiry focused on the planning and financing of the rally at the Ellipse, by targeting operatives who appear to have had contacts with the Trump White House.

House investigators issued subpoenas to the veteran operatives Stone and Jones, Trump's spokesperson Taylor Budowich, and the pro-Trump activists Dustin Stockton and his wife, Jennifer Lawrence.

The chairman of the select committee, Bennie Thompson, said the subpoenas aimed to uncover 'who organized, planned, paid for, and received funds related to those events, as well as what communications organizers had with officials in the White House and Congress'.
Eric Berger reports for the Guardian:
While people are expected to again travel at levels similar to a pre-pandemic Thanksgiving, airlines are still contending with staffing shortages, which could lead to additional flight cancelations.
"It doesn't really matter if a travel disruption is coming from a lack of staffing or shortage of routes or weather, it's still something that is very frustrating for customers," said Lindsey Roeschke, travel and hospitality analyst for the Morning Consult, a market research firm.
In spite of the Covid-19 pandemic, Thanksgiving flight bookings in the United States are up 78% from 2020 and 3.2% from 2019, according to a Adobe Digital Economy Index report published earlier this month.
"When it is busy, it's very possible that [flights] will be over capacity – and that means the possibility of things going wrong is very high," said Narendra Khatri, principal of Insubuy, a travel insurance company.
Over the Halloween weekend, American Airlines canceled more than 2,000 flights because of weather and staffing issues.
In letters to employees, David Seymour, chief operating officer of the airline, described the weekend as a "brief irregular ops period" and said that "on the schedule front, we've ensured that November and December are built to meet customer demand and that they are fully supportable by our staffing".
The Biden administration has asked a court to immediately lift a stay on a rule requiring employees of large businesses to get vaccinated against coronavirus.
Reuters reports:
Delaying the rule by the Occupational Safety and Health Administration (OSHA) that requires employees to be vaccinated or tested weekly would lead to thousands of hospitalizations and deaths, the government said in a Tuesday filing with the 6th U.S. Circuit Court of Appeals. …

The rule was challenged by Republican-led states, businesses and trade groups and the U.S. 5th Circuit Court of Appeals in New Orleans quickly blocked it, calling it 'staggeringly overbroad' and a 'one-size-fits-all sledgehammer.'

After the stay was imposed by the 5th Circuit, lawsuits from around the country were transferred to the 6th U.S. Circuit Court of Appeals in Cincinnati.
The rule requires those working at companies with 100 or more employees to get vaccinated or receive weekly coronavirus tests to mitigate the spread of the virus. It was set to go into effect on January 4.
Energy secretary Jennifer Granholm will join the daily White House briefing this afternoon, giving her an opportunity to offer more details on the release of oil from the strategic reserve.
Speaking at yesterday's briefing, press secretary Jen Psaki noted the Biden administration is using a variety of tools to address high gas prices.
Last week, Joe Biden sent a letter to the Federal Trade Commission asking the agency to investigate "mounting evidence of anti- consumer behavior by oil and gas companies".
"We will continue to press oil companies who have made record profits and are overseeing what we consider to be price gouging out there," Psaki said aboard Air Force One yesterday.
"When there's a supply of oil or the price of oil is coming down and the price of gas is not coming down, it does not take an economic expert to know that's a problem."
Senate Republicans' campaign arm is using high gas prices to attack Democrats as Americans travel for Thanksgiving, which the country will celebrate on Thursday.
NBC News reports:
Americans on the road for Thanksgiving will be reminded of high gas and grocery prices with an ad push from the Republican Senate campaign arm airing at gas stations across the country this week.

'You like high gas prices?' the ad intones, with cartoonish graphics and sound effects. 'If so, introducing: Joe Biden and Democrats.'

The National Republican Senatorial Committee's five-figure, multi-day buy — first reported by NBC News — goes across ten battleground states where Republicans hope to flip or keep Senate seats in the upcoming 2022 midterms. The advertisements are intended to hit travelers on the road for the Thanksgiving holiday who are filling up their gas tanks.
The Senate is currently split 50-50, but Democrats control the chamber because of Vice-President Kamala Harris' tie-breaking vote.
So Republicans only need to flip one Senate seat in next year's midterm elections to regain control of the upper chamber.
Republicans, who have been attacking Joe Biden over the rising prices of gas and groceries, criticized the release of oil from the strategic reserve as a political ploy.
House minority leader Kevin McCarthy said in a statement, "Today's announcement – which will release just three days' worth of oil onto the market – is not about a real solution to our energy crisis. It is a crass political ploy just ahead of Thanksgiving."
Former president Donald Trump similarly criticized Biden's decision, saying, "Those reserves are meant to be used for serious emergencies, like war, and nothing else."
Joe Biden announced this morning that his administration will release 50m barrels of oil from the strategic petroleum reserve to help address high gas prices.
The president said on Twitter that the action "will be taken in parallel with other major energy consuming nations including China, India, Japan, Republic of Korea and the United Kingdom".
The news comes as gas prices have increased by 49.6% over the past year, bringing the national average for a gallon of gas to $3.40, per AAA.
"As we come out of an unprecedented global economic shutdown, oil supply has not kept up with demand, forcing working families and businesses to pay the price," energy secretary Jennifer Granholm said in a statement.
"This action underscores the President's commitment to using the tools available to bring down costs for working families and to continue our economic recovery."
Read more about the announcement here:
Joe Biden has argued that Democrats' $1.75tn social spending package, which passed the House on Friday, will help families struggling with higher prices by lowering the costs of healthcare and childcare.
However, there are lingering concerns about how the high rate of inflation may impact the negotiations over the bill in the evenly divided Senate.
Senator Joe Manchin, one of the key holdouts in Democrats' negotiations over the bill, has said he is hearing more from constituents who are concerned about their gas and grocery bills.
"By all accounts, the threat posed by record inflation to the American people is not 'transitory' and is instead getting worse," Manchin said earlier this month. "From the grocery store to the gas pump, Americans know the inflation tax is real and DC can no longer ignore the economic pain Americans feel every day."
Manchin has previously expressed concern that Democrats' spending package, known as the Build Back Better Act, could negatively contribute to inflation.
In a September op-ed for the Wall Street Journal, Manchin warned against approving more government spending, saying, "An overheating economy has imposed a costly 'inflation tax' on every middle- and working-class American."
However, since that op-ed was written, the cost of the package has been cut in half — from $3.5tn to $1.75tn. And a number of economists have said the bill will not add to inflationary pressure.
Biden is hoping those arguments will be enough to make Manchin a "yes" vote, as he will need all 50 Democratic senators' support to get the bill through the upper chamber.
Joe Biden's nominees for the Federal Reserve board have also pledged to tackle inflation aggressively if they are confirmed by the Senate.
Jerome Powell, who has been nominated to a second term as the chair of the Fed board, said yesterday, "We know that high inflation takes a toll on families, especially those less able to meet the higher costs of essentials, like food, housing and transportation."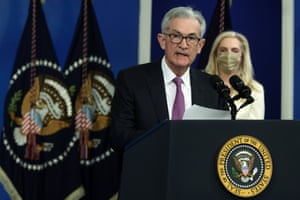 Powell, who was first nominated by Donald Trump, said he would use the tools of the central bank "to prevent higher inflation from becoming entrenched".
Dr Lael Brainard, Biden's nominee for vice-chair of the board, echoed that message, saying, "I'm committed to putting working Americans at the center of my work at the Federal Reserve. This means getting inflation down at a time when people are focused on their jobs and how far their paychecks will go."
Greetings, live blog readers.
Joe Biden will deliver a speech this afternoon on the state of the US economy and the need to lower prices for American families.
The president's speech comes as inflation has hit a 31-year high, with prices increasing by 6.2% over the past 12 months. That's the fastest acceleration since December 1990.
And Americans are growing more concerned about high prices as they continue to rise. According to a poll conducted by the progressive firm Navigator Research earlier this month, 54% of Americans now say the cost of groceries and gas is a "major crisis".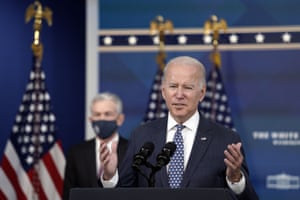 Biden has pledged to tackle the issue, arguing that Democrats' $1.75tn social spending package will lower families' costs for healthcare and childcare.
Speaking at an event yesterday to announce his nominations for the Federal Reserve board, Biden said, "Because so much of the rest of our economy is doing well, because we have created so many new jobs as fast as we have, we're in a position to attack inflation from a position of strength, not weakness."
But if Americans don't start to see prices come down soon, it could make it all the more difficult to enact Biden's agenda.
The blog will have more coming up, so stay tuned.