U.S. Border Patrol agents in Fronton, Texas was shot at from the Mexican side of the U.S. border as they were attempting to apprehend an individual who allegedly attempted to cross the border illegally.
According to a statement from the U.S. Customs and Border Protection (CBP), the shots were fired from across the Rio Grande River and reportedly hit the agents' vehicle. According to the CBP statement, the officers, whose names were not released, were not harmed following the incident and did not exchange gunfire.
"The incident is being reviewed by the FBI and CBP's Office of Professional Responsibility," CBP wrote in its statement.
During the month of November, CBP officials encountered nearly 174,000 individuals at the Southwest border. Over 63,000 of them were Mexican citizens, almost 50,000 came from the Central American Northern Triangle of El Salvador, Guatemala, and Honduras, and close to 61,000 arrived from other nations.
Of all the people who arrived, about 114,000 came as single adults, nearly 45,000 arrived as a family unit, and almost 14,000 were single children. The number of families and children arriving has seen a major drop since the high of over 105,000 people in July. However, the number of single adults remains close to the high over nearly 122,000 seen in May.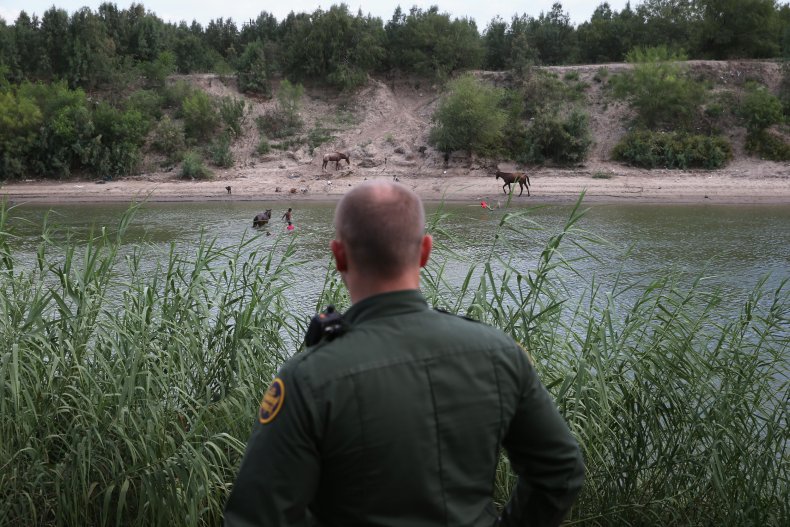 Amid the surge of single adult crossers in May, Tony Payan, Director of the Baker Institute for Public Policy at Rice University, told Newsweek that the trend potentially indicated a shift in migration patterns away from those largely seeking political asylum to those interested in economic opportunities.
A November 2021 report by a collation of immigration advocacy organizations, including the Migration Policy Institute, the United Nations World Food Programme and the Civic Data Design Lab at the Massachusetts Institute of Technology, wrote that economic factors have played the largest role in the past year's migration surge.
"Violence, insecurity, and natural disasters have been complex and longstanding triggers of migration," the report said. "But economic factors were participants' primary motivation for desiring to emigrate. Low wages, unemployment, and insufficient income to cover basic necessities directly affected people's livelihoods and contributed significantly to the desire to emigrate."
The report said that economic devastation brought on by climate change and extortion by local gangs play significant factors in the inability of migrants to establish a secure economic footing in their countries of origin. Furthermore, government and police corruption in their home countries leave them with few other opportunities to turn to.
Propping up the economies of the Northern Triangle nations has served as a priority of the Biden administration. Last month, Vice President Kamala Harris announced over $1.2 billion in private sector investments aimed to promote job growth in the region as part of the administration's "Call to Action" that was launched in May.
"Supporting the long-term development of the region, and of the Western Hemisphere more broadly, will require more than just the resources of the U.S. government," the White House said in a statement announcing the investments. "For this reason, Vice President Harris called upon the private sector to draw upon its resources and expertise to commit to support inclusive economic growth in northern Central America. The administration looks forward to increased collaboration with private companies from around the world to build upon this Call to Action in the months and years to come."