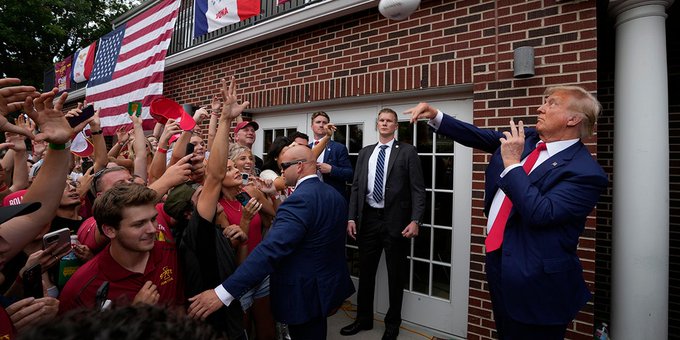 President Donald J. Trump hit the campaign trail over the weekend and delivered a tear-jerking sentimental message to his supporters from South Dakota, which describes how many Americans feel after the decades-long assault against the American people, the American dream, and our quality of life here in this nation. And it struck a chord with the people.
PEOPLE LOVE TRUMP BECAUSE OF HIS POLICIES
(This article contains the author's sometimes salty opinion.. if you are reading then accept that.)
Remember Trump told Tucker Carlson, in that massive epic interview, that his top priority when he gets back to DC is to get the immigration chaos under control because the chaos is harming Americans in numerous ways- mostly an increase in crime and decrease in jobs. Fixing those issues is a significant part of Trump's America First policies. The same policies he ran on before and implemented, and the need for us to get them back, were on display all over social media this weekend.
Americans understand what the problem is and how to fix it.
THINK ABOUT THIS WOMAN'S REACTION
"This is a form of control. The issue is they are trying to control him that is why they are trying to control him. Biden is giving all our money to Ukraine," one Trump supporter told her TikTok audience.
This is absolutely AMAZING to witness!

You LOVE to see it!!!!@realDonaldTrump pic.twitter.com/y9Ve9HMnIb

— The Patriot Voice (@TPV_John) September 10, 2023
IT IS ABOUT THE POLICES THAT TRUMP WANTS FOR AMERICA THAT VOTERS WANT
Jason Miller, Trump's long-time top aide, reminded people that while Trump is feeling emotional over the loss of America, he has a plan to get America back from the grasp of the people who despise our historic liberty and freedom.
Miller appeared on OANN this weekend and talked about Trump's policies, which his opponents are simply gobsmacked over.
In his Presidential campaign, Trump will again put America First, according to Miller.
And it is those same Trump policies for the nation, according to Miller, causing Trump to rise above all his detractors.
Check out what Miller said:
"Trump's Policy Record Fueling Polling Rise"https://t.co/zgtiC2ESGH

— Jason Miller (@JasonMillerinDC) September 9, 2023
Trump's concern for the country he loves has been described as authentic by long-time pals of Trump's.
Close friend of Trump's, Michael Caputo, chimed in about the depth of emotion, almost moving Trump to tears recently.
Caputo told people that the feelings and emotions that Trump displayed were real:
WHAT IS AMERICA FIRST REALLY ABOUT? WHAT IS THE EMOTION BEHIND IT?
It is a set of policies forcing the US Government to focus on what is good for the American people. Trump's platform has always been Policies to bring jobs back to the United States and to protect American's ability to work, because jobs have been ripped from their rightful place in our country and set around the world.
It is about the betrayal of the American people, who deserve so much better.
According to Trump War Room, this is a major campaign issue to understand, as they recently highlighted abandoned factories:
Around the same time as Trump's speech above, Miller reposted some of the Trump War Room items to remind people exactly where Americans are seeing the most devastating decline of American power- from the death of American manufacturing.
Trump's supporters know that this is where they see the devastation in their own daily lives; it is in the place that elite politicians have given away to their wealthy foreign benefactors for idiotic reasons.
The death of America is in places like those abandoned facilities that litter our nation:
Trump wants those jobs back.
"We have a moral duty to create an immigration system that protects the lives and jobs of our citizens."
Trump's message is resonating with people:
If you want to understand the difference in the way Trump looks out for Americans and how others destroy our jobs, consider reading more of our coverage.
AND please visit our sponsors: