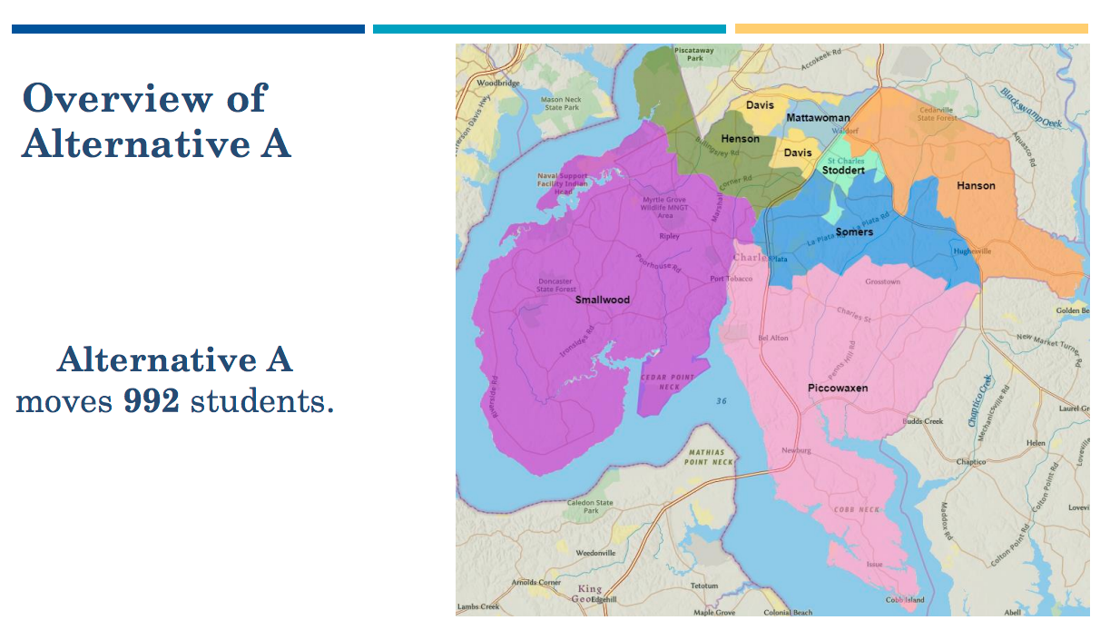 Plans to change enrollment blocks for middle schoolers ran into a snag on Tuesday when Charles school board members failed to pass Superintendent Maria Navarro's recommendation for redistricting.
The vote failed, despite more members voting for it to pass, thanks to a new rule that was just initiated earlier in the meeting.
A motion to approve the plan failed on a 3-2 vote with board members David Hancock and Michael Lukas voted no.
Board member Elizabeth C. Brown joined Latina Wilson, school board chairperson, and Virginia McGraw, school board vice chairperson, in voting yes.
Tajala Battle-Lockhart abstained and board member Jennifer S. Abell was not present at Tuesday's meeting.
According to Eric Schwartz, staff attorney, the board of education members approved several policy changes earlier in the Oct. 12 meeting, including policy 9335, which established a minimum number of votes for a motion to pass the school board, which has seven members plus one student member.
The policy states that "no substantitive motion or resolution on which the student member may vote shall be declared adopted without the concurrence of five members of the board."
When the student member cannot vote, as was the case in this situation, the number of required affirmative votes drops from five to four, regardless of absences or abstentions.
"Some of the things I've seen shows that we're going to take the overcrowding and move it to other schools," Hancock stated as reason for his opposition to the redistricting plan presented by the superintendent.
The major sticking point for Hancock was the estimated student populations at Benjamin Stoddert, Milton Somers and Piccowaxen middle schools.
Under the plan chosen by the superintendent, Somers would lose 400 students from its current allotment of 1,086 pupils for the 2022-2023 school year.
The massive reduction was achieved by removing the Cedar Point Neck area, western La Plata and a large area of space along Route 6 from the Somers's enrollment zones. Somers would also lose a small enrollment area along St. Charles Parkway while gaining blocks from Bryantown Road and southern St. Charles.
While the school received a massive reduction of students for 2022-2023, by the 2025-2026 school year, Somers is estimated to be back over capacity by 65 students with an enrollment of 860.
Piccowaxen, which would gain the western La Plata and Route 6 blocks from Somers, would see its capacity rise from its current enrollment of 450 students to 551 students next school year, and an estimated 570 students by 2025-2026. The increase would put Piccowaxen over capacity by seven students.
But the biggest hit would be to Benjamin Stoddert, which gained seven enrollment zones along Old Washington Road as well as the single neighborhood along St. Charles Parkway, to balloon its population to 986 when a new $48 million addition opens.
The school's estimated enrollment is projected to expand to over 1,000 students in 2025-2026, exceeding the new projected state rated capacity of 975 students just a few years after expansion.
"I can't support increasing those schools that much," Hancock said during the meeting.
Lukas also criticized the plan, saying that the plan didn't do enough to take care of residents that were already here.
"I know that somebody has to move, but it seems to me that we should try to accommodate the people that are already here as much as we can without upsetting the integrity of the system," Lukas said.
Lukas then presented an amendment to the superintendent's plan that would have moved several blocks back to Milton Somers Middle School, while residents of the yet-to-be-constructed Heritage Green neighborhood would be assigned to Piccowaxen Middle School.
However, since the initial vote on the plan failed, a vote on the amendment was not taken.
The measure to change school districts is now on hold while staff members field further requests for clarification from board members ahead of a second vote, now scheduled for Nov. 9.