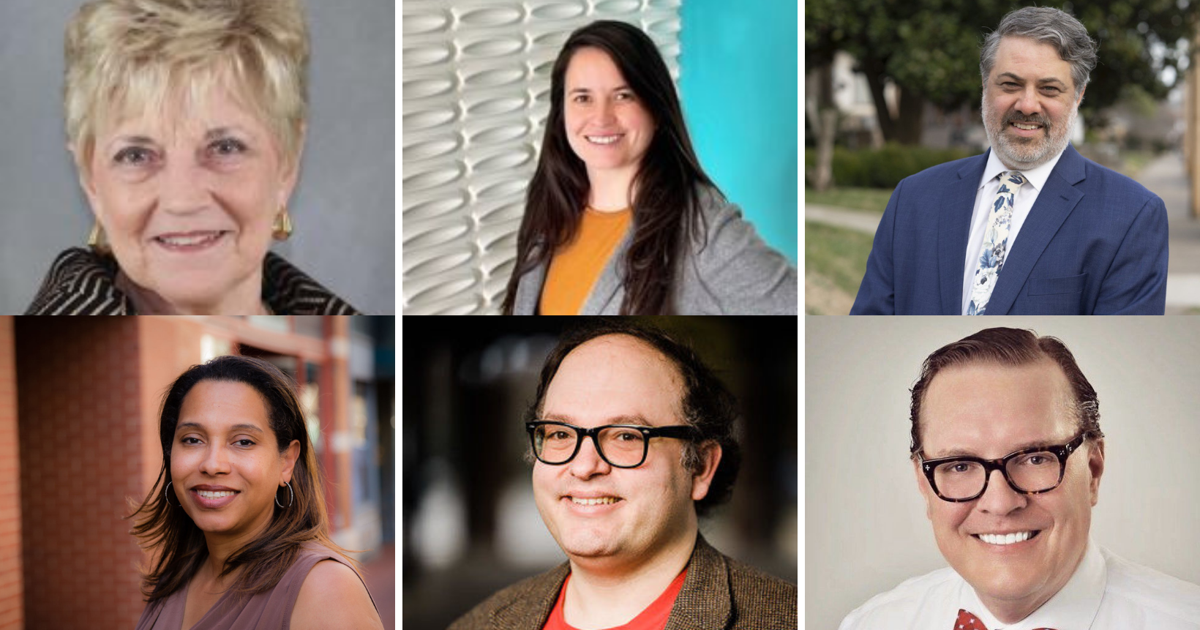 Of 11 candidates, four Democratic incumbents seeking to keep their at-large city council seats and two newcomers advanced in Tuesday night's primary.
With 20,577 votes cast, incumbent Jennifer Pharr was the highest vote-getter in the race with 2,631 votes. She was followed by incumbents Caitlin Cook, with 2,544 votes, and Becky Ceperley, 2,270, according to unofficial results.
"I'm really shocked and thankful," Pharr said Tuesday evening. "It really looks like folks came out today. It's amazing."
Cook, who is seeking her second term on the City Council, said this campaign was different than her first. She hopes to see a positive, issue-based general election.
"I think the first time you run, it's really exciting. The second time around, you're certainly excited but it's more of a reflection of the service you've provided to the community," Cook said. "I'm grateful the voters of the city have placed their confidence in me to continue to do what we're doing."
Joe Solomon, a community harm reduction activist who lost a council bid in 2018, cinched fourth place in the race, with 2,192 votes. He was followed by incumbent Emmett Pepper, who garnered 2,068 votes. Charleston attorney Shawn Taylor took sixth in the race, the final spot to compete in the primary, with 1,859 votes. Corey Zinn, the seventh-highest vote-getter in the race, recorded just 19 fewer votes than Taylor.
Solomon said he believed Tuesday's council results — from the at-large race down to the wards — indicated a desire for change in Charleston.
"It's clear there are a whole lot of folks in Charleston who really want us to name and address the crisis points that we're in here — the houseless crisis, the overdose crisis, the HIV crisis," Solomon said. "If the primary is any indication, the people of Charleston are charged up for candidates that are coming with real solutions that will address our city's pain. They want to see a council that is racing to get at the roots."
Four Republican candidates who filed for the city's at-large council seats — Larry Malone, Mark Sadd, John Bsharah and Courtney Persinger, who currently serves as councilman for Ward 14 — will automatically advance to November's general election. In that election, the top six vote-getters from either party will be elected to the at-large seats.
While Charleston is home to 20 wards representative of different neighborhoods throughout the city, there were just eight contested races at that level for the primary election:
Ward 4: Democrat incumbent Larry Moore topped challenger Anthony Jarrell, 61, a hairstylist. Moore, 43, a behavioral interventionist and athletics coach at Capital High School, was appointed to the City Council in June 2021 to fill a vacancy left by the resignation of Tiffany Wesley-Plear. Moore captured 200 votes to Jarrell's 43.
Ward 5: Two-term incumbent Democrat Jeanine Faegre bested challenger Candice Maxwell, who is pursuing a master's degree in counseling and who ran for the City Council on a platform of supporting people experiencing homelessness in Charleston. Faegre captured 170 votes to Maxwell's 100.
Ward 6: Democrat Michael Ferrell captured the seat formerly held by Deanna McKinney, who ran for an at-large seat this cycle but fell short in the primary. Ferrell is a community advocate who landed 98 votes to Burton's 71.
Ward 7: Democrat Beth Kerns took the seat formerly held by Adam Knauff, who did not file for reelection. Mace is a regional manager for Douglas Parking and an agent with American Airlines. Kerns is a former West Virginia National Guard member. Kerns captured 117 votes to Mace's 46.
Ward 8: Four Democrats challenged three-term incumbent Robert Sheets for his council seat representing part of the East End, with local business owner Kathy Rubio besting Sheets by one vote. Rubio recorded 48 votes compared to Sheets' 47.
Ward 10: Two-term Democratic incumbent Keeley Steele fell to challenger Chelsea Steelhammer. Steele is a local business owner. Steelhammer, a math teacher, was inspired to run by her experiences helping students in the classroom. Steelhammer landed 160 votes to Steele's 120.
Ward 15: Incumbent Democrat Sam Minardi beat challenger Heidi Bonnett Adams, a baker and stay-at-home mother. Minardi, a lobbyist and business consultant, has served three terms on the City Council. Minardi garnered 182 votes to Adams' 140. In the Republican primary, Harper Gardner defeated Charles "Chud" Dollison, 125 votes to 94.
Ward 18: Incumbent Democrat Bobby Brown beat challenger James Elam, a hospital security guard who aims to become a pharmacy technician, 121 votes to 103. Republican Pam Burka ran unopposed and will face Brown in the November general election.
Candidates in the following races ran unopposed in the primaries and will meet in the general election in the fall:
Ward 2: Democrat incumbent Bobby Haas and Republican Jay Hughart.
Ward 11: Democrat incumbent Shannon Snodgrass and Republican Patty DeLuca.
Ward 13: Democrat Justin Williams and Republican Frank Annie.
Ward 14: Democrat Patrick Salango and Republican Ashley Switzer.
Ward 20: Democrat incumbent Chad Robinson and Republican Joey Spano.
Incumbent Democrats Patrick Jones (Ward 1), Chuck Overstreet (Ward 3), Mary Beth Hoover (Ward 9), Joseph Jenkins (Ward 12) and Bruce King (Ward 17) and Republicans John Gianola (Ward 16) and Brent Burton (Ward 19) were the only candidates in either primary to file for seats in their wards.