'For the sake of both our nations and the sake of the free world, we must work hand in hand'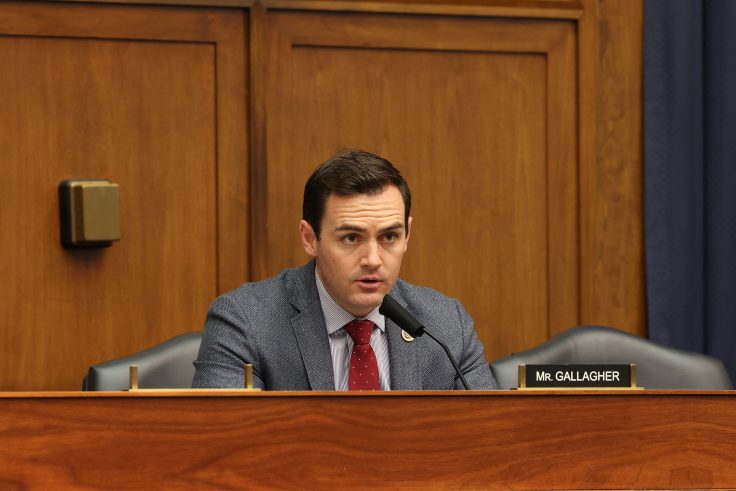 A bipartisan coalition of lawmakers will travel to the United Kingdom Thursday to promote a transatlantic alliance against Chinese "aggression and malign influence across the globe."
Led by House Select Committee on China chairman Mike Gallagher (R., Wis.), the 10-lawmaker delegation will hold high-level meetings with British officials and members of Parliament to increase Western pressure on China and beat back its growing global footprint, sources familiar with the trip told the Washington Free Beacon. Joining Gallagher will be Reps. Michael Waltz (R., Fla.), Haley Stevens (D., Mich.), Donald Norcross (D., N.J.), and Rob Wittman (R., Va.), among others.
"Chinese Communist Party aggression is global, and the United States and United Kingdom face common economic, military, and ideological threats posed by the CCP," Gallagher told the Free Beacon. "For the sake of both our nations and the sake of the free world, we must work hand in hand to stand up to CCP tech theft, United Front work, transnational repression, and flagrant violations of our sovereignty."
The diplomatic push comes as Congress grows increasingly worried that the Biden administration is not doing enough to confront China's military threats and global spy networks. The Biden administration came under intense criticism earlier this year after it allowed a Chinese spy balloon to traverse the United States, collecting sensitive information on military sites. Beijing has also amplified its threats to invade Taiwan, an issue of particular concern to Gallagher's committee, which recently ran a war simulation that determined the United States would be unable to push back a Chinese assault on the island.
The chief goal of the trip, Gallagher said, is to convince America's closest ally that it is in Britain's best interest to more forcefully "fight CCP aggression and malign influence."
The lawmakers will hold closed-door powwows with Britain's deputy national security advisor, its defense minister, and eight members of Parliament. The group will also meet with Google employees working on the company's DeepMind artificial intelligence project, highlighting the lawmakers' interest in cutting edge technologies that could help the United States and its allies in a military confrontation with Beijing.
China's cyberattacks and clandestine spy networks will also top the agenda, according to congressional sources familiar with the trip.
Britain has faced many of the same challenges as the United States when it comes to confronting Chinese aggression. A Chinese spy balloon may have also surveilled the United Kingdom this year, and British authorities have come under increasing pressure to address the threat of CCP spies.
The United Kingdom also relies heavily on Chinese technology, such as cameras and drones that are vulnerable to China's surreptitious data collections efforts. Beijing also has established secret police stations in both nations, which the Communist regime uses to harass and detain dissidents outside of the country.
American authorities arrested two men in April for running a secret CCP police station in New York City. Gallagher and his delegation intend to raise this issue with their British colleagues, so that the two countries can work in tandem to crack down on China's spy apparatus.
"The CCP thinks it can divide us, but there are too many of us, in the United Kingdom and elsewhere, that see them clearly," said a senior congressional aide familiar with the upcoming trip.
Ahead of the trip, Gallagher's Select Committee on China will hold a hearing on China's "economic aggression," which sources say will set the stage for the upcoming meetings in Britain. Lawmakers will bring with them a litany of recommendations on how the United States and United Kingdom can cut economic ties with Beijing and interrupt its march towards global supremacy.
"For the last 25 years both parties [in Congress] largely made the same naïve bet on China—that robust economic engagement would lead the Chinese Communist Party to political liberalization," Gallagher will say in remarks opening the hearing, according to an advance copy. "Now the era of wishful thinking is over. The CCP's economic warfare uses any and all available leverage to coerce us—and it is time to defend ourselves."
Original News Source

Running For Office? Conservative Campaign Management – Election Day Strategies!