Germany's health minister said on Thursday that he expects a surge in coronavirus cases around new year and people will probably need a fourth vaccine shot to maintain the best immune response against Covid-19.
Karl Lauterbach told public radio network WDR 2 that Germany hasn't yet seen a big, rapid wave of new infections from the Omicron variant like some European countries.
"That will change around new year and in the first week of January," Lauterbach said.
The government is urging Germans to limit their contacts over the holiday period and to get vaccinated, including with booster shots if they have already had their initial vaccines.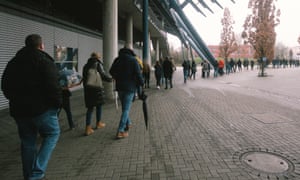 Russia's coronavirus death toll passed the 600,000 mark on Thursday, Reuters calculations based on official data showed, after a surge of infections linked to the Delta variant.
Russia had the third highest toll in the world with 600,434 fatalities, behind the United States which has recorded around 813,000 deaths and Brazil with 618,000.
The Omicron variant, which is spreading fast in other countries, has so far made little impact on the Russian data. Officials said this week they had detected only 41 cases.
The calculations were based on figures from the Rosstat statistics service up to the end of October, and data from the Russian coronavirus taskforce for November and December.
Rosstat figures usually exceed those given in daily updates by the coronavirus taskforce. It has yet to publish figures beyond October.
It is possible that people may need to get a fourth dose of the coronavirus vaccine, a UK scientist has suggested.
Adam Finn, a professor of paediatrics at the University of Bristol and a member of the Joint Committee on Vaccination and Immunisation (JCVI), told LBC Radio: "I think there will be people probably who will receive a fourth jab – whether that will be everyone, I think, is still very much in doubt.
"We do need to see how things go through this wave and beyond.
"I think there may well be people who received their boosters early who are in the older more vulnerable age groups who may need a further jab – that has not been decided yet.
"It is still under review and discussion, and we will be providing recommendations on that at some point in the new year."
Australia reintroduced COVID-19 curbs such as mandated mask wearing indoors, capacity limits and QR code check-ins to cover most of the population on Thursday as daily infections hit a fresh record, fuelled by the highly infectious Omicron variant.
The changes for 17 million people two days before Christmas mark a reversal of the country's plans for a permanent reopening after nearly two years of stop-start lockdowns as the new variant rages through the community in spite of double-vaccination rates of more than 90%, Reuters reports.
Hospitalisations and deaths remained low, but the explosion of infections had created a risk of healthcare workers being furloughed by testing positive, the authorities said.
The country recorded more than 8,200 new cases, by far its biggest daily rise since the pandemic began, from a previous record of 5,600 a day earlier, mostly in the states of New South Wales (NSW) and Victoria.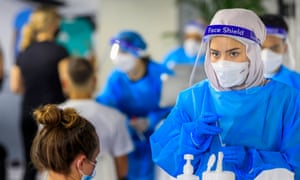 Here's a quick take on where New Zealand stands with its fight against Covid from our reporter in Wellington, Eva Corlett.
As the Covid-19 pandemic hurtles towards its second anniversary, New Zealand will emerge from 2021 with some of the best health outcomes in the world, despite confronting its toughest few pandemic months.
This year New Zealand experienced its longest lockdown, its highest daily case numbers (222 in mid-November), more hospitalisations than in 2020 and a pivot away from the government's ambitious elimination approach to one of strict virus control. But it can now boast a 90% double vaccination for the eligible population and one of the lowest per capita death rates, while its cases in the current outbreak are trending downwards.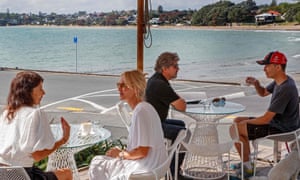 As other countries reimpose restrictions alongside the Omicron variant's emergence, New Zealanders can look forward to celebrating Christmas and the new year with family and friends. With no community cases of Omicron yet detected, restaurants, cafes, cinemas, sports venues and night clubs remain open with minimal constraints aimed mostly at the unvaccinated.
Read the full story here.
If you've just joined or you're waking up over in the UK here is a quick snapshot of the how Covid is unfolding across the world:
Omicron carries lower hospitalisation risk and does not cause more severe illness than previous variants, studies from the UK and South Africa suggest.
China locks down 13 million people in Xi'an after detecting 127 Covid cases. All residents are barred from leaving their houses except to buy living necessities every other day or for emergencies.
Australian states reimpose mask mandates with NSW and Victoria set to join Queensland, the ACT, Tasmania and parts of the Northern Territory in requiring masks for inside areas.
Organisers of the Beijing Winter Olympics said they expect a "certain number" of Covid-19 cases in China due to foreigners arriving for the Games.
South Korea set a new record for Covid deaths on Thursday.
Emergency Covid testing sites are being set up in hard-hit areas across the US.
Americans vaccinated and boosted who choose to attend large gatherings over the holidays may not be safe, even for those who received a booster dose, top US infectious disease expert Dr Anthony Fauci said.
In Quebec, Canada, gatherings inside homes will be limited to six people or two family bubbles beginning the day after Christmas.
Hello. Samantha Lock here as we continue to go through all the latest Covid developments from across the world.
If you've just joined us it's been a particularly fast-moving past 24 hours as researchers rush to understand the severity of Omicron and nations reimpose Covid curbs.
Let's start with some promising news that the Omicron variant – which has so far been detected in 106 countries – may be less severe than other coronavirus strains such as Delta.
The latest data suggest Omicron does not cause more severe illness than previous variants, but soaring infection numbers could still cause more deaths.
An Imperial College study analysed hospitalisations and vaccine records among both Omicron and Delta Covid cases in England between 1 and 14 December.
Researchers found the Omicron variant appears to be milder, with a 20%-25% reduced chance of a hospital visit and at least a 40% lower risk of being admitted overnight.
A separate, preliminary analysis of Omicron cases in Scotland pointed to an even greater reduction in the risk of hospitalisation compared with Delta. Scientists on the Eave II study, using hospital data from 23 November to 19 December, concluded that the risk of hospitalisation may be 70% lower with Omicron than Delta.
While Omicron takes hold across Europe, parts of Asia are still battling the Delta variant.
South Korea set a new record for Covid deaths on Thursday, reporting another 6,919 new coronavirus cases and 109 related deaths in the past 24 hours, according to data released by the Korea Disease Control and Prevention Agency.
A record number of 1,083 people were also admitted to hospital with serious symptoms and in critical condition.
The Asian nation is struggling to contain a surge in Covid-19 cases that is placing intense pressure on medical services, reportedly prompting the prime minister, Kim Boo-kyum, to commit to securing an additional 10,000 hospital beds for patients with moderate to serious symptoms by the middle of next month.
In case you missed our earlier story, Rhoda Kwan has more on the Chinese lockdown as she reports from Taipei.
Up to 13 million people have been placed into lockdown in the city of Xi'an in China's north, as authorities move to clamp down on the community spread of Covid-19 after 127 infections were found in a second round of mass testing.
The snap lockdown on Thursday comes little over a month before Beijing is set to host the Winter Olympics.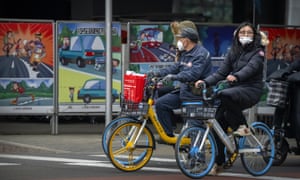 All residents in Xi'an are barred from leaving their houses except to buy living necessities every other day or for emergencies, while travel to and from the city is suspended save for in exceptional circumstances requiring official approval. All non-essential businesses have also been closed.
Authorities issued an order late on Wednesday, according to the state news agency Xinhua. The vice-premier, Sun Chunlan, has travelled to the region to oversee implementation of the lockdown.
The lockdown measures are some of the most severe since China locked down 11 million residents in Wuhan in early 2020, where the Covid-19 virus was first detected.
Read the full story here.
India is reporting a daily increase of 7,495 new Covid infections.
The south Asia country also recorded another 434 deaths with a cumulative death toll nearing half a million at 478,759, according to the health ministry.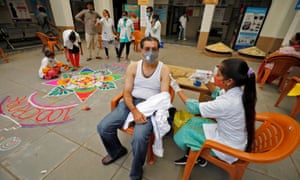 Speaking of Australia, here is a visual snapshot of where the country stands in its fight against the coronavirus.