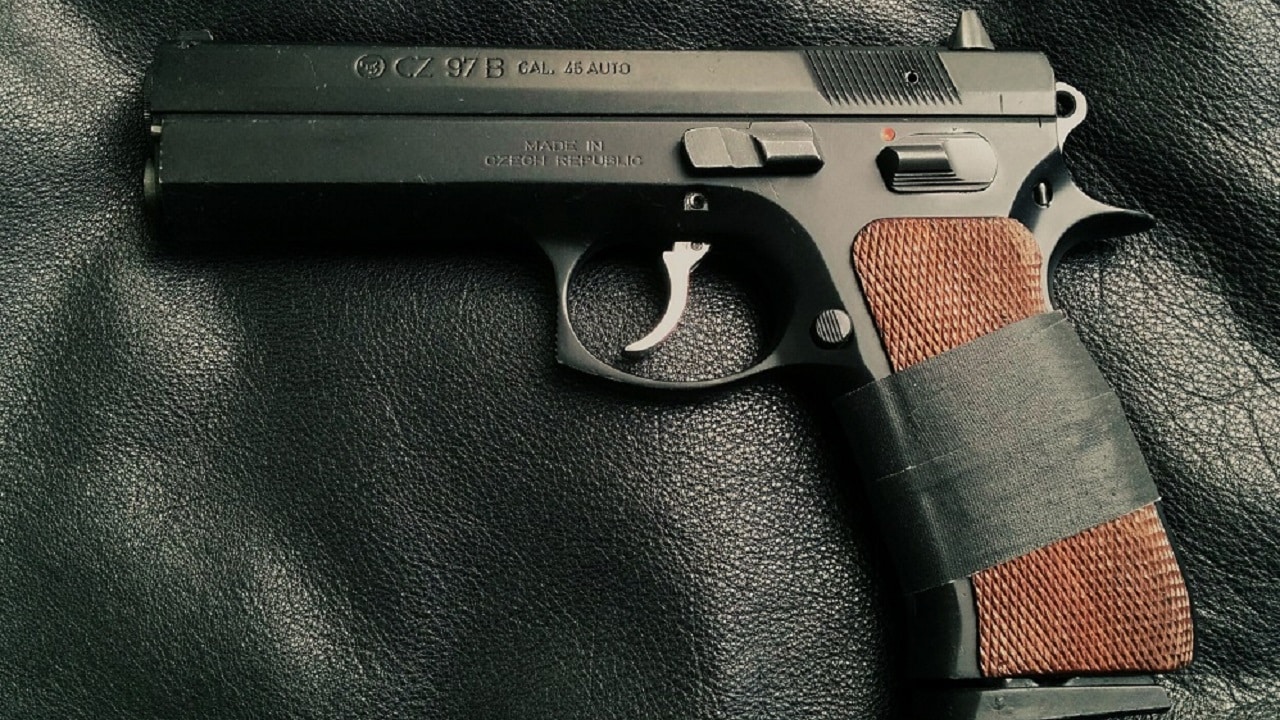 CZ 97B: A True Classic? From an American gun enthusiast's standpoint, one of the great things about the end of the Cold War – besides the little-bitty things like the fall of Communism – was the then-newly gained access of Warsaw Pact firearms, which had taken on a nearly mythical status whilst they were still being manufactured behind the Iron Curtain.
Among these was the Czech-designed CZ-75 9mm semiautomatic pistol. Even a lot of old-school M1911 .45 ACP buffs like the late great Jeff Cooper and Chuck Taylor, who usually disdained double-action (DA) autopistols – especially in 9mm – praised it. Part of the reason for their enthusiasm was that the CZ-75's lockwork still permitted cocked-and-locked carry just like single-action (SA) semiautos such as the M1911 and Browning Hi-Power.
Okay, all well and good, but how about combining the desirable features of the CZ-75 with the more powerful .45 caliber? Well, that only took another 22 years, but eh, patience is a virtue, right? Ask and ye shall receive: say hello to the CZ 97B.
CZ 97B History and Specifications
The CZ 97B made its debut in 1997. It's manufactured by Česká zbrojovka Uherský Brod in the Czech Republic – now part of Colt CZ Group – with a U.S. subsidiary based in Kansas City, Missouri.
As the CZ-USA official info page states: "The CZ 97 B is the big-bore brother to the CZ 75 B, the first CZ pistol produced in .45 ACP. It is operationally identical to the 75 B (SA/DA, firing pin block safety and magazine brake). Features include a screw-in barrel bushing, loaded chamber indicator and a double-stack magazine holding 10 rounds. Thin aluminum scales slim the grip down to make it comfortable for even those with smaller hands, and the fiber optic front sight and two-dot rear make it great at the range."
Specifications include a barrel length of 4.65 inches, an overall length of 8.30 inches, a width of 1.40 inches, and an empty weight of 41.3 ounces.
Personal Shooting Impressions…Er, Make That "Buyer Beware!"
So, it was pure happenstance that I ended up trying out a rental CZ 97B at the excellent Silver Eagle Group (SEG) indoor shooting facility in Ashburn, Virginia this past weekend. Y'see, I'd noticed SEG's 97B sitting in the rental counter for quite awhile and had been mentally filing it away for future reference, but on this particular day, my original intent had to evaluate the range's Taurus G3C instead. Well, as luck would have it, that Taurus was broken, so, in the spirit of that saying "When life deals you lemons, make lemonade," I made a spur-of-moment decision to rent the CZ 97B instead.
And boy, am I ever glad that I did. Some of you dear readers may recall my review of the Beretta PX4 Storm .45 ACP, wherein I marveled ""'WOW!!'" I've fired plenty of traditional double-action (TDA) and double-action-only (DAO) autopistols in my lifetime and I can honestly say that was *THE* smoothest factory stock DA autopistol trigger I've experienced. Single-action (SA trigger) was delightfully crisp with a very positive reset, so this is the most pleasing DA-to-SA transition of any TDA I've fired." More recently, you may recall my fondness for my recently purchased Ruger P97 DC TDA pistol in the same caliber. (I guess 97 is a lucky number for me; 1997 was my college graduation year!)
Well, the CZ offering gives both pistols a run for their money. I would rate its DA and SA trigger pulls alike as just slightly below that of the Beretta's and noticeably better than the Ruger's (though the Ruger's trigger is certainly no slouch either, especially considering its low cost). As with the Ruger, my only real complaint ergonomically speaking is that the slide stop lever requires some fudging to engage with the thumb of my firing hand. I'd rate the CZ as just a hair below Beretta in terms of grip comfort and ease of trigger reach.
As for the accuracy tests, I used the PMC Bronze 230-grain full metal jacket (FMJ) "hardball" – which seems to be the fashionable choice of all my local area shooting ranges for their .45 caliber rental guns – the ICE-QT paper target, and the Classic Weaver firing stance, divvied up as follows: 25 rounds of head shots at 7 yards, 15 rounds of center-torso shots at 25 yards, and 10 round of groin shots at 50 yards.
As I've mentioned in some of my previous gun reviews, I'm cross-eye dominant, which gives me a tendency to pull slightly high left with many handguns at the 7-yard line. Not so with the 97B: it absolutely chewed out the center of the target's face at that distance, giving him one heckuva nose job! (One lousy proverbial "black sheep" strayed slightly rightward to spoil the one-hold group). At 25 yards, my round strayed higher, but all of them stayed within the 5-zone, with five taking the tiebreaking 5x zone. At 50 yards, two rounds hit the "family jewels" proper, one strayed high-left into the gut, four strayed rightward into the hip and thigh, and three whiffed; I daresay those were my fault, not the gun's.
Reliability was flawless.
Shooting Buddies' Impressions
Quite a few of them share my enthusiasm for the 97B. For example, Todd Feltman, Senior Moderator for the Arms Directory LLC website, calls it "Quite simply the smoothest shooting .45 ACP I've ever used." Meanwhile, my friend Pulgas – a USMC veteran whom I previously interviewed for my articles on the Barrett M82 and Browning "Ma Deuce" – calls it "One of the best values for less than $700. Gets even better when you find a factory blemished one."
Want Your Own?
Sadly, for whatever reason, CZ chose to discontinue the 97B in 2022, though it's still listed on their website!
That said, True Gun Value states that "A CZ 97B pistol is currently worth an average price of $948.75 new and $914.31 used. The 12 month average price is $948.75 new and $903.46 used." MidwayUSA currently has one available for $799.99.
Christian D. Orr is a Senior Defense Editor for 19FortyFive. He has 34 years of shooting experience, starting at the tender age of 14. His marksmanship accomplishments include: the Air Force Small Arms Ribbon w/one device (for M16A2 rifle and M9 pistol); Pistol Expert Ratings from U.S. Customs & Border Protection (CBP), Immigration & Customs Enforcement (ICE), and the Federal Law Enforcement Training Center (FLETC) Criminal Investigator Training Program (CITP); multiple medals and trophies via the Glock Sport Shooting Foundation (GSSF) and the Nevada Police & Fires Games (NPAF). Chris has been an NRA Certified Basic Pistol Instructor since 2011.