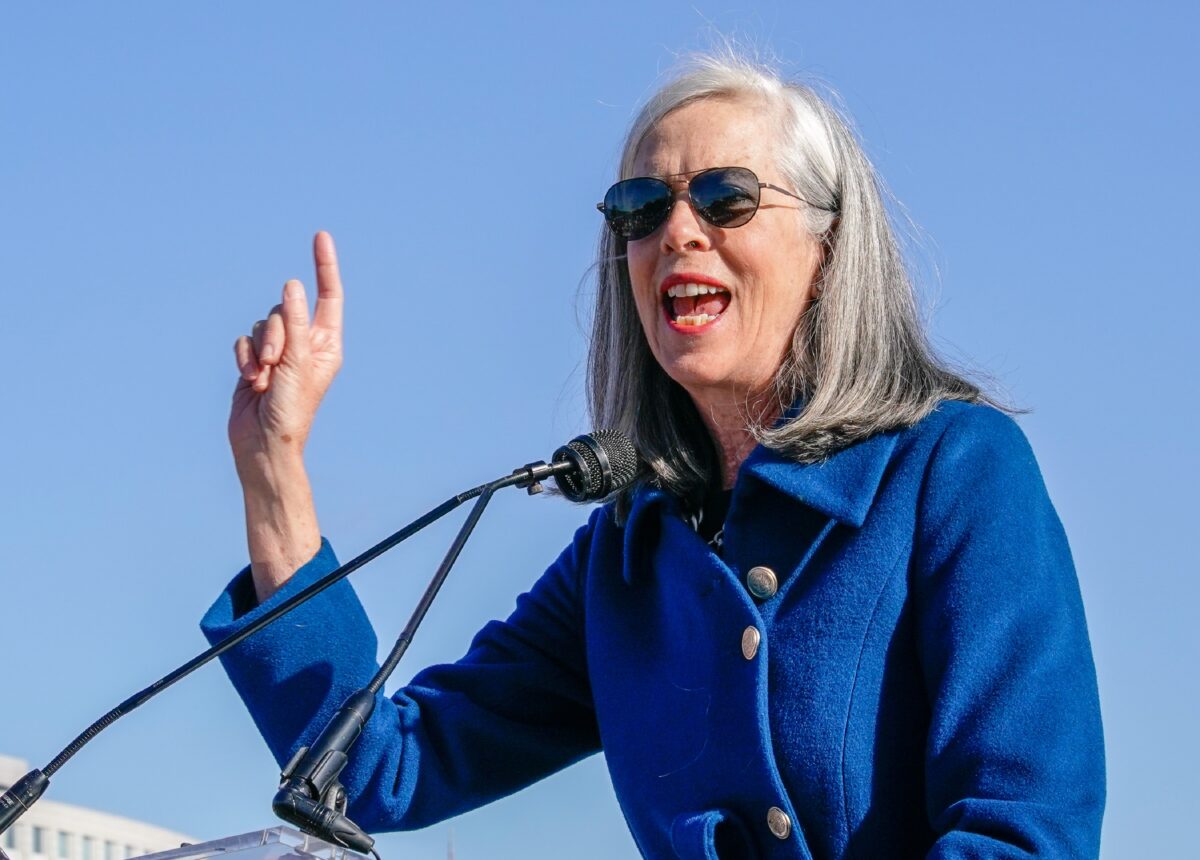 The daughter of House Democratic Whip Katherine Clark (D-Mass.) was arrested on Jan. 21 and charged with assault following an altercation with a police officer, officials have confirmed.
Police said in a statement on Sunday that officers responded to a report at about 9:30 PM on Saturday at the Parkman Bandstand Monument, in Boston Common, where a protest was being held.
Upon arriving at the scene, officers found Riley Dowell, 23, defacing the monument with "NO COP CITY" and "ACAB" which is an acronym for "all cops are [expletive]".
Dowell was identified as "Jared Dowell" in the statement by police.
"During the arrest of Jared Dowell, a group of about 20 protesters began to surround officers while screaming profanities though megaphones on the public street causing traffic to come to a standstill," police said. "While interfering with the arrest of Jared Dowell, an officer was hit in the face and could be seen bleeding from the nose and mouth."
Dowell Charged With Assault, Destruction of Personal Property
Dowell was subsequently arrested and charged with assault by means of a dangerous weapon, destruction or injury of personal property, and damage of property by graffiti/tagging, police said.
She is expected to be arraigned in Boston Municipal Court, according to officials.
Shortly after the police released a statement regarding her arrest, Clark, the second-ranking House Democrat, took to Twitter to acknowledge the incident, adding that she was "confident" in the judicial system.
"I love Riley, and this is a very difficult time in the cycle of joy and pain in parenting," the Massachusetts Representative wrote. "This will be evaluated by the legal system, and I am confident in that process."
Clark is in her sixth term in the House and represents the state's 5th Congressional District. She also sits on the House Appropriations Committee.
During a 2021 floor speech ahead of voting in favor of the Equality Act, the lawmaker said she had a child who was "non-binary" and that she fears discrimination.
"A few years ago at a town hall in my district, a young student asked me, 'what is Congress going to do to protect trans people like me? He bravely stood before an auditorium of neighbors and told me he was terrified by the bigotry and discrimination against him and his LGBTQ+ community members. I have heard these fears expressed by my own non-binary child and their fears are not misplaced," Clark told her fellow lawmakers at the time.
Clarks Says LGBT Community Faces Discrimination
"Our LGBTQ neighbors face discrimination in health care, housing, education, and employment. Even here, in the people's house, members of Congress are describing transgender people as something less than," she added.
Dowell's arrest came amid protests in Boston over the weekend in response to the Supreme Court's decision to overturn Roe v Wade, the Boston Herald reports.
In an opinion piece published in The Hill on Jan. 22, Clark noted that the court had in 1973 ruled that the U.S. Constitution conferred the choice to have an abortion as a right.
"The Supreme Court's right-wing majority upended that progress, dismantling a Constitutional right that most Americans have never lived without," she wrote. "Republican attacks on reproductive rights have sold out the American people in service of a dark vision: a country where freedom is reserved for a privileged few."
In their statement on Sunday, police said they had also arrested 27-year-old Andrea Colletti at the Parkman Bandstand Monument, who had attempted to flee on foot.
"After a brief struggle ensued, she was placed under arrest and charged with; damage of property by graffiti/tagging, destruction or injury of personal property, and resisting arrest," police said.
Colletti is expected to be arraigned in Boston Municipal Court.