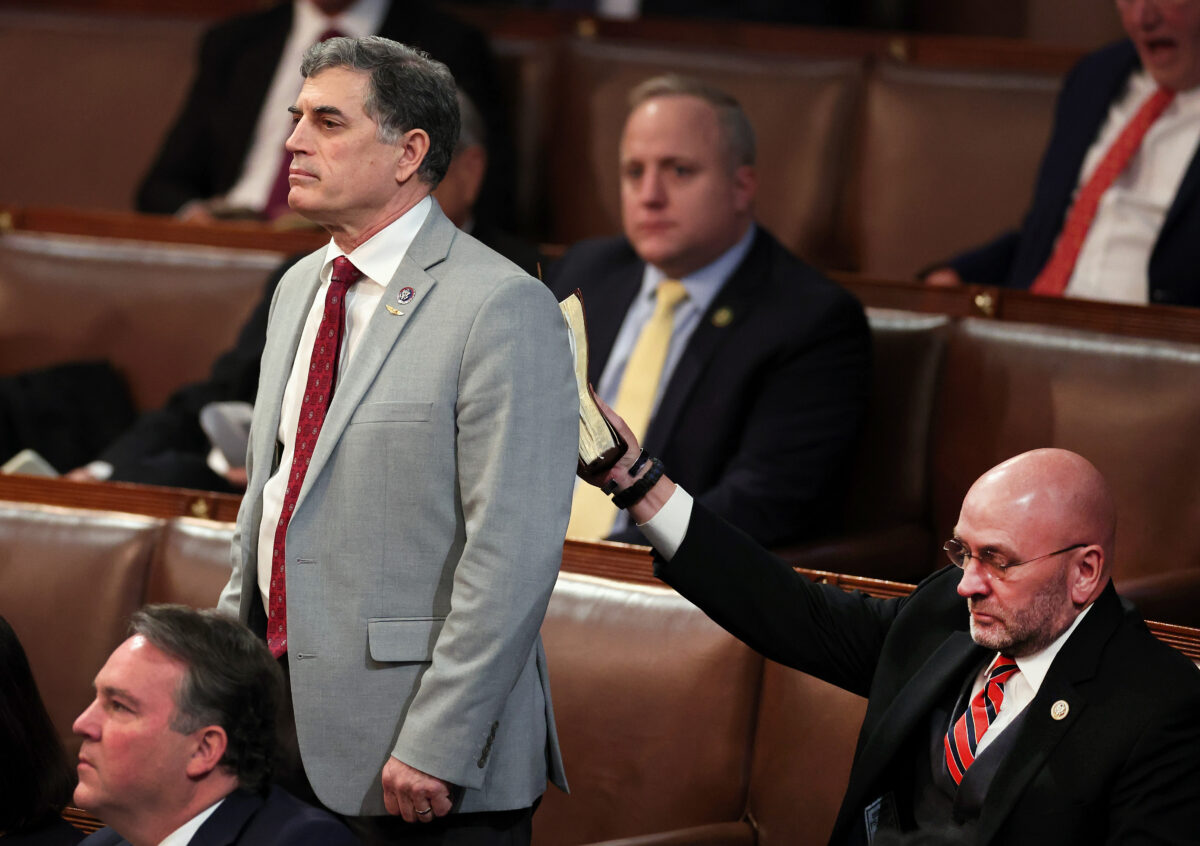 The D.C. Police Union released a statement Thursday in support of a new GOP-led effort in Congress that would reverse local police reforms in Washington instituted on an emergency basis after the death of George Floyd in 2020.
"The nearly 3,500 members of the D.C. Police Union express our full support for the new House Joint Resolution to disapprove the Comprehensive Policing and Justice Reform Amendment Act of 2022 passed by the D.C. City Council without the support or signature of Mayor Bowser," the Union said in a press release.
The House Joint Resolution, co-lead by Rep. Andrew Clyde (R-Ga.) and Rep. Andrew Garbarino (R-N.Y.), would roll back reforms meant to weaken the police union's hand in disciplinary disputes.
"This Joint Resolution would disapprove of the Comprehensive Policing and Justice Reform Amendment Act of 2022, which was passed by the D.C. Council in defiance of very real safety concerns raised by law enforcement," Garbarino said of the resolution introduced Thursday.
The Act reforms, legislated to improve police accountability and transparency, included a requirement that body camera footage be released publicly in use-of-force incidents, a prohibition on neck restraints, and the creation of a database of police discipline files that would be available for open-records requests.
D.C. Police Union Chairman Gregg Pemberton called the Joint Resolution "necessary," claiming the Act is a dangerous law that destroys the collective bargaining rights of Metropolitan Police Department (MPD) police officers, eviscerates due process, and reduces less lethal options for law enforcement during a riot.
"This Act is laced with bad policies with real-world consequences that delay justice for families and victims," Pemberton said.
Pemberton blamed the Act for the staffing crisis plaguing the MPD today.
"Since the Act was passed on an emergency basis in D.C., the MPD has lost over 1,200 police officers, only replacing 700," the Union said. "The pro-criminal policy is now a public safety crisis."
Garbarino said Democrats in Washington and New York have vilified law enforcement for years, gutting morale, enacting policies that prevent officers from effectively doing their jobs, and inciting violent anti-police sentiment.
"Dedicated public servants are resigning in record numbers due to the current policing environment with very few willing to take their place," Garbarino said. "It's time to say enough is enough and push back on the anti-police narrative, starting here in our nation's capital."
The resolution follows the Senate's 81–14 vote Wednesday to block changes to D.C.'s criminal code that would have reduced penalties for some violent crimes. Thirty-three House Democrats voted in favor of H.J. Resolution 26 after President Joe Biden said he would sign the measure.
"I support D.C. Statehood and home-rule – but I don't support some of the changes D.C. Council put forward over the Mayor's objections – such as lowering penalties for carjackings," reads a message Biden posted to Twitter last week. "If the Senate votes to overturn what D.C. Council did – I'll sign it."
The Police Union compared the new resolution to H.J. Res. 26, saying it seeks to disapprove another piece of anti-victim, pro-criminal legislation that is a direct attack on officer rights.
"Congress should not allow an Act that puts criminals before victims to pass," the Union said. "The D.C. Police Union proudly supports this resolution and asks all members of Congress and the White House to do the same."
Original News Source Link

Running For Office? Conservative Campaign Consulting – Monthly Rates!