Florida's Gov. Ron DeSantis awarded $100 million to support beach recovery projects in counties hard hit by two hurricanes in 2022.
Speaking in Daytona Beach Shores, DeSantis allocated money to 16 counties. The amounts ranged from $37.7 million for Volusia County, hard hit by Category 1 Hurricane Nicole, and $23.1 million for Lee County, the Fort Myers area where the Category 4 Hurricane Ian made landfall, to $250,000 for St. Lucie County south of Volusia on Florida's Atlantic Coast.
"Placing sand as quickly as possible is essential in order to avoid additional damages to public and private infrastructure from subsequent storms and erosion," the governor's office said in a public statement on Jan. 18.
The funding was authorized by the state's Senate Bill 4A, signed into law by DeSantis on Dec. 16, 2022.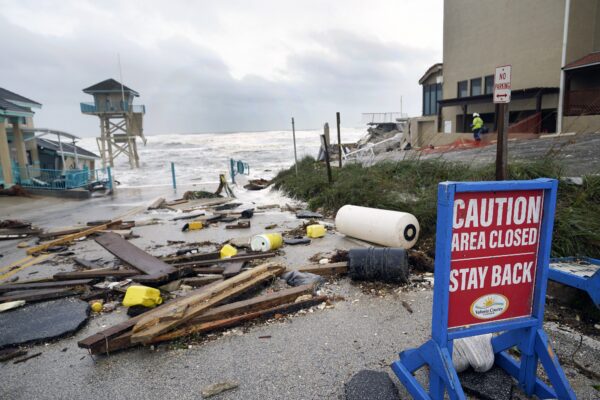 "The coastal erosion caused by these storms not only damaged upland structures and infrastructures but left them vulnerable to subsequent storms if not addressed," DeSantis said in the statement.
"I am pleased to announce another step to expedite recovery of our communities impacted by these historic storm events. This funding will support beach restoration needs, allowing us to rebuild and further enhance resilience."
The governor's office said that a wide beach system absorbs wave energy, protects upland areas from flooding, and mitigates erosion. A healthy beach provides a buffer between storm tides and landward areas, preventing destructive waves from reaching the dunes and upland developments.
Other grants awarded include Brevard County, $3.2 million; Broward County, $488,000; Charlotte County, $1.3 million; Collier County, $2.4 million; Duval County, $418,750; Flagler County, $17 million; Indian River County, $4.1 million; Manatee County, $305,271; Martin County, $1.4 million; Nassau County, $922,016; Palm Beach County, $2.1 million; Sarasota County, $618,469; and St. Johns County, $4.6 million.
The governor's office said that the money comes in addition to $20 million granted in November to help several local governments immediately counter erosion.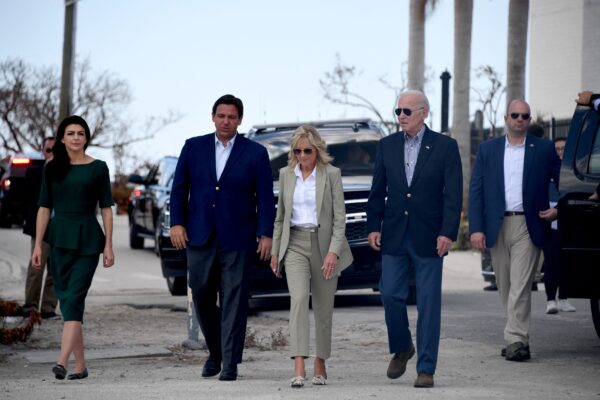 "Beaches are vital not only to the environment and the state's economy but are most importantly our first line of defense against storms," said Shawn Hamilton, Environmental Protection Secretary.
In another environmental move announced on Jan. 18, DeSantis and his cabinet put more than $17.7 million into conserving 3,500 acres in five counties.
The governor's office said that the tracts buffer land within the Florida Wildlife Corridor, a recently designated network of connected lands crucial for wildlife habitat.
They are part of the state's Florida Forever conservation project, which has acquired almost 900,000 acres of land to conserve since its inception in 2001. Including a predecessor program, P2000, the state has purchased more than 2.6 million acres, according to the Office of Environmental Services.
Those efforts include the acquisition of 565 acres in Nassau County within the Tiger Island/Little Tiger Island Florida Forever project; the purchase of nine acres in Charlotte County within the Charlotte Harbor Estuary Florida Forever project; a conservation easement of 2,529 acres in Okeechobee County within the Triple Diamond Florida Forever Project; a conservation easement of 287 acres in Osceola County within the Osceola Pine Savannas Florida Forever Project; and a conservation easement of 135 acres within the Rainbow River Corridor Florida Forever project, the governor's office said.
Meanwhile, the Department of Environmental Protection sold a surplus property, the Gore Building in Fort Lauderdale, for $62.6 million to the Namdar Group in a sealed bid sale.
The $100 million was part of $250 million in disaster recovery spending the state authorized. The federal government has approved more than $5 billion in federal grants, disaster loans, and flood insurance payments to the state and households.
The Federal Emergency Management Agency (FEMA) said in a statement on Jan. 17 that it has provided $896 million to households affected by Hurricane Ian and $504 million to the state for emergency responses to Hurricane Ian, while the U.S. Small Business Administration has provided $1.47 billion in disaster loans.
The National Flood Insurance Program has paid $2.2 billion in claims to Hurricane Ian survivors.
Hurricane Ian, which made landfall on Sept. 28 near Fort Myers on Florida's Gulf Coast, was the fifth strongest hurricane ever to hit the United States and the deadliest in Florida since the 1935 Labor Day hurricane.
It killed at least 146 people in Florida, five in North Carolina, one in Virginia, and five in Cuba, and did damage estimated at more than $112 billion.
Hurricane Nicole, which made landfall south of Vero Beach on Florida's Atlantic Coast on Nov. 10, killed 11 people and did more than $1 billion in damage.
Erosion from the storms—Hurricane Ian exited the state via its Atlantic Coast—uncovered an 80-foot wooden ship from the 1800s at Daytona Beach Shores and what is believed to be a Native American burial site on South Hutchinson Island.