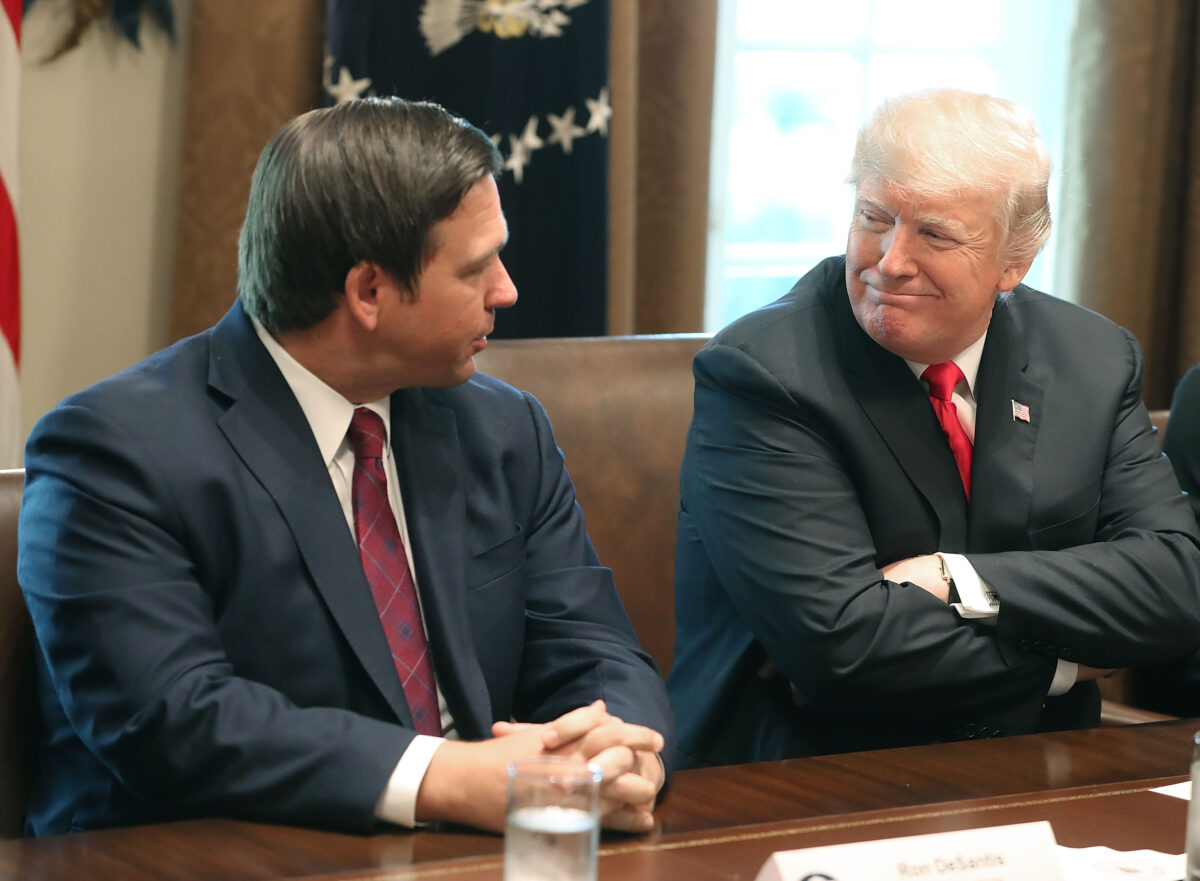 A candidate backed by Florida Gov. Ron DeSantis lost to a Democrat and a candidate endorsed by former President Donald Trump.
A DeSantis pick in the recent May 15 mayoral race in Jacksonville, Florida, was defeated by a Democrat.
According to the Duval County Supervisor of Elections website, the unofficial results of the unitary general election have Democrat Donna Deegan with 52.08 percent of the vote. The Republican candidate endorsed by DeSantis, Daniel Davis, pulled in 47.92 percent of the vote. Unofficial results do not include provisional ballots, which can be challenged or rejected.
While DeSantis did endorse Davis, he never appeared at any campaign events and made no efforts to actively encourage voters to cast their ballots for Davis.
Florida's governor did travel to the battleground state of Iowa—one of 12 states said to determine the outcome of presidential elections—to speak at Republican Rep. Randy Feenstra's May 13 family picnic.
The Loss in Kentucky
The May 15 defeat of a DeSantis-backed candidate wasn't limited to Davis.
In the Republican effort to find a challenger to face outgoing, incumbent Democrat Gov. Andy Beshear in Kentucky's GOP gubernatorial primary, the candidate endorsed by DeSantis—former United Nations Ambassador Kelly Craft—was soundly defeated by Daniel Cameron, who was endorsed by Trump.
In a press release issued by Trump's "Save America" campaign on June 16, 2022, Trump enthusiastically threw his name behind Cameron, saying, "At every level, Daniel has stood out, he will be a great Governor of Kentucky and has my complete and total endorsement!"
DeSantis conveyed his endorsement of Craft in a pre-recorded statement released to Fox News Digital the day before the election.
"Hello, this is Governor Ron DeSantis, coming to you from the free state of Florida," DeSantis said. "You've had a woke, liberal governor who's put a radical agenda ahead of Kentuckians. The stakes couldn't be higher. I know what it takes to stand up for what's right, and Kelly Craft's got it. She's proven it. I'm strongly encouraging you to go out and vote for my friend, Kelly Craft."
An Emerson College poll released on April 13 found Cameron leading Craft by a mere 6 percentage points. By May 14, Emerson College's next poll showed Cameron's lead had increased to more than 15 points.
In response to the two endorsement losses DeSantis suffered on election night Trump took the opportunity to criticize the governor on social media.
The DeSanctimonious backed candidate came in a DISTANT third. Ron's magic is GONE! He also lost, shockingly, in Jacksonville last night (Mayor)," Trump wrote on Truth Social the morning of May 17.
Confusion in New Hampshire and Iowa
Along with the contest of who picks the most victorious candidates, DeSantis or Trump, there is also the competition to receive endorsements.
In a May 16 press release, DeSantis Super PAC, "Never Back Down," claimed Florida's governor had procured the endorsement of "over 50 New Hampshire legislators," including State Representatives Juliet Harvey-Bolia (R) and Lisa Smart (R).
The problem is, Harvey-Bolia told NBC News that she's "endorsing both" Trump and DeSantis, adding that while "DeSantis has a lot of promise for the future … Trump is great now."
Smart issued a statement, making it very clear that her support for Trump "has not changed."
"I'm dismayed by the games being played by Never Back Down, and I will NOT be participating in any activities with Ron DeSantis," she said.
Steven Cheung—former senior White House communications adviser to President Trump—revealed through Twitter that "@NvrBackDown24 tried to harass and intimidate" Trump's supporters, accusing "Team DeSantis" of giving "their personal contact information to reporters across multiple outlets to apply pressure."
In its defense, NBD released an image of a form (pdf), allegedly signed by Smart on May 9, pledging support "endorse Governor Ron DeSantis."
The Epoch Times reached out to Smart for comment.
Meanwhile, over in Iowa, three people on a list of supporters released by Trump's team told Axios that they were not endorsing Trump and that they had no idea how their names got on his list.
Trouble in the Polls
A recent CBS News survey showed 58 percent of Americans would vote for Trump in 2024; 22 percent chose DeSantis, a spread of 36 percentage points.
A May 16 Reuters/Ipsos poll showed Trump leading DeSantis, 49 percent to 19 percent.
As previously reported by The Epoch Times, Tom Bevan of Real Clear Politics finds it interesting how the rating crash by DeSantis appears to coincide with his tour.
"He went on his book tour. He gave a speech at the Reagan Library. He's been going around the country. He went overseas, and nothing has moved his numbers," Bevan told The Epoch Times. "If anything, they've gotten a tad worse over the last five weeks from 24.6 on our average down to 22.9."
While DeSantis was in Japan, a reporter asked about his slide in the polls.
"Governor, polls show you falling behind Trump. Any thoughts on that?"
"I'm not a candidate," DeSantis answered. "So we'll see if and when that changes."
Original News Source Link

Running For Office? Conservative Campaign Consulting – Monthly Rates!