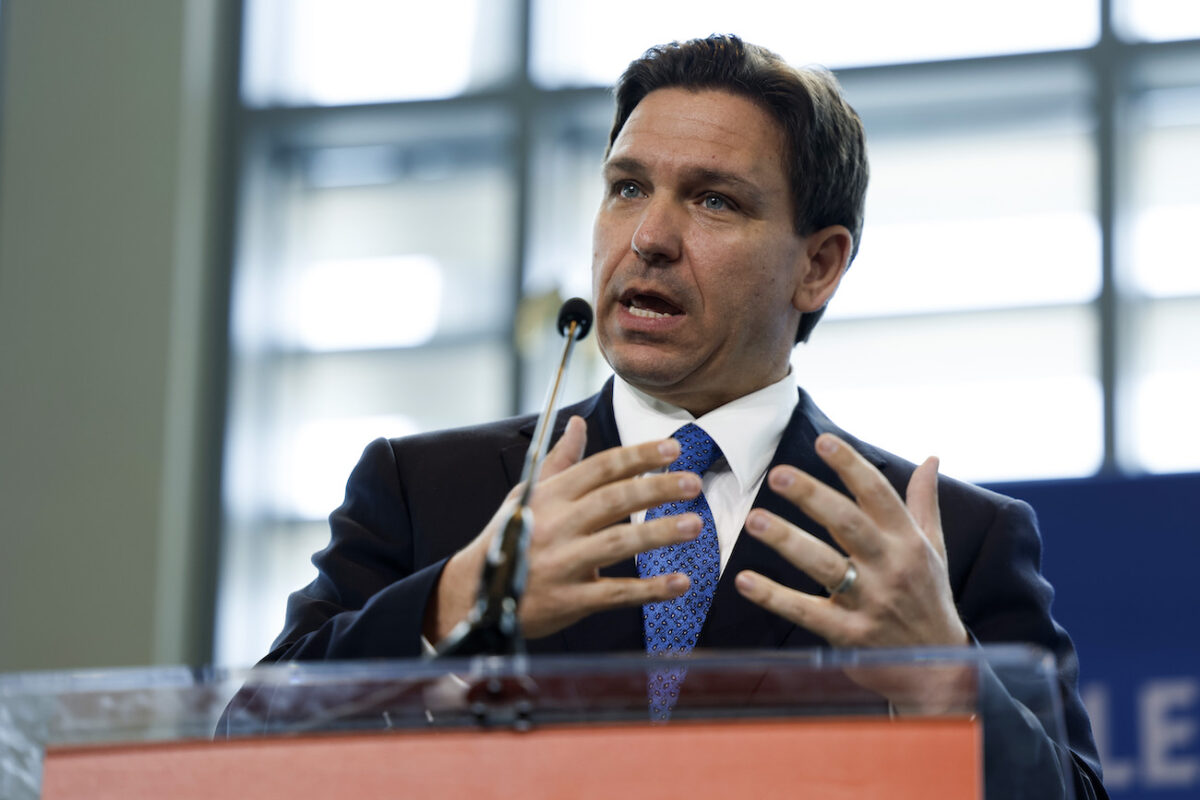 Florida Gov. Ron DeSantis, during an interview announcing his 2024 presidential bid on May 24, said that he hopes for a settlement of the Russia-Ukraine war.
"I want to see a settlement of this," DeSantis said. "I do not want to see a wider war."
While he admitted that it's "unknowable" what the situation could look like come January 2025, DeSantis said, "I do not want to see the U.S. with our troops get meshed in a war in Ukraine."
In March, the Florida governor caused controversy when he referred to the conflict as a "territorial dispute."
In response to a question on the conflict delivered to Fox News opinion host Tucker Carlson, DeSantis said that "while the U.S. has many vital national interests … becoming further entangled in a territorial dispute between Ukraine and Russia is not one of them."
In his comments to Carlson, DeSantis blasted the Biden administration's funding of the war without objectives or accountability "distracts from our country's most pressing challenges."
DeSantis later walked back the comments, condemning Putin as "a war criminal."
Nevertheless, DeSantis reiterated that he still does not think the U.S. should "escalate to more involvement" in Ukraine.
"I would not want to see American troops involved there. But the idea that I think somehow Russia was justified [in invading]—that's nonsense."
Speaking on Putin, DeSantis said, "I think he's got grand ambitions. I think he's hostile to the United States, but I think the thing that we've seen is he doesn't have the conventional capability to realize his ambitions."
DeSantis' comments come as the GOP is divided on how much involvement the U.S. should have in the conflict.
In the House, Republicans like Reps. Marjorie Taylor Greene (R-Ga.) and Matt Gaetz (R-Fla.) have been skeptical of increasing U.S. involvement in the conflict, raising concerns that it could lead to U.S. troops on the ground, nuclear proliferation, or the next world war. Greene has called for an audit of all funds sent to Ukraine thus far.
Meanwhile, Republicans in the upper chamber like Sen. Mitch McConnell (R-Ky.) and others in the Senate GOP caucus have pushed for increased U.S. involvement, aid, and financial assistance in the conflict.
President Donald Trump, the frontrunner in the battle for the GOP nomination, said during his first 2024 campaign rally that he thought it likely that Russia would win the conflict.
Trump said that Putin's invasion of Ukraine would not have happened if he had been president and that could conflict "within 24 hours" if elected president.
To do this, Trump said he would look into funding and other financial ties between the United States, Russia, and Ukraine to force a compromise.
"As I stand here tonight, I am the only candidate who can say this: I will prevent World War III," Trump said.
Jackson Richman contributed to this report.
Original News Source Link

Running For Office? Conservative Campaign Consulting – Monthly Rates!