Florida Gov. Ron DeSantis signed four bills on May 16 continuing the state's crackdown on human trafficking—including provisions toughening penalties, expanding public awareness outreach to halfway houses and foster homes, and extending laws to cover businesses such as hotels and strip clubs that may benefit from it.
Arrests for human trafficking, primarily of women and children, were up nationally by 50 percent last year, DeSantis said at a ceremony at Coastal Community Church in Lighthouse Point.
He tied the problem to the troubled southern border and the failed border control policies of President Joe Biden's administration.

The governor quoted from the most recent report of a statewide grand jury he asked the Florida Supreme Court to impanel last year.
"'The federal government is facilitating the forced migration, sale and abuse of foreign children. This process exposes children to horrifying health conditions, constant criminal threat, labor and sex trafficking, robbery, rape and other experiences not done justice by mere words.'"
The grand jury discovered, DeSantis said, that more than a quarter of a million unaccompanied alien minors entered the United States since January 2021.
'It's Just a Rotten System'
Children wind up in federal facilities, he said. "And the bottom line is, it's just a rotten system. It's a rotten way to do business and it's causing harm to a lot of people.
"So all in, human trafficking in this country is a $150 billion illegal enterprise."
In Florida, he said, "we want to use every resource at our disposal to put human traffickers out of business and into jail."
DeSantis said that 72 percent of all human trafficking victims are illegal immigrants.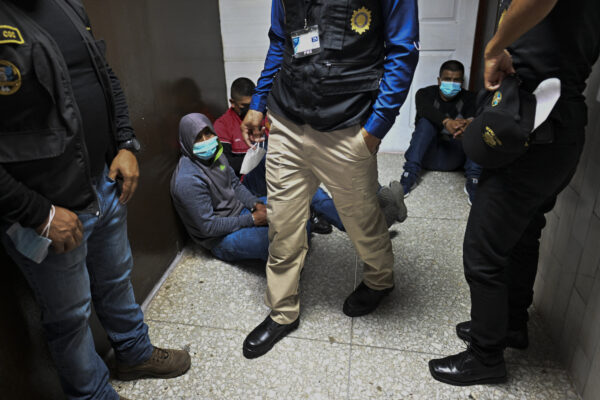 His office added that 60 percent of unaccompanied alien children crossing the border were caught and smuggled by cartels, and exploited for drug trafficking or worse.
One bill, Senate Bill 7064, allows victims of human trafficking to sue to recover damages from adult entertainment establishments.
"It's gonna serve as a deterrent for some of those people knowing that now they can be liable in a more direct way financially," DeSantis said.
It also increases penalties for adult entertainment establishments that exploit minors from the current first-degree misdemeanor to a third-degree felony.
The bill allows victims to receive restitution when traffickers' assets are seized and sold.

One problem for victims, DeSantis said, is: "some people get forced into this. This kind of becomes all they know, and sometimes it's hard to get out even if they ultimately want to.
"We look and say, 'Well, why would someone want to do it', but when you're in those situations, you're treated like that for a long time, you may not have anywhere to go."
Trafficked by Her Own Mother
Savannah Parvu, a human trafficking survivor and advocate who spoke, was a case in point on the crisis—how children are forced into it, how they know nothing else, how a system designed to help them may also abuse them, and how it can take years to get out.
Parvu described her childhood as the daughter of two drug addicts and alcoholics in Central Florida.
She spoke calmly as she told of her terrifying youth.
Even in kindergarten, she said, she knew not to talk about what went on at home and was threatened with what would happen if she did.
When she was 9 years old, her father was disabled from a stroke, she said. Her mother turned to theft and prostitution. She would take Savannah along when she went to meet men.
"Because I always wanted to be with her because I never knew when I was asleep at night if she would be there when I woke up, or when she was coming back," Parvu said.
"There was a time when I was 11, that I went with her when she was going to prostitute herself, and her drug dealer offered her a $10 piece of crack for me instead of for her.
"And so she told him that was fine. He could do whatever he wanted. So he took and sold me to other people, and gave her a $10 piece of crack. And after that I began being sold on a regular basis," she said.
Sold Out of a Hotel
"When I was 12, I started being sold out of a hotel in Central Florida. We went to the same hotel a lot," Parvu said. "And the staff there actually assisted him by allowing people in the room so that he didn't have to stay there with me. So they knew what was happening, but they never did anything to help me.
"I was trafficked on a regular basis between the age of 11 and 13. Then I watched both of my parents try to commit suicide when I was 13, and I was placed in foster care. And after that I started cutting myself because I wanted to know what it felt like when my parents tried to commit suicide. And back then cutting wasn't as common as it is now."
She went to a group home and then a residential treatment center for kids in foster care.
"And once I got there, I found out that the staff were friends with my trafficker, so I continued to be trafficked while I was in foster care. And so, off and on between the ages of 11 and 26, I was trafficked. And I didn't get help until I learned what human trafficking was."
Attorney General Ashley Moody described how eight young women smuggled across the border were held in sexual servitude—crowded into small apartments with armed guards, their identification taken away from them, and funneled through strip clubs to make money for the traffickers.
They were eventually rescued.
Cracking down on such clubs' exploitation of such victims was a priority in this year's legislation, Moody said.
Senate Bill 7064 requires prostitution and lewdness offenders to attend an educational program that will direct them away from traffickers and toward supportive resources, DeSantis said.
Law enforcement officers will be required to receive four hours of training on identifying and investigating human trafficking, he said.
The University of South Florida will house and operate a statewide data repository for anonymous human trafficking data to evaluate trends and the effectiveness of the state's measures against it.
Safe Houses
Senate Bill 1690 increases regulations of safe houses for adult and child victims and requires their certification. Laws providing for the houses were first passed in 2014, said Shevaun Harris, Secretary of the Department of Children and Families.
The bill mandates child residents be educated about human trafficking—its signs, dangers, and how to report it. It tightens requirements for hotels to train staff in human trafficking awareness and increases penalties for those that fail to.
Parvu said the hotel where she was trafficked at age 12 had violated existing training laws at least five times in the past two years. "So it's still happening at the same place I was trafficked."
The bill raises the standard of care at foster homes and safe houses for human trafficking victims, DeSantis said.
House Bill 1465 strengthens criminal penalties, establishing mandatory minimum sentences if they show or fire a gun during a trafficking crime.
Senate Bill 1210 allows human trafficking victims to expunge their records and exempts the proceedings from public records requirements.
Sergeant Thomas McInerney of the Broward County Sheriff's Office said the problem continues to grow yearly for law enforcement. "We are absolutely overwhelmed at this point."
Education and awareness provisions in the new laws are central, he said, as Florida hotels are usually law enforcement's first point of contact with victims.
"Hotels are utilized, as we all know, for commercial sex acts on a regular basis. They also serve as temporary housing for a lot of human trafficking victims as they're being transported across our state. So having educated staff at these hotels with reporting requirements is key for us, to give us the intel that we need."
The same thing goes for group homes and foster care systems, he said.
Children in them are vulnerable, and traffickers prey on them with targeted grooming practices.
"A lot of times these group homes can become recruiting grounds for human trafficking."
Original News Source Link

Running For Office? Conservative Campaign Consulting – Monthly Rates!