Bryan Griffin, press secretary for Florida Gov. Ron DeSantis, has resigned so he can "pursue other avenues of helping to deliver the governor's success to our country."
Griffin released his two-page resignation letter in a May 15 tweet. A number of Twitter users commented that Griffin's departure appears to signal that DeSantis' long-awaited presidential campaign announcement is on the horizon—and that Griffin will most likely play a role in DeSantis's political organization.
Some Twitter commenters noted that the final sentences of Griffin's resignation appear to strongly suggest that a presidential run is imminent.
"I believe that Governor DeSantis is the only leader who can see us to victory at this critical moment in American history," Griffin declared.
The nation faces "historic challenges," Griffin wrote, including "a national demoralization and abandonment of our shared values and purpose."
'Revival and Restoration'

Griffin pledged to help DeSantis overcome those challenges, adding, "America is worth the fight … If I can be even a small part of the revival and restoration of our great nation, then I am prepared to give it my all."
Working as DeSantis' press secretary was "the honor of a lifetime," Griffin added. The woman who formerly held that position, Christina Pushaw, resigned last August to assist DeSantis's political operation.
DeSantis's anticipated entry into the 2024 presidential race had been complicated by the state's "resign-to-run" law. But a recent change has cleared the path for DeSantis to seek federal office without resigning from his governorship.
Meanwhile, DeSantis is on a speaking tour to promote his recently released book, "The Courage to Be Free: Florida's Blueprint for America's Revival." Critics have denounced the book tour as a "shadow campaign" for a presidential run.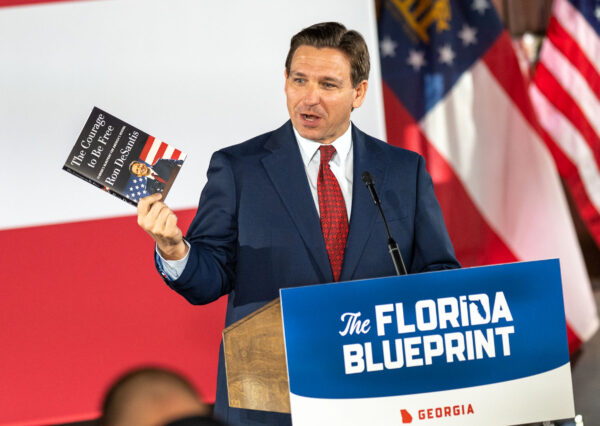 Presumed Challenger to Trump
While still undeclared as a presidential contender, DeSantis is the closest potential challenger against the current frontrunner for the Republican presidential nomination.
Former President Donald Trump, the two-time defending GOP nominee, is far ahead of DeSantis in political polls; all other potential or declared challengers have been polling in the single digits.
Trump has widened his polling lead in recent weeks despite a spate of legal battles.
Because Trump endorsed DeSantis' first gubernatorial run in 2018, Trump has repeatedly stated that he would consider it "disloyal" for DeSantis to run against him.
'True Conservative'
Griffin praised DeSantis for setting the stage to ensure that "Florida will be a safe, prosperous, exceptional, and successful place for our children and posterity to live for generations."
"Together, we have irrevocably enshrined freedom and truth into Florida's institutions and law," Griffin wrote.
He called DeSantis and his wife, Casey, "principled leaders and courageous fighters."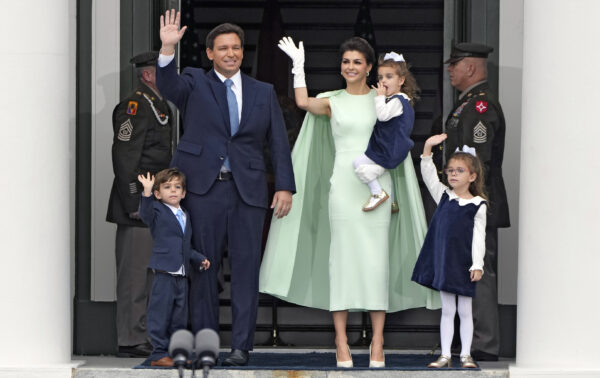 "I have seen Governor DeSantis presented with many choices over my tenure, and I can confidently say he consistently chose to do what was right," Griffin wrote.
DeSantis is a "true conservative" and has surrounded himself with people who share those values, Griffin said.
"The team here is a group of people I am now proud to call my friends. They are extraordinarily good and committed people who are dedicated to serving Floridians and who have exceeded every expectation I held upon joining state government," he said.
Accomplishments Touted
Griffin said DeSantis's list of accomplishments is long, and gave a few examples.
Under DeSantis' leadership, the state "rejected politicized education," has "unapologetically stood for families, parents, and children," and became "the nation's optimal destination to live, have a family, and raise children who will be safe from both physical harm and nefarious radicalization."
"Florida has refused to accept the ideological capture of its institutions and has systematically battled the entrenched ideologues to wrest back the control of academia, enterprise, and the health care industry and return it to the people," Griffin wrote.

Griffin also touted the governor's leadership in the wake of Hurricane Ian, which caused widespread damage to the state in September 2022.
"Finally, Florida's example under Governor DeSantis during and after COVID in rejecting power grabs and falsehoods served as the impetus that turned the tide and pushed our country back towards freedom and sanity," Griffin wrote.
"Without Florida and without Governor DeSantis, the courage to stand up, fight back, and speak truth against the establishment narrative might not have prevailed within our nation for years."
And, Griffin said, "All of these things that Governor DeSantis has accomplished in Florida can be replicated nationwide."
Original News Source Link

Running For Office? Conservative Campaign Consulting – Monthly Rates!