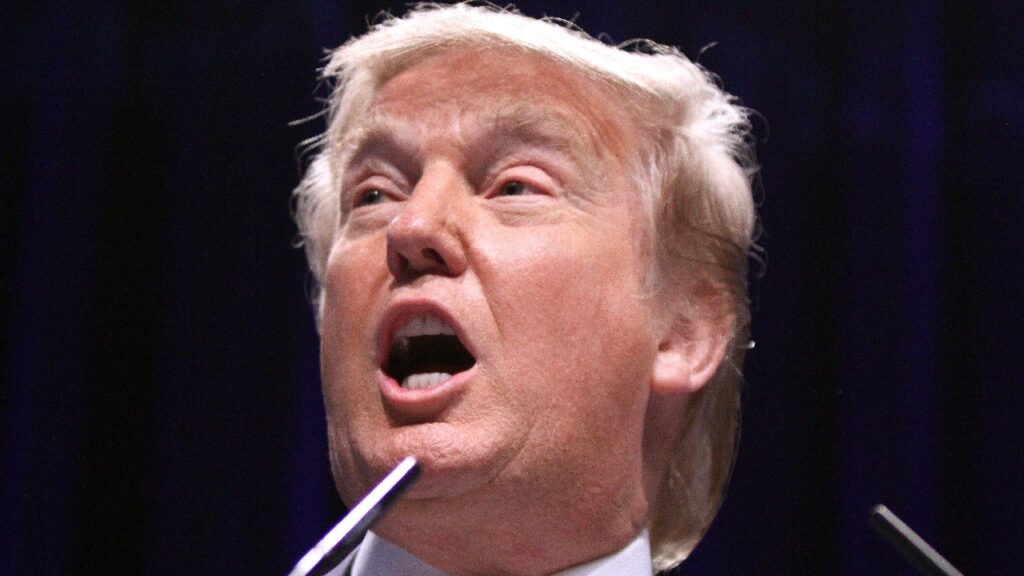 House Speaker Kevin McCarthy said earlier this week that he will ask House committees to go forward with an impeachment inquiry of President Joe Biden. The effort seems dead on arrival, with even Republicans in the Senate expressing skepticism, while it's not even a sure bet that McCarthy has the votes to pass any articles of impeachment.
So why actually go through with it? According to reports this week, former President Donald Trump is enthusiastic about the idea.
According to the New York Times, the former president has been encouraging members of the House Freedom Caucus to pursue impeachment. And while Rep. Marjorie Taylor Greene (R-GA) was kicked out of the Freedom Caucus this summer, Trump met with her at his Bedminster club on Sunday.
"I did brief him on the strategy that I want to see laid out with impeachment," Greene told the Times of the Trump meeting, where the two dined on "halibut and Diet Cokes."
The congresswoman indicated that she wants the impeachment case to be "long and excruciatingly painful for Joe Biden," indicating that Trump is pushing for a lengthy impeachment investigation of his likely opponent that will push into the election year of 2024. That year, of course, is expected to feature multiple criminal trials involving Trump.
The push was not just about Greene, the Times said.
"Trump has talked regularly by phone with members of the ultraconservative House Freedom Caucus and other congressional Republicans who pushed for impeachment," the Times reported, citing a person close to Trump.
There's more to the impeachment strategy, according to the Times: Greene would like to find a "long list of names"of people involved with whatever they are accusing Biden of doing, and following a Trump election victory in 2024, the plan would be to "to go after every single one of them and use the Department of Justice to prosecute them."
The Times did note, however, that the GOP committees have yet to uncover compelling evidence of criminal wrongdoing by the president himself.
"Republicans have not shown that Mr. Biden committed any crimes," the Times report said. "House Republicans are proceeding with the impeachment inquiry without proof that Mr. Biden took official actions as vice president to benefit his son's financial interests or that he directly profited from his son's foreign deals."
What of the push, earlier this year, by House Republicans to "expunge" Trump's two impeachments?
As opposed to a Biden impeachment, the report said, "Trump has been far more aggressive in pushing several members to wipe his own impeachment record clean, the person said, potentially by getting Congress to take the unprecedented step of expunging his two impeachments from the House record." Greene and Rep. Elise Stefanik (R-NY) introduced bills earlier this year to expunge the two impeachments, although it's not clear that the passage of such a bill would have any Constitutional force.
Trump also, per the Times report, is not concerned that the impeachment push will backfire and help President Biden.
Maggie Haberman of the Times, a Trump biographer and one of the authors of the Times story, went on CNN Wednesday and talked about how the inquiry could actually help Biden.
"There's no evidence so far that ties Joe Biden to any of this," Haberman said on CNN. "They're suggesting that that could change if they move ahead."
The reporter added that "if voters, who don't really want to see these kinds of inquiries all the time, feel like this is going too far," it could end up helping Biden and Democrats. There also remains a possibility of a government shutdown if Congress cannot agree on a resolution to fund the government past this month.
Author Expertise and Experience
Stephen Silver is a Senior Editor for 19FortyFive. He is an award-winning journalist, essayist and film critic, who is also a contributor to the Philadelphia Inquirer, the Jewish Telegraphic Agency, Broad Street Review and Splice Today. The co-founder of the Philadelphia Film Critics Circle, Stephen lives in suburban Philadelphia with his wife and two sons. Stephen has authored thousands of articles over the years that focus on politics, technology, and the economy for over a decade. Follow him on X (formerly Twitter) at @StephenSilver, and subscribe to his Substack newsletter.