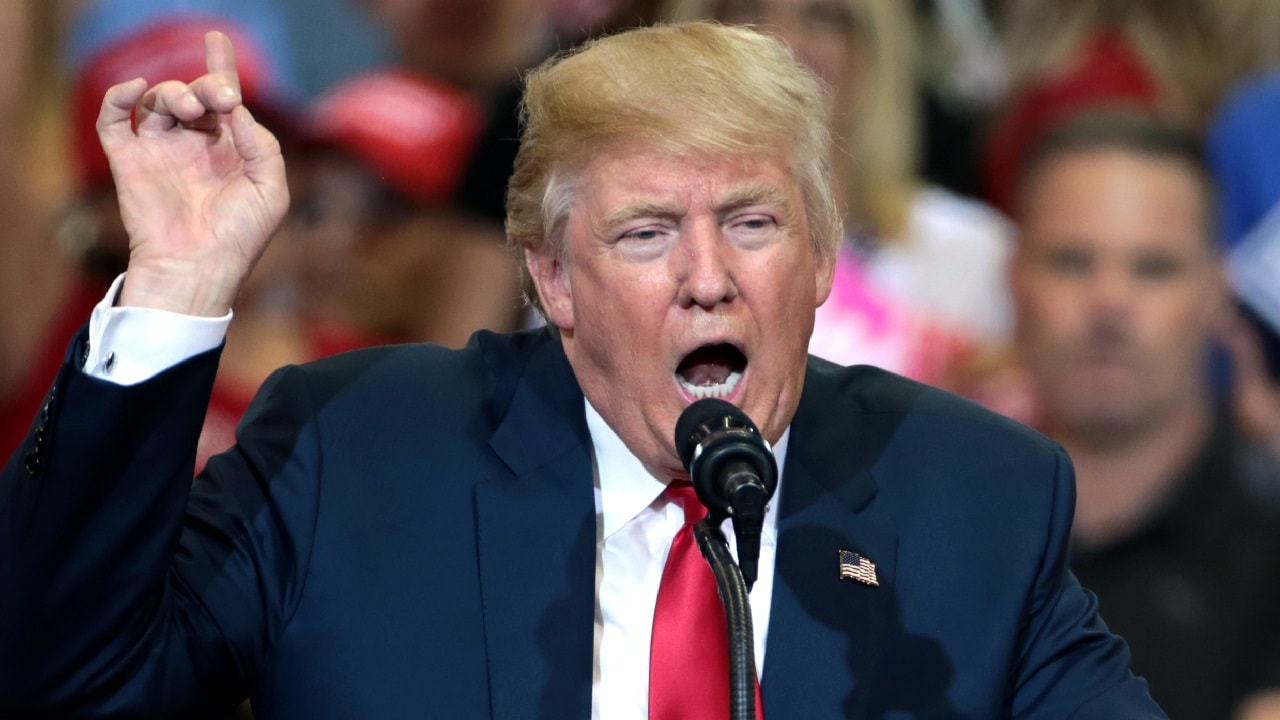 Donald Trump seen backing Lake: Per a report, the former president told former Senate candidate Blake Masters that he can't beat Kari Lake.
Donald Trump Helps Kari Lake
Arizona was reportedly looking at a MAGA vs. MAGA Senate primary in its 2024 Senate race, with both of the state's defeated 2022 candidates, gubernatorial candidate Kari Lake and Senate hopeful Blake Masters, both of whom were endorsed by Trump in their previous races.
Now, a new report says that Masters may not be running after all because Donald Trump himself has told him that he can't beat Lake, although he did not rule out eventually endorsing Masters.
According to the New York Times, Trump has made a "blunt phone call" to Masters, in which he told him why he doesn't think Masters has a chance to beat his fellow Arizona Republican. And as usual with Trump, the primary criteria for a candidate is his personal loyalty to Trump himself, which comes ahead of all other considerations.
"Among Mr. Trump's complaints about Mr. Masters was that he had tempered some of his comments related to Mr. Trump's false claims that the 2020 election was stolen from him. When Mr. Masters said in a debate in October 2022 that he hadn't seen evidence of widespread fraud in the state, Mr. Trump called him, in a moment captured by a Fox News camera," the Times said.
The Times added that Trump, despite the 2022 endorsement, has been skeptical about Masters in the past.
"If you want to get across the line, you've got to go stronger on that one thing," Trump told Masters in 2022, in a discussion that was caught on camera, as reported by the newspaper. "That was the one thing, a lot of complaints about it."
"Look at Kari — Kari's winning with very little money," Trump said in the 2022 election. "And if they say, 'How is your family?' She says, 'The election was rigged and stolen.' You'll lose if you go soft. You're going to lose that base."
Trump made the call to Masters, per the Times, despite his strategy of involving himself less in competitive primaries this cycle than he has in the past.
Lake has not yet announced her candidacy and is thought to covet the vice presidential slot in a second Trump Administration.
"I am strongly considering getting in the race and will be making my final decision in the coming weeks," Lake said in a statement this week, as cited by the Times.
That would set up one of the cycle's most unique Senate races. The incumbent is Sen. Krysten Sinema (I-AZ), who left the Democratic Party last year to become an independent but continues to caucus with the Democrats. Rep. Ruben Gallego (D-AZ) is running for the seat as a Democrat, while Sinema has not announced whether she is running for re-election.
There's a strong possibility of a three-way race, among Gallego, Sinema, and whoever emerges as the winner of the Republican primary, in one of the nation's most closely divided swing states.
Lake, while not ruminating on what her next run for office will entail, has continued to argue that the 2022 election was stolen from her. Also this week, per Fox News, she took aim at another target: The NFL.
Lake took umbrage this week when, prior to the "kickoff" game on Thursday night between the Kansas City Chiefs and Detroit Lions, a youth choir performed "Lift Every Voice and Sing," which has been described as the "Black national anthem." The "Star-Spangled Banner" was also played prior to the game.
Lake had sat out the same song when it was played prior to the Super Bowl in February, which was played in Arizona.
"I hear the @NFL is still trying to force this divisive nonsense down America's throats. I won't stand for it. Literally," she wrote on X during the game. "America has only ONE National Anthem and that Anthem is color blind."
Author Expertise and Experience
Stephen Silver is a Senior Editor for 19FortyFive. He is an award-winning journalist, essayist and film critic, who is also a contributor to the Philadelphia Inquirer, the Jewish Telegraphic Agency, Broad Street Review and Splice Today. The co-founder of the Philadelphia Film Critics Circle, Stephen lives in suburban Philadelphia with his wife and two sons. Stephen has authored thousands of articles over the years that focus on politics, technology, and the economy for over a decade. Follow him on X (formerly Twitter) at @StephenSilver, and subscribe to his Substack newsletter.