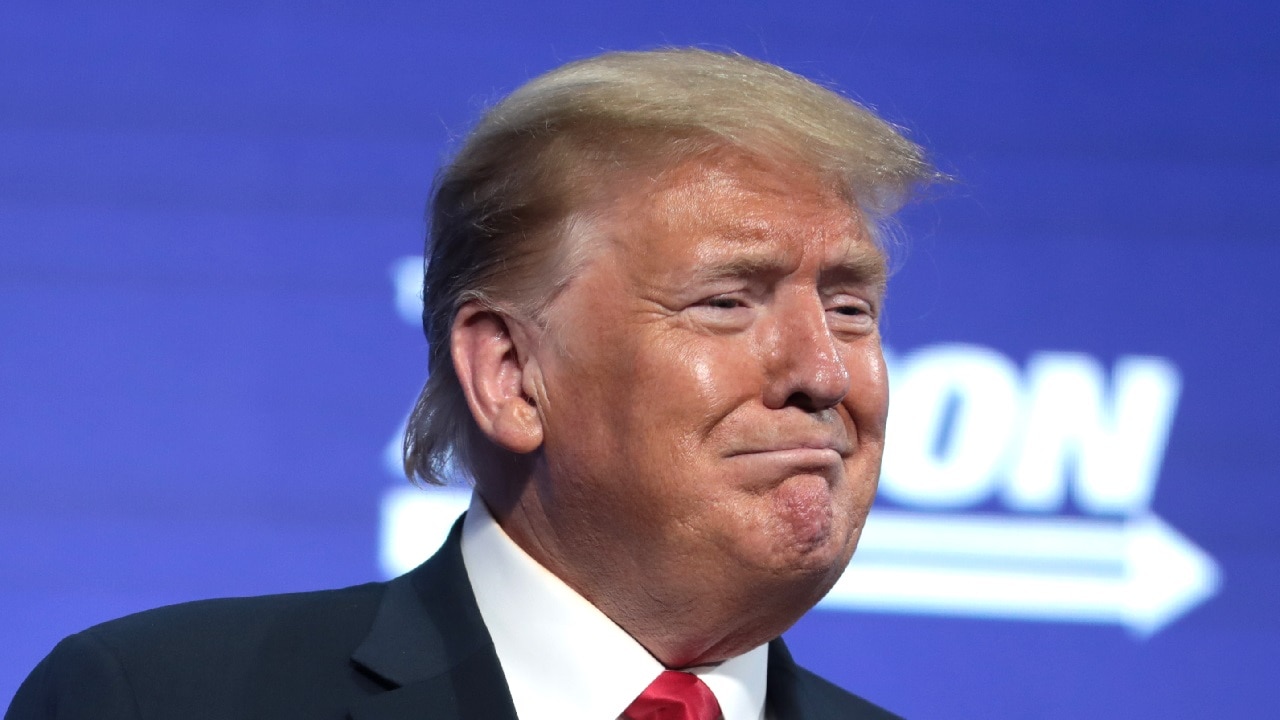 New Hampshire will not be among the states removing former President Donald Trump from the ballot, citing the 14th Amendment's insurrection clause.
That state's secretary of state told reporters at a news conference that Trump will be on the ballot when its first-in-the-nation primary takes off in February.
Secretary of State Dave Scanlan noted Wednesday that Trump would be on the ballot as long as he "submits his declaration of candidacy and signs it under the penalties of perjury, pays the $1,000 filing fee, his name will appear on the presidential primary ballot." Scanlan made his comment in response to a suggestion by 2020 GOP U.S. Senate candidate Bryant "Corky" Messner that he would seek to have Trump disqualified in the courts.
"I'm a Constitutional conservative. The words say what they say," Messner said in an interview last month. "I quite frankly believe it is in Donald Trump's best interest to get this looked at as quickly as possible."
Nothing in NH Law Keeps Donald Trump From Running
Scanlan contends that nothing in New Hampshire state law precludes Donald Trump from running.
"There is nothing in the 14th Amendment that suggests that exercising the provisions of that amendment should take place during the delegate selection process as held by the different states," he added. "There is nothing in our state statute that gives the Secretary of State discretion in entertaining qualification issues once a candidate swears under the penalties of perjury that they meet the qualifications to be president."
In Scanlan's view, the 14th Amendment challenge to Trump's candidacy amounts to legal anarchy.
"In a situation where some states permit a name to appear on the ballot and other states disqualify it, chaos, confusion, anger and frustration will be the result," Scanlan argued. "At a time when we need to ensure transparency and build confidence among voters around the country, the delegate selection process should not be the battleground to test this constitutional question."
New Hampshire GOP chair Chris Ager, who attended the news conference, expressed relief in a statement to Fox News, "I'm very happy with the decision. It made a lot of sense to me the way the Secretary articulated the process and the decision-making, and now we can put the 14th Amendment to bed in New Hampshire and get back to campaigning."
Momentum Increases in 14th Amendment Cases
Momentum behind the movement to knock Trump off the ballot based on the novel idea that Trump supported and instigated an insurrection has gained strength. A series of articles by Never Trump Republican and Democrat jurists has added to the momentum.
The Supreme Court will decide later this month whether to hear a case brought by Texas tax attorney John Anthony Castro, who admitted to 19FortyFive that his case is being brought because polling suggests that Trump could beat Joe Biden next year.
Castro sued in a lower court in South Florida; however, Judge Aileen Cannon, the same judge presiding over Trump's classified documents case, threw out his suit claiming he lacked standing.
Another suit filed in Florida last month similarly was dismissed due to a lack of standing.
Free Speech for People, a group funded by foundations underwritten by the Soros family and Silicon Valley billionaires, began the push to disqualify Trump based on the theory that January 6 was an insurrection instead of a riot earlier this year.
Trump Precedent Could Endanger Democrats
The major flaw in the entire effort to knock Trump off the ballot is that only the sitting president had statutory authority to declare that what happened on Jan. 6, 2021 "an insurrection," not Congress, not the courts according to the Insurrection Act of 1807. Trump certainly did not declare that an insurrection took place at the Capitol.
If an insurrection is whatever political activists say it is, MAGA-supporting groups and government officials could remove Democrats who supported the self-described "George Floyd Uprising" from the ballot. Political activists are not stopping to examine the precedents they are looking to create in a fit of blind hatred and rage against the former president. What goes around inevitably comes around.
Could suits against Democrats who gave "aid and comfort" to the George Floyd rioters put them in similar legal jeopardy should this precedent succeed?
After all, Nancy Pelosi and Chuck Schumer, and other Democrats, signed letters in support of Left-wing rioters who attempted to storm the White House in late May 2020. Vice President Kamala Harris even encouraged financial support to a bail fund for Minneapolis rioters. Intellectuals behind the George Floyd riots openly called what they were doing "an insurrection."
Beware of setting bad precedents.
John Rossomando is a defense and counterterrorism analyst and served as Senior Analyst for Counterterrorism at The Investigative Project on Terrorism for eight years. His work has been featured in numerous publications such as The American Thinker, The National Interest, National Review Online, Daily Wire, Red Alert Politics, CNSNews.com, The Daily Caller, Human Events, Newsmax, The American Spectator, TownHall.com, and Crisis Magazine. He also served as senior managing editor of The Bulletin, a 100,000-circulation daily newspaper in Philadelphia, and received the Pennsylvania Associated Press Managing Editors first-place award for his reporting.