House Speaker Kevin McCarthy (R-Calif.) has the upper hand in negotiations with President Joe Biden on raising the debt ceiling and cutting federal spending, according to former House Speaker Newt Gingrich.
Gingrich said that the House's passage of the Limit, Save, Grow Act on April 26 was a key moment in breaking the stalemate Biden and McCarthy.
"It gave [Republicans] the ability to say that they had the one bill that would avoid a default. And then when 43 Senate Republicans, including [Minority Leader Mitch] McConnell, signed a letter saying they would not vote for cloture for a debt ceiling that was not approved by McCarthy, that really shifted the whole balance of power," Gingrich, a contributor to the publication, told The Epoch Times on May 19.
Biden and McCarthy initially met to discuss the debt ceiling on Feb. 1. Both described the meeting in positive terms. However, the president then refused to meet again until May 9.
For weeks, Biden said he would not negotiate over the debt ceiling because that would call the full faith and credit of the United States into question. He called on Congress to pass a "clean debt ceiling" increase. The president also said he would not discuss Republican demands for spending cuts until they produced a budget proposal.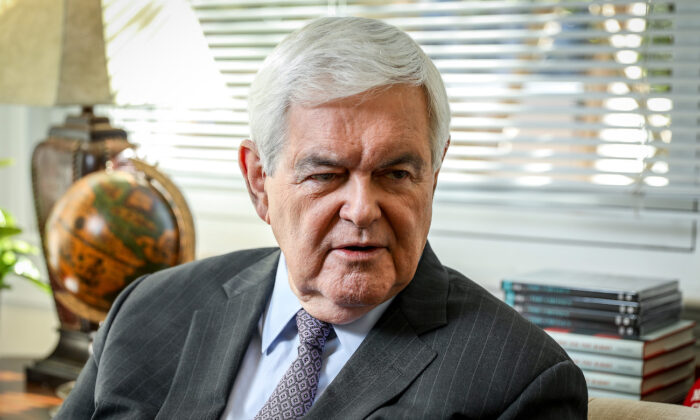 "I think the Biden administration thought the Republicans would fail in the House," Gingrich said. "They thought that the 'Don't let us default' argument would work, and they wouldn't have to do anything."
That changed when McCarthy guided the Republican caucus to pass the Limit, Save, Grow Act by a single vote in an almost evenly divided house.
"All of a sudden, they're in a world where, in fact, McCarthy has most of the cards. And [Democrats] have to negotiate directly with McCarthy, which is what they're now doing," Gingerich said.
"That's pretty amazing."
Workable Deal Likely
Despite complications that have emerged over the last two days, Gingrich believes an agreement will be reached and that it will pass both houses of Congress.
"I think they will get to a deal," Gingrich said. "I think it will be largely what the House Republicans want."
The House Freedom Caucus released a statement on May 18 urging McCarthy to "use every leverage" to get the Limit, Save, Grow Act signed into law. The group also appeared to advocate breaking off negotiations. "There should be no further discussion until the Senate passes the legislation," the statement concluded.
Also on May 18, a group of 11 senators led by Sen. Bernie Sanders (I-Vt.) signed a letter urging the president not make an agreement with McCarthy too easily. The group said Biden can—and should—use the 14th Amendment to avoid either defaulting on the nation's debts or acquiescing to what they see as "unacceptable" Republican spending cuts.
Neither effort is likely to unravel any deal Biden and McCarthy might strike, according to Gingrich.
"Are they literally going to vote for default against the president?" Gingrich asked about Senate Democrats. "Or are they going to grumble and complain?"
Gingrich predicted that Senate Majority Leader Chuck Schumer (D-N.Y.) would support any debt-ceiling deal made by the president. As for the House, Gingrich questioned the likelihood of Minority Leader Hakeem Jeffries (D-N.Y.) opposing the president.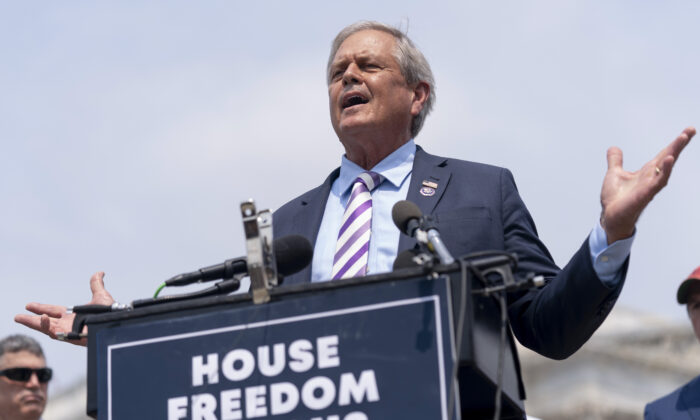 Senate Minority Leader Mitch McConnell (R-Ky.) said on May 9 that any agreement made by Biden and McCarthy would pass the Senate on a bipartisan basis.
In 1995, Gingrich led negotiations with then-President Bill Clinton over raising the debt limit. At that time, Republicans were calling for a reduction in the size of the federal government.
Talks Ongoing
Negotiations on raising the debt ceiling and provisions of the Limit, Save, Grow Act were suspended on May 19 when negotiators reached an impasse.
"We decided to press pause because it's just not productive," Rep. Garret Graves (R-La.), the lead negotiator on the Republican side, told reporters, adding that Biden's negotiators were being "unreasonable right now."
In response to that news, former President Donald Trump urged GOP negotiators to push through, echoing the sentiments of the House Freedom Caucus.
"Republicans should not make a deal on the debt ceiling unless they get everything they want (Including the 'kitchen sink')," Trump wrote on Truth Social. "That's the way the Democrats have always dealt with us. Do not fold!!!" Trump wrote on Truth Social on May 19.
Both the president and the speaker have said they believe a deal can be reached soon.
McCarthy said on May 18 that negotiators are in a "much better place," adding, "I can see now where a deal can come together."
He also said he expects to bring a deal to the House next week.
On May 18, Biden told reporters, "I'm confident that we'll get the agreement on the budget, that America will not default."
Original News Source Link

Running For Office? Conservative Campaign Consulting – Monthly Rates!