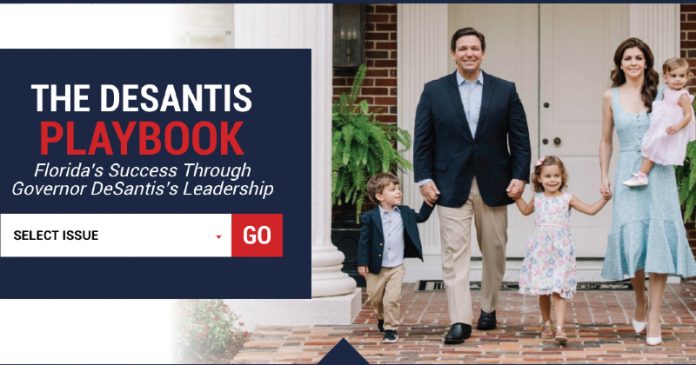 Gov. Ron DeSantis' campaign team unveiled "the DeSantis Playbook" on Thursday.
DeSantis' team defined the new campaign site as "a first-of-its-kind resource for Floridians that details the governor's Freedom Agenda that has made Florida a national leader for parental rights, law and order, environmental protection, and fiscally-sound economic policies."
DeSantis showcased the site on Thursday.
"Florida has consistently led the way on issues like keeping businesses open and kids in school, parental rights in education, standing up for law enforcement, and protecting our environment, all while enacting the largest tax relief package in our state's history. For the past three and a half years, Florida has led with a freedom-first agenda, and we're just getting started. The DeSantis Playbook is a guide for those who are following our blueprint for freedom here in Florida," DeSantis said.
"Florida's Freedom Agenda is a model for freedom across the nation and across the world, and the DeSantis Playbook lays out what Governor DeSantis has been able to accomplish for Floridians during his first three and a half years," First Lady Casey DeSantis said. "The governor is unwavering in his leadership for freedom-first policies, all of which are detailed in the DeSantis Playbook. We look forward to sharing this with Floridians as a resource for what it means to govern with freedom at top of mind. I encourage all Floridians to host a Playbook Club to discuss the importance of good policies, strong leadership, and the stakes of the November elections."
DeSantis does not face any opposition in next week's Republican primary.
U.S. Rep. Charlie Crist, D-Fla., and state Agriculture Commissioner Nikki Fried are the top two candidates running for the Democratic nomination to challenge DeSantis in November.