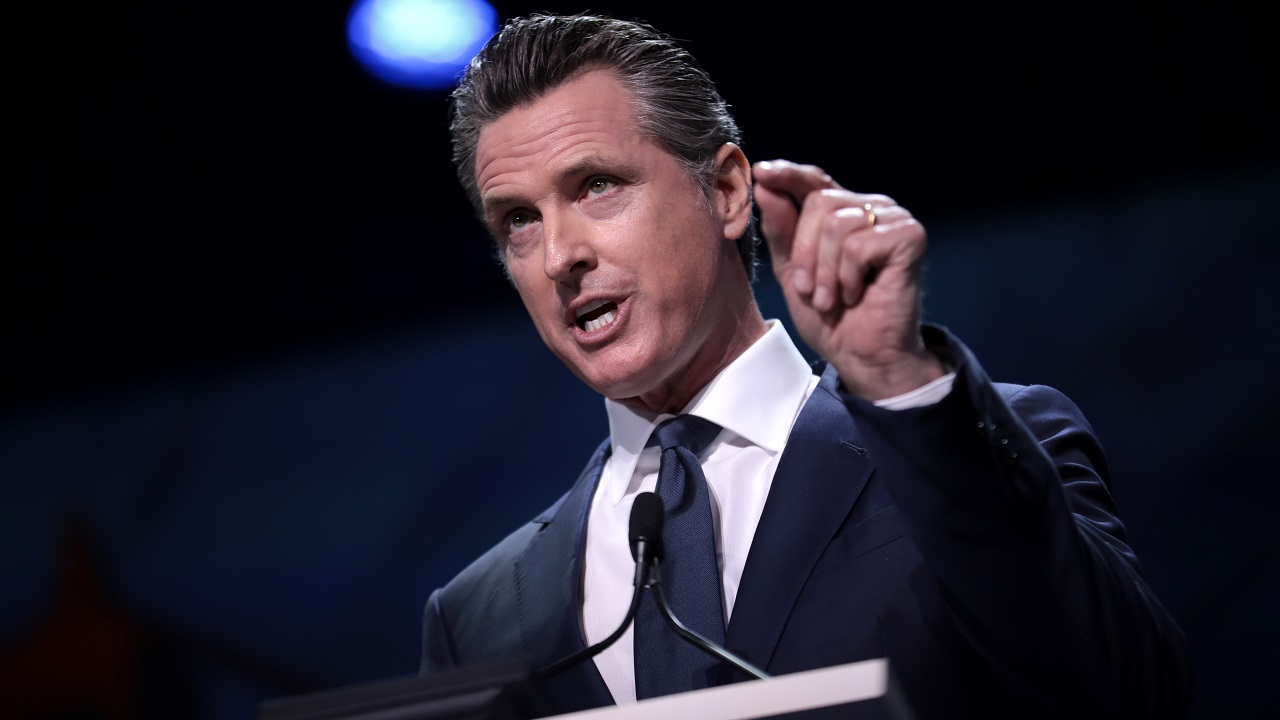 Governor Gavin Newsom continues on his clean energy tirade announcing he intends to pass two climate-related bills into law this week.
Senate Bill 253 (SB 253) and Senate Bill 261 (SB 261) are intended to force major corporations to be more transparent about greenhouse gas emissions and the financial risks stemming from global warming.
Newsom's announcement came during an out-of-state trip to New York's Climate Week, where world leaders in business, politics, and the arts are gathered to seek solutions for climate change.
Aside from its wonderful weather and coastline, California may be best known for its heavy-handed environmental policy. Who are we kidding? All policy if we're being honest.
What most would call government overreach, the state legislature calls leading the way.
State Sen. Scott Wiener, a San Francisco Democrat who introduced the disclosure bill, said in a statement that it would allow California to "once again lead the nation with this ambitious step to tackle the climate crisis and ensure corporate transparency."
Ambitious or ruthless and untenable?
California's Sweeping New Environmental Laws
The latest legislation is the most sweeping emissions disclosure set of rules for big business to date in the country.
The policy would require more than 5,300 companies to report their emissions, according to Ceres, a nonprofit policy group supporting the bill.
SB 253 requires companies with greater than $1 billion in annual revenues to file annual reports publicly disclosing their direct, indirect, and supply chain greenhouse gas (GHG) emissions, verified by an independent and experienced third-party provider.
SB 261 requires companies with $500 million in annual revenues to prepare biennial reports disclosing climate-related financial risk and measures they have adopted to reduce and adapt to that risk, with the first report due by January 1, 2026.
Democratic Assemblymember Chris Ward drummed up the usual unsubstantiated fervor and urgency in regard to climate change. "We are out of time on addressing the climate crisis," Ward urged. "This will absolutely help us take a leap forward to be able to hold ourselves accountable."
Come to California – Unless You Emit Any C02!
Governor Newsom loves to tout that California is the sixth-largest economy in the world, but none of that is thanks to the manufacturing industry.
Newsom always says the quiet part out loud. "We need to exercise not just our formal authority, but we need to share our moral authority more abundantly," he said.
The latest policy solidifies the West Coast's reputation as being completely disconnected from the rest of the country. Newsom is sending a strong message that the state is open for business, except to those menial manufacturing companies that pollute our air and ruin our progressive reputation. Leave that dirty work to states in Middle America. California is a state for highbrow tech, real estate … and agriculture, but we don't really talk about helping them too much.
But it's not only manufacturing and oil and gas companies pushing back.
Opposition To Newsom's New Laws
Appropriately, other organizations such as the California Hospital Association and agricultural groups, oppose the bills.
Opponents of the bill say it is not feasible to accurately account for all of the mandated emissions from sources beyond what companies are directly responsible for.
"We're dealing with information that's either unreliable or unattainable," said Brady Van Engelen, a policy advocate at the California Chamber of Commerce.
The newest laws, which would go into effect in 2026 on 2025 data, are going to cost thousands of businesses across the state millions of dollars in extra expenses to comply.
Just like oil and gas, sustainability is big business, including environmental lawyers who will be all too happy to provide the consulting services necessary to navigate the new laws for their hourly rate.
There are a lot of people making a lot of money by scaring the public into believing the end of the world will happen by 2030 if we don't all start driving electric cars and only washing our clothes after 8 p.m. And that only the government – or maybe Gavin Newsom himself! – can save us. We've heard this song and dance before, but now, unfortunately, California businesses are paying the price.
Jennifer Galardi is the politics and culture editor and opinion writer for 19FortyFive.com. She has a Master's in Public Policy from Pepperdine University and produces and hosts the podcast Connection with conversations that address health, culture, politics, and policy. In a previous life, she wrote for publications in the health, fitness, and nutrition space. In addition, her pieces have been published in the Epoch Times and Pepperdine Policy Review. You can follow her on Instagram and Twitter. She writes from a conservative perspective.
From the Vault
'He Should Quit': Donald Trump Just Got Hit With A Devastating New Poll
The GOP 2024 Presidential Field Just Got Smaller