Donald Trump-endorsed former state Rep. Vernon Jones and pro-Trump trucking company owner Mike Collins hit the phones to reach out to residents of Georgia's 10th Congressional District on June 21 as voters headed to the polls for the Republican primary runoff election.
Considered one of the pivotal U.S. House races, the contest has been marked by attack ads from both sides, and opinions about who is the "Trumpiest" candidate.
The winner will face Tabitha Johnson-Green or Jessica Fore, the candidates in the Democratic primary runoff. Green and Fore remained in the race after a recount requested by third-place finisher Phyllis Hatcher did not change the results.
The 10th district seat opened after Rep. Jody Hice unsuccessfully ran against incumbent Brad Raffensperger in last month's Republican primary for Georgia secretary of state.
Since the 10th district is heavily Republican, Jones or Collins will likely occupy the seat in January 2023.
Incumbent Republican Gov. Brian Kemp, who decisively defeated Trump-endorsed David Perdue in last month's primary, backed Collins.
Collins, the son of the late former Republican congressman Mac Collins also received the backing of all six primary candidates who did not advance to the runoff.
Collins was edged by Hice in the 2014 10th District primary,
Though he did not get Trump's stamp of approval, Collins stands behind the former president's America First platform and openly says that the 2020 Presidential election was not legitimate. He also promised to vote against Rep. Kevin McCarthy (R-Calif.) if he is nominated for Speaker of the House if the GOP regains control of the chamber.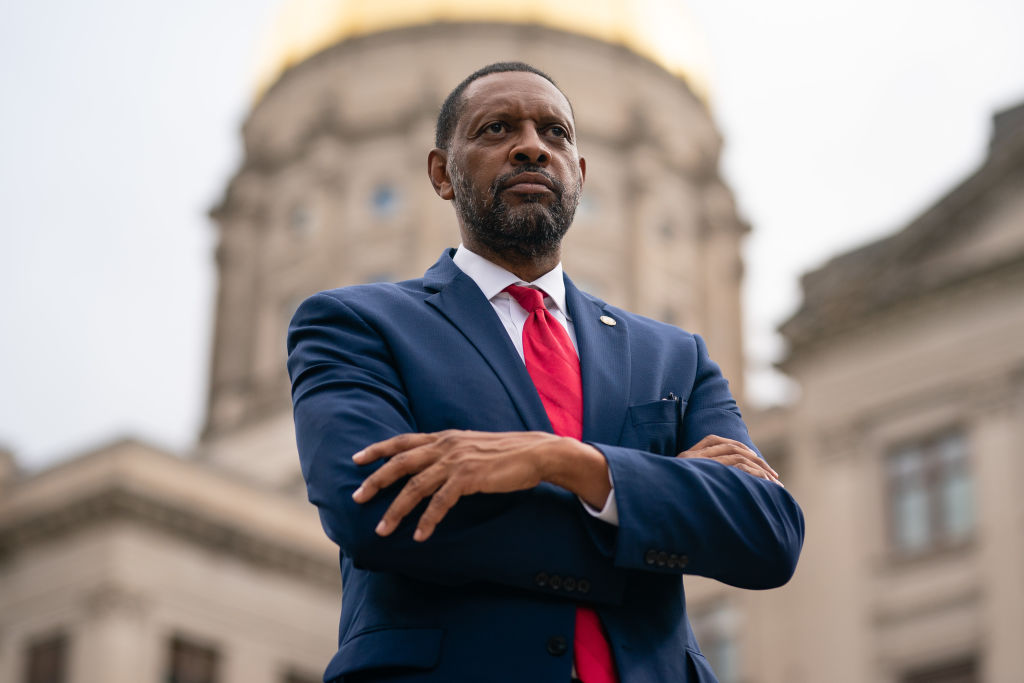 On June 20, Trump released a recorded message to voters in the district condemning Collins for unfair treatment of Jones and "vicious political ads that aren't true."
In the message, Trump also said that Jones has "proven time and time again he's with the MAGA movement."
"Right from the beginning, he was with us. I realized it early, and I'm very proud of it," Trump said in the message. "Vernon, he's going to fight so hard. He's a man that will never let you down. He just doesn't stop, and he's the kind of guy that Georgia needs and Georgia, I think, will get."
In 2020, Jones was a Democratic Georgia state representative who publicly endorsed Trump for reelection. He was shunned by fellow Democrats, switched to the Republican party in 2021, and initially ran for governor against Kemp until he dropped out at Trump's urging so former senator David Perdue would have a clearer path in the GOP gubernatorial primary.
Kemp trounced Perdue in the May 24 primary while Jones received 22 percent of the vote to advance to the June 21 runoff with Collins, who finished first with 26 percent.
In Georgia, if the leading candidate does not surpass 50 percent of the vote total in the primary, the top two vote-getters meet in a runoff, which is why voters are going back to the polls on June 21.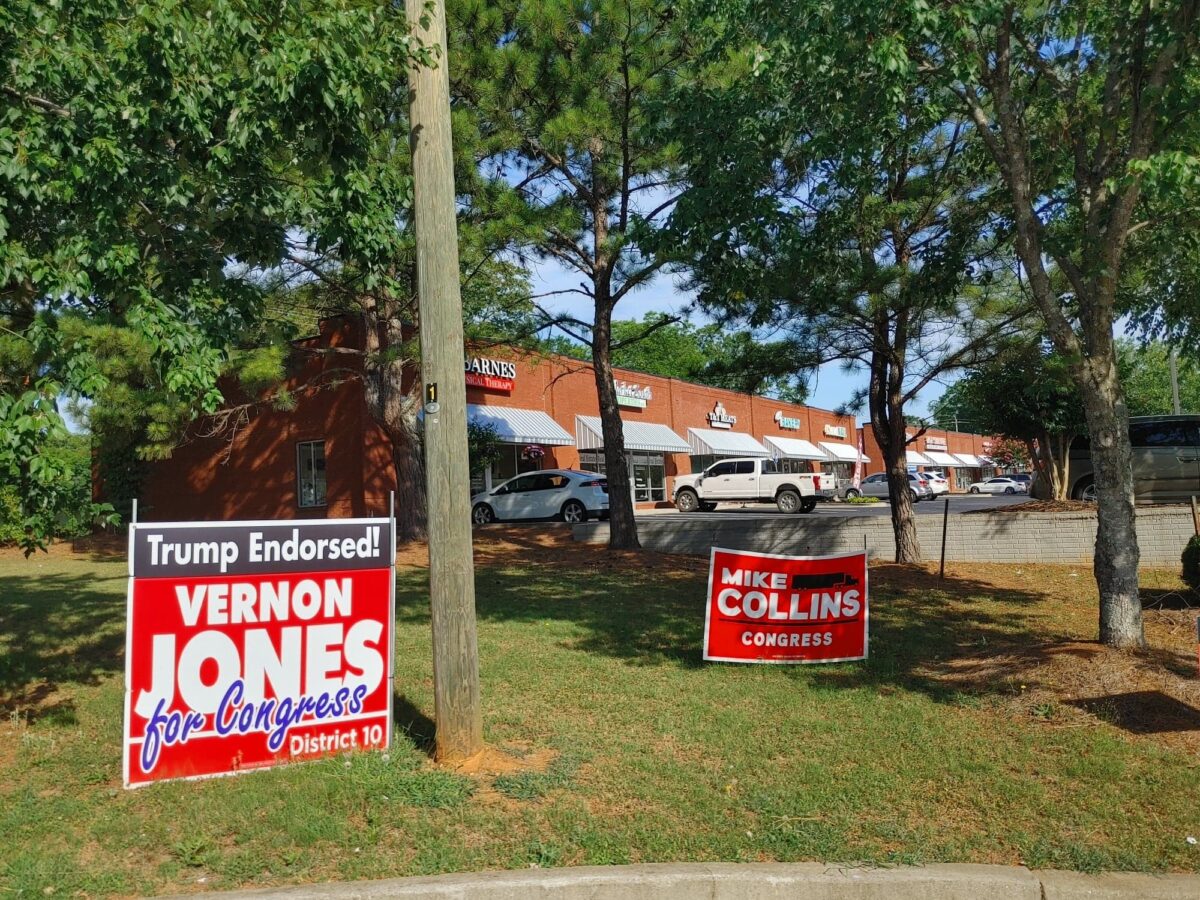 At a Huddle House diner in Jackson, where Mike Collins will have his watch party this evening, two retired men sat at the bar eating bacon and eggs, drinking coffee, and sharing opinions about the 10th District Congressional GOP runoff.
They preferred to use first names only.
Vern, a retired aircraft mechanic, voted for Vernon Jones in the primary, and this morning in the runoff.
"Trump endorsed him, and when he was a Democrat, he had the courage to support Trump. That says a lot to me, and it's why he will not back down to the left in Congress," Vern said.
"I also like his first name," Vern added with a grin.
Fred, a retired car salesman, sat next to Vern at Huddle House and talked about why he cast his ballot for Collins, who drives an 18-wheeler to campaign events.
"He will stand firm on Trump's America First values, and he is a longtime conservative," Fred said. "We don't really know where Vernon Jones stands because he was a Democrat who is now a Republican. How can we know he won't go to Washington and give in to the Democrats? We can't know because he has not been a conservative for long."
Collins will host his June 21 watch party at The Brickery in downtown Jackson's historic district. Jones and his supporters will gather a half-hour north at The Social Goat Tavern in Covington.
CD 6
In Georgia's newly drawn 6th Congressional District, emergency room physician and Marine veteran Rich McCormick manned the phones and called voters the morning of June 21. He faces Donald Trump-endorsed Jake Evans, the former head of the Georgia Ethics Commission.
Evans is the son of attorney Randy Evans, a prominent Trump donor who served as the U.S. ambassador to Luxembourg in his administration.
Evans is a "young man rapidly on the rise" and his dad is a "highly respected legal warrior," Trump told reporters.
After he advanced to the runoff, McCormick issued a press release calling out "Fake Jake Evans" as a "woke activist lawyer and fake conservative with a troubling past."
McCormick is endorsed by the Club for Growth.
The district is heavily Republican, so the winner of the runoff is all but sure to go on to win the general election.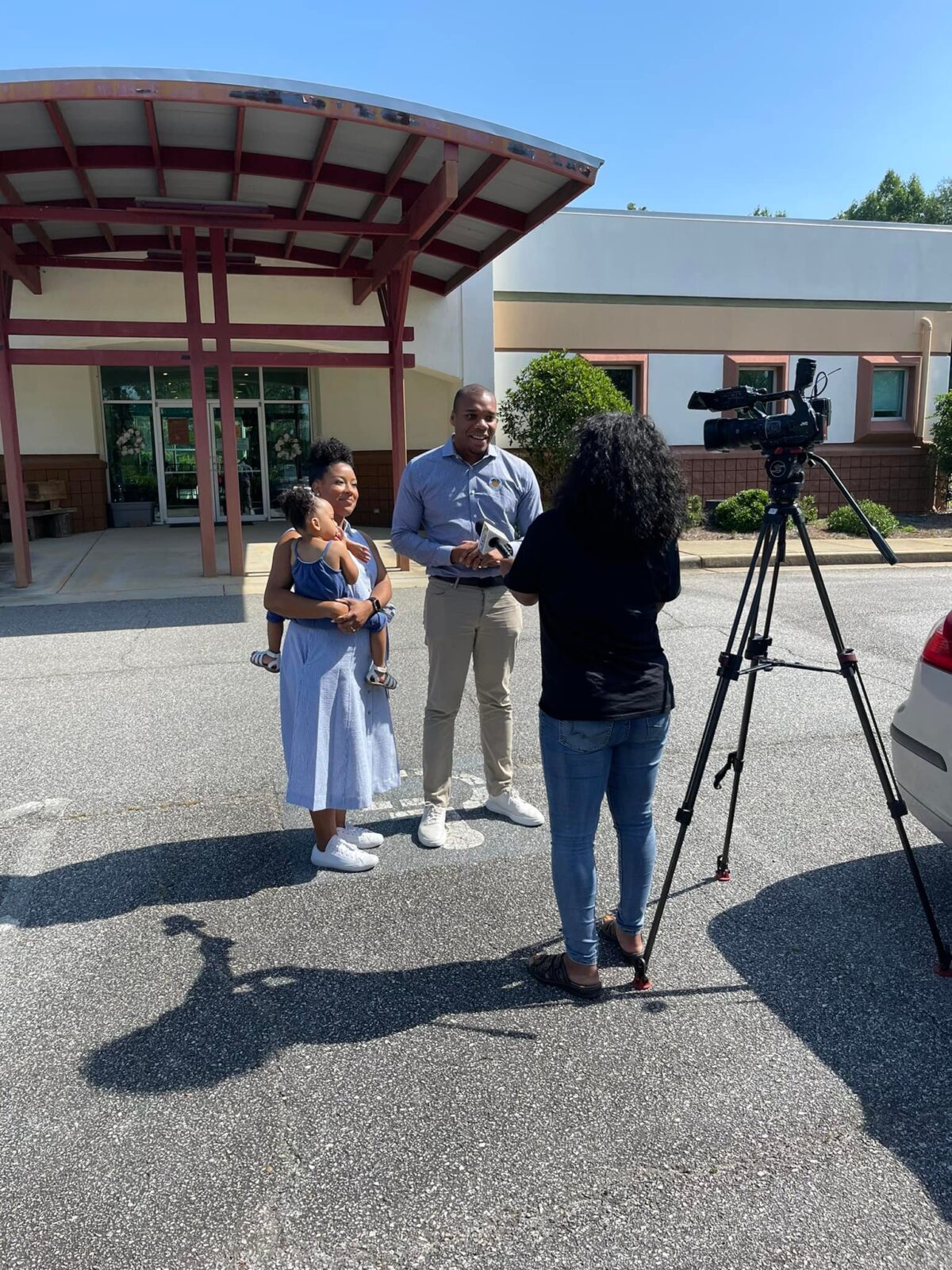 CD 2
Down in Georgia's 2nd Congressional District GOP runoff, heavily funded West Point graduate and former Army captain Jeremy Hunt joined supporters at a sign-waving event in Columbus, Ga. and then took time for broadcast interviews after voting on the morning of June 21.
Hunt is opposed by attorney and Georgia Air National Guard officer Chris West.
In the general election, Hunt or West will face Democratic Rep. Sanford Bishop, who received 93 percent of the vote in the May 24 primary and has held office since 1993,
Heading into the runoff, Hunt outspent West 6-to-1 and received $300,000 from the American Values First PAC following the May 24 primary. He is endorsed by Rep. Elise Stefanik (R–N.Y.)
West, 38, is "a lifelong South Georgian born and raised in the 2nd Congressional District," according to his website. He earned a bachelor's degree and master's degree at Valdosta State University in Georgia before his law degree. The Thomasville resident called Hunt a carpetbagger.
The 28-year-old Hunt, who is also a Fox News commentator, left Yale Law School and moved to Columbus, Georgia, to enter the race. Voting records from the Georgia Secretary of State's office show that Hunt registered to vote in Muscogee County in February 2022.
CD 7
The redrawn 7th Congressional District race has not generated the same attention as the other three.
Republicans Michael Corbin and Mark Gonsalves are competing in the June 21 runoff. The winner will face Rep. Lucy McBath (D-Ga.) in the general election.
Corbin tallied 41.4 percent of the vote in the May 24 primary while Gonsalves finished second with 26.2 percent.
McBath defeated Carolyn Bordeaux in the Democratic party primary on May 24. They generated national attention in recent elections.
In 2018, McBath unseated Republican incumbent Karen Handel in Georgia's 6th Congressional District. Bordeaux defeated Republican incumbent Rich McCormick in the 7th Congressional District in 2020.
The new 7th district is composed of northeast metropolitan Atlanta, including Gwinnett and Fulton counties.
When Georgia's GOP-controlled legislature transformed the 6th district into a more conservative area after redrawing the maps, McBath decided not to seek reelection there and run against incumbent Bordeaux instead.
McBath is endorsed by Sen. Elizabeth Warren (D-Mass.) and U.S. Rep. James Clyburn (D-S.C.).
The 7th Congressional District is one of two seats in Georgia named by Ballotpedia as a battleground race. The general election is a toss-up, according to the Cook Political Report.