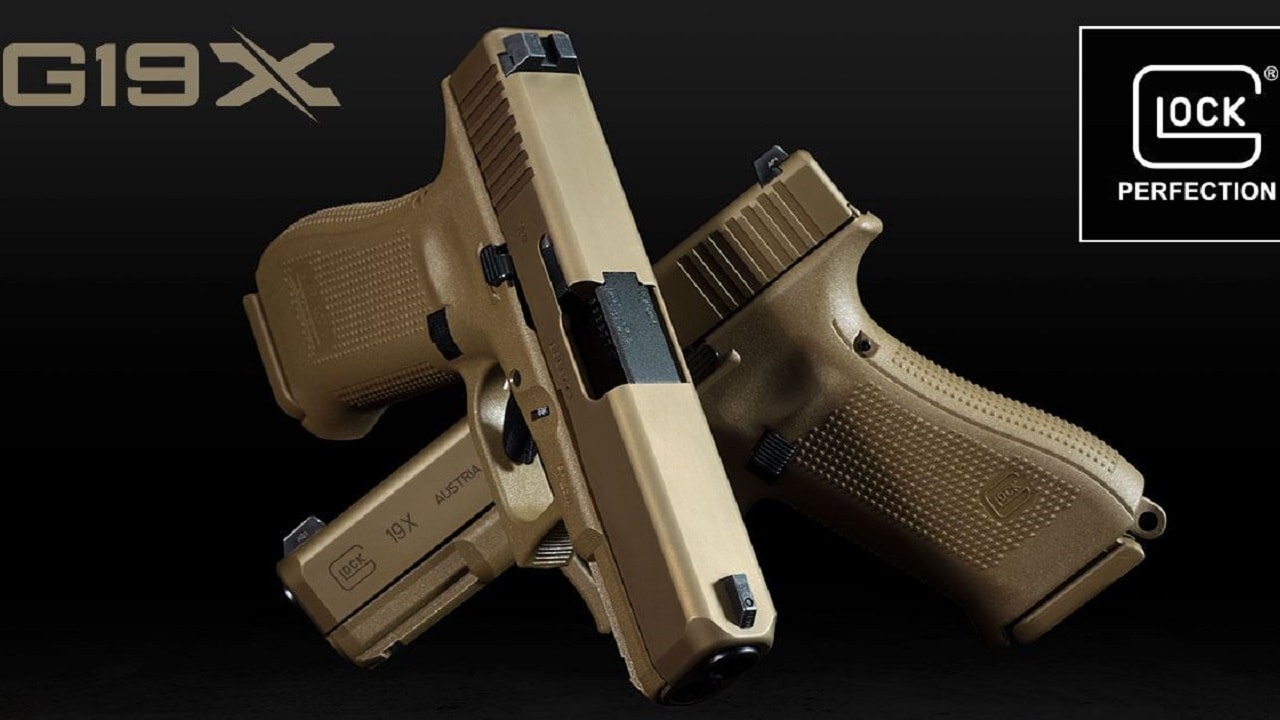 Reminding me why I love my job with 19FortyFive so much, our editor asked me recently which Glock pistols I hadn't reviewed yet. I replied off the top of my head along the lines of, "Well, let's see, there's the Glock 30S .45 ACP, the Glock 27 .40 cal, and the Glock 19X 9mm."
[embedded content]
Naturally, she asked me to review them all.
As our longtime readers know, I'm quite the Glock fanboy, so she didn't have to ask me twice.
Last year, I did fire the standard Glock 19, but not the 19X version. Fast-forward to January of this year, and I got to fire a friend's G19X, but with the fancy RMR optics, not the standard old-iron sights. Fast-forward again to this month, and the opportunity to make up for lost time with the iron-sighted G19X finally presented itself. It then took an unexpected turn — but I'm getting ahead of myself.
Glock 19X (and Glock 45) Early History and Specifications
The Glock 19X debuted in 2017, and the Glock 45 launched the following year. One good Glock deserves another, I suppose. Analogous to Lay's Potato Chips, "You can't eat just one!"
As I noted in last year's article, the Glock 19X was the company's attempt to win the U.S. Army contract to replace the aging Beretta M9 service pistols. For reasons I have explained in that piece, Glock lost out to the SIG M17/P320.
Here is what the manufacturer's official info page says about the G19X:
"GLOCK's first ever 'Crossover' pistol, the GLOCK 19X, combines the best features of two of its most popular and most trusted field-tested platforms. The full-size GLOCK 17 frame and the compact GLOCK 19 slide have joined forces to produce the ideal pistol for all conditions and all situations. The 19X comes in the coyote color with the first-ever factory colored slide, finished with an improved nPVD slide coating to prevent corrosion. Additional features include the GLOCK Marksman Barrel (GMB), no finger grooves, ambidextrous slide stop levers and lanyard loop. Included with the pistol is a standard 17-round magazine, two 17+2-round magazines and coyote-colored pistol case."
Barrel length is 4.02 inches, overall length 7.44", height is 5.47", empty weight is 22.05 ounces, and fully-loaded weight is 31.30 oz.
As for the G45, it has the exact same dimensions as the G19X. The only appreciable difference is that it uses Glock's more traditional matte black finish. The manufacturer:
"The compact crossover pistol G45 in 9x19mm combines a compact slide with a full size frame and has all the benefits of a Gen5 model. Utilizing the design and engineering GLOCK developed for its military pistol (G19X), combined with Operator and worldwide Law Enforcement specifications."
Personal Shooting Impressions/Range Report
On to the really fun part: the live-fire session. To fulfill this portion, I was off yet again to the Silver Eagle Group indoor shooting facility in Ashburn, Virginia, to take advantage of SEG's rental Gen G19X.
The Silver Eagle staffer warned me up front that their 19X was so badly worn out that the gun had a distressing tendency to drop its magazine prematurely after every few shots. This indeed happened to me on the very first two shots discharged. I quickly swapped it out with the range's rental G45, which luckily functioned without a hitch.
The ergonomics on the two guns were quite comfortable, though I still prefer the overall feel of my Glock 17 and Glock 21SF. Trigger pull, felt recoil, and muzzle flip were way more pleasant than the G27 .40 S&W I had fired just prior. Sight acquisition was dreamy.
Ammo used was 50 rounds of CCI Blazer Brass 9mm Luger 115-grain full metal jacket. I divided test fire into 15 rounds of head shots at 21 feet, 10 rounds of center-torso shots at 50 feet, 15 rounds of head shots at 75 feet, and 10 rounds of center torso shots at 150 feet, all launched from the Classic Weaver Stance. Targets destroyed were the ICE-QT paper targets.
At 21 feet, the head shots were dead-on in the forehead, bridge of the nose, and right eyebrow. At 50 feet, all ten rounds stayed in the 5-zone of the torso, with seven taking the dead-center 5x tiebreaker zone. At 75 feet, I tallied ten hits in the 5-zone of the noggin, three in the peripheral 2-point hairline, and two total whiffs. At the max 150' distance, I was decidedly underwhelming, with four 5-zone hits – zero 5x's – one 4-zone hit, two 2-zoners, and the three remaining shots…eh, meh.
Assuming I've got a specimen that hasn't been too badly worn out yet, I'd still gladly take a G19X or G45 – or a Beretta M9 for that matter – over the SIG M17/P320.
Christian D. Orr has 33 years of shooting experience, starting at the tender age of 14. His marksmanship accomplishments include: the Air Force Small Arms Ribbon w/one device (for M16A2 rifle and M9 pistol); Pistol Expert Ratings from U.S. Customs & Border Protection (CBP), Immigration & Customs Enforcement (ICE), and the Federal Law Enforcement Training Center (FLETC) Criminal Investigator Training Program (CITP); multiple medals and trophies via the Glock Sport Shooting Foundation (GSSF) and the Nevada Police & Fires Games (NPAF). Chris has been an NRA Certified Basic Pistol Instructor since 2011.