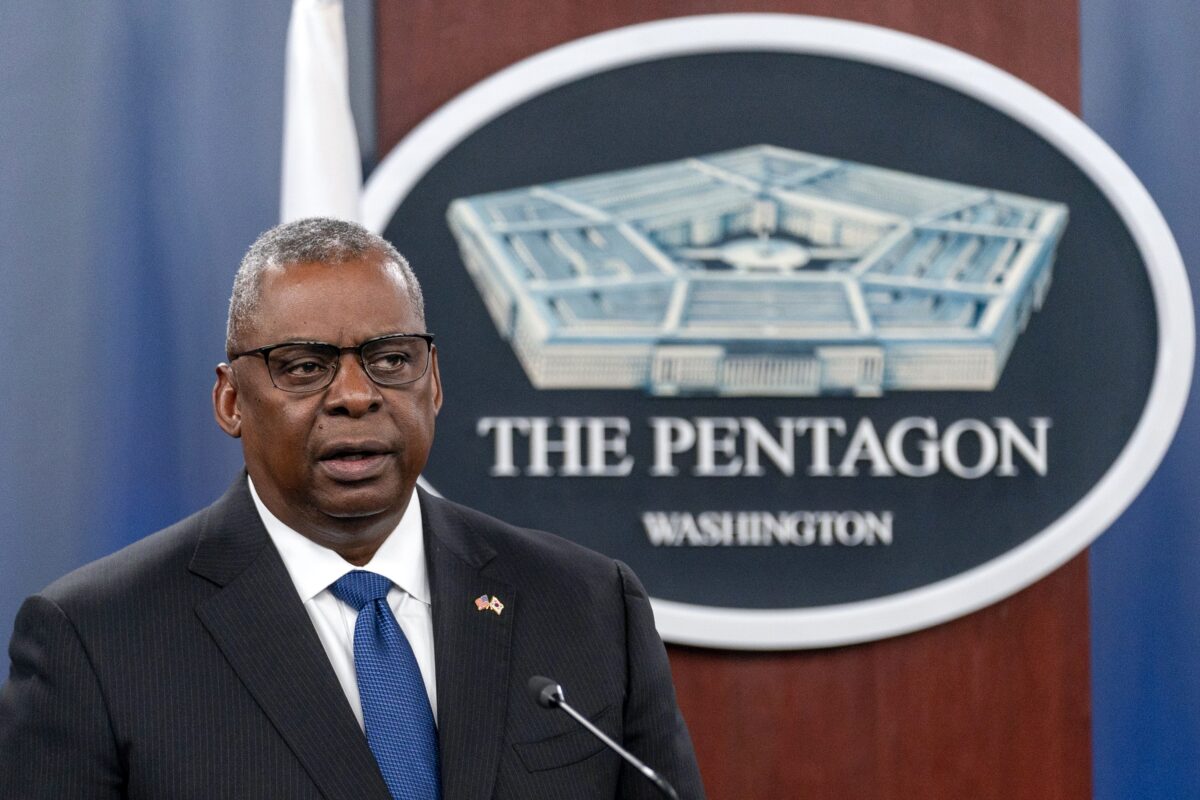 A bill to terminate the Defense Department's new policy of offering travel allowances and paid leave for service members seeking abortions has the backing of most Senate Republicans.
Introduced on March 15 by Sen. Joni Ernst (R-Iowa), the legislation (pdf) is co-sponsored by 35 other Republican senators.
"The Pentagon should not be mobilized against the unborn," Ernst said in a March 15 statement. "The Department of Defense exists to defend life, not destroy it."
Announced in February, the Pentagon's "Ensuring Access to Reproductive Health Care" policy gives military service members until 20 weeks gestation to notify their commanders of their pregnancy status. For those seeking "non-covered reproductive health care services"—a category that includes abortions and in vitro fertilization—for themselves or a dependent, the policy allows for up to 21 days of paid administrative leave and, when deemed necessary, travel and transportation allowances.
The policy is set to take effect beginning March 18.
"Biden DOD's policy is not just unlawful, it's immoral," Ernst, an Army National Guard veteran who served in Iraq, said. "Congress has been clear; the Hyde Amendment protects taxpayers from being forced to fund abortions. I will continue to ensure the unborn and your tax dollars are protected."
If passed, Ernst's bill would prohibit the Department of Defense from providing paid leave or "transportation, lodging, meals-in-kind, or any actual or necessary expenses of travel or transportation" for military members traveling to obtain abortions.
The bill does provide exceptions for cases in which the mother's life would be endangered if she carried her baby to term or if the pregnancy is a result of rape or incest.
Roe v. Wade Prompted Policy
The Defense Department's shift in policy came as a direct response to the Supreme Court's June 2022 ruling in Dobbs v. Jackson Women's Health Organization. The court ruled that abortion isn't a protected constitutional right. The historic ruling overturned the precedent set by Roe v. Wade in 1973 and returned the question of the legality of abortion back to the individual states.
In an October 2022 memo, Defense Secretary Lloyd Austin wrote that the Supreme Court's ruling had affected "access to reproductive health care with readiness, recruiting, and retention implications" for the military, and he directed staff to create the policy that is the target of Ernst's bill.
However, Sen. Tommy Tuberville (R-Ala.), who is a co-sponsor of the bill, said that excuse doesn't hold water.
"The department has averaged less than 20 abortions per year for many, many years," he said on the Senate floor in February. "So, does this—potentially restricting less than 20 procedures a year—sound like a threat to our military readiness? It does not."
According to a January Knights of Columbus/Marist poll, 60 percent of Americans oppose taxpayer funding of abortion, and 69 percent support limiting abortion to the first trimester of pregnancy (pdf).
In protest of the Defense Department's policy, Tuberville has vowed to place a hold on all department nominations that come before the Senate.
"The Secretary of Defense is following through with his radical plan to facilitate thousands of abortions a year with taxpayer dollars," he said in February. "So, I will follow through with my plan to hold all Department of Defense civilian, flag, and general officer nominations that come before the U.S. Senate."
The Pentagon didn't respond by press time to a request by The Epoch Times for comment.
Original News Source Link

Running For Office? Conservative Campaign Consulting – Monthly Rates!