DOE awarded $200 million to Microvast Holdings, a lithium battery company that operates out of China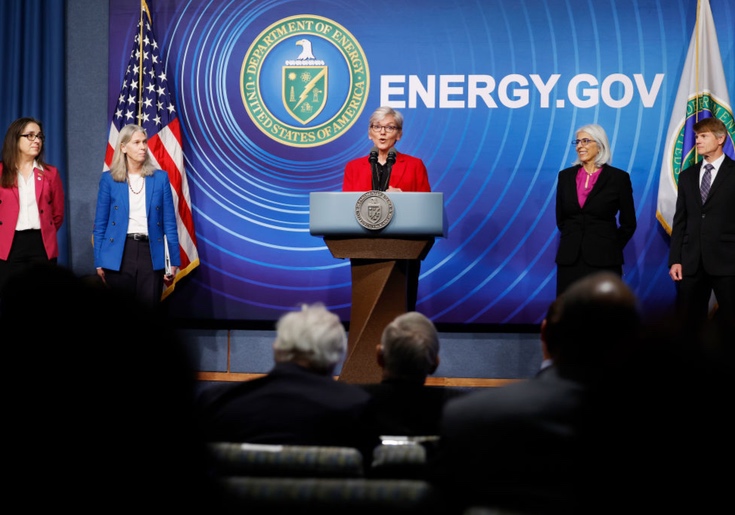 House Republicans are calling on the Biden administration to halt a Department of Energy program that awarded $200 million last fall to a China-based battery company, pointing to the fact that federal officials have failed to answer basic questions from Congress about the funding process.
Rep. Frank Lucas (R., Okla.), chairman of the House Committee on Science, Space, and Technology, sent a letter to Energy Secretary Jennifer Granholm on Wednesday, asking her to "immediately pause any further funding or expenditures" for the grant program, which is funded by the Bipartisan Infrastructure Law spearheaded by President Joe Biden.
The letter comes amid mounting frustration from House Republicans, who say the DOE has stonewalled requests for information about any China-related grants, despite provisions in the infrastructure law that were intended to block funding from going to China's battery sector. Republicans have warned that China, a dominant player in the solar and battery industries, could benefit financially from the Biden administration's aggressive green energy agenda.
In October, the DOE awarded $200 million to Microvast Holdings, a lithium battery company that operates primarily out of China, the Washington Free Beacon first reported last month. The award is intended to finance a battery separator facility Microvast is building in Tennessee.
"DOE has yet to provide any response to the committee that explains the Department's vetting process or demonstrates that sufficient guardrails are in place to ensure that companies that receive awards do not transfer funding or technology to China, or are not subject to undue influence by the [Chinese Communist Party]," Lucas wrote in his letter to the DOE.
Lucas requested that the department turn over any "documents and communications referring or relating to project awards" for Microvast and over a dozen other companies that received grants from DOE funded by the infrastructure law.
"DOE's apparent lack of sufficient guardrails in place to prevent federal funds from ultimately benefiting the CCP raises serious concerns about the Department's ability to protect U.S. taxpayer dollars from exploitation," wrote Lucas.
While the DOE described Microvast as a "majority U.S.-owned company, traded on NASDAQ" and "headquartered in Stafford, Texas," financial records show the company operates primarily out of China. Microvast told the Securities and Exchange Commission last year that the Chinese government "exerts substantial influence over the manner in which we must conduct our business activities and may intervene, at any time and with no notice."
The DOE has defended the grant, telling the Free Beacon that Microvast's proposed facility in Tennessee "will use U.S. sourced raw materials in the proposed facility and equipment manufactured within the U.S. or by U.S. allies."
The funding will also ensure that Microvast "no longer needs to look to China to establish its manufacturing facilities," the DOE told Fox News last month.
The House committee is asking DOE to turn over records related to the award by Feb. 7. Sen. John Barrasso (R., Wyo.), the ranking member of the Senate Energy and Natural Resources Committee, also requested DOE records related to the funding in December, telling the department that the grant could "undermine the United States' position in its race against China for technological supremacy."
Original News Source

Running For Office? Conservative Campaign Management – Election Day Strategies!