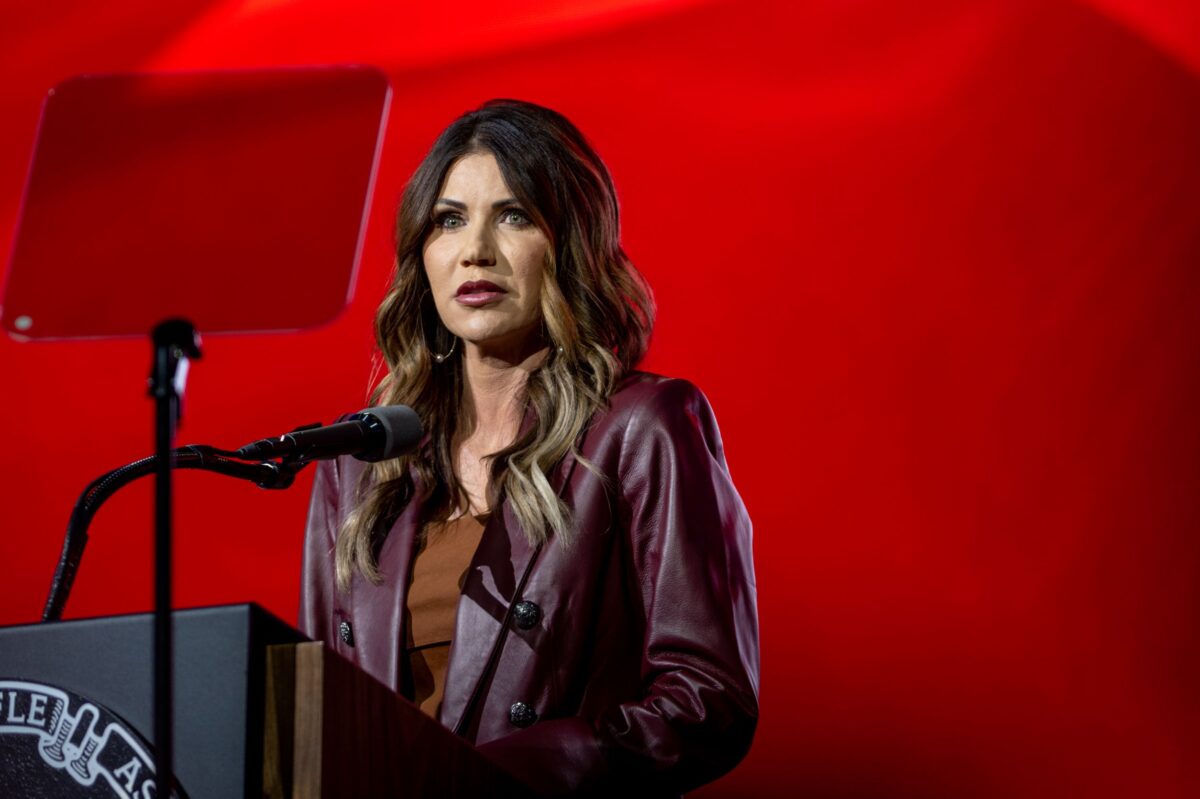 South Dakota Gov. Kristi Noem said on Jan. 23 that her personal cell phone number has been hacked and used to make hoax calls, blaming the Jan. 6 committee for releasing her family's Social Security numbers.
"Callous mishandling of personal information has real world consequences," Noem said in a press release. "If you get such a phone call from my number, know that I had no involvement."
The Social Security numbers belonging to Noem, her husband, her three children, and her son-in-law were published, without redaction, as part of the White House's visitor logs that became exhibits during undated hearings by the House panel investigating the Jan. 6, 2021, breach of the U.S. Capitol. The leak was first reported by the Washington Post on Jan. 6.
Such information, which under federal law should have been redacted prior to the document's publication, remained publicly available on the committee's website for days before being removed online on Jan. 4.
Failure to protect confidential data is in violation of the Privacy Act of 1974, which provides that "[no] agency shall disclose any record which is contained in a system of records by any means of communication to any person, or to another agency, except pursuant to a written request by, or with the prior written consent of, the individual to whom the record pertains."
But this was not done, said the governor.
"I have urged both the United States Attorney General and multiple congressional committees to investigate the leaking of my family's personal information," Noem said in her statement. "I look forward to whatever resolution they can provide."
The governor wrote to Attorney General Merrick Garland and House representatives last week to investigate the apparent breach of confidential data. In the two separate letters, Noem said the damage has gone beyond the lives of her family to "the families of the nearly 2000 individuals" specified in the logs, who visited the White House in December 2020.
The leak impacted several high-profile GOP figures, including Texas Gov. Greg Abbott, South Carolina Gov. Henry McMaster, former U.S. Secretary of Housing and Urban Development Ben Carson, and former U.S. Secretary of Health and Human Services Alex Azar.
Noem and others affected previously told the Washington Post they weren't notified about the disclosure.
This callous, unacceptable handling of our most sensitive information could have permanent, widespread damage to the lives of my kids and my grandkids, as well as the families of the nearly 2000 individuals impacted.

We are demanding answers, and an investigation will find them. pic.twitter.com/6MK6OvoOgA

— Governor Kristi Noem (@govkristinoem) January 20, 2023
Last February, President Joe Biden ordered the National Archives to release White House visitor logs to the Jan. 6 panel, denying Trump's claim that they were covered under executive privilege and thus should not be disclosed to the committee.
In her Jan. 19 letter to Garland, Noem said she's "glad" of the attorney general's appointment of a special counsel to investigate the classified documents discovered at President Joe Biden's home and office space.
"This action indicates an increased willingness to investigate violations of law, regardless of the political affiliation of the lawbreaker. I hope that you will do the right thing and investigate this apparent violation of federal law," Noem wrote.
The South Dakota governor, who has been floated as a possible GOP presidential contender, recently said she wasn't in a rush to make a decision on a 2024 White House bid.
"I'm not convinced that I need to run for president," Noem said during a Jan. 18 appearance on CBS. "I think that as we go through the coming months, and even the next year, year and a half, that leader will emerge."