Three Democrats shot back at House Minority Leader Kevin McCarthy (R-Calif.) after he vowed to remove them from committee assignments if elected as House speaker.
McCarthy made his intention known over the weekend, saying he would remove Rep. Ilhan Omar (D-Minn.) from the House Foreign Affairs Committee, and Reps. Eric Swalwell (D-Calif.) and Adam Schiff (D-Calif.) from the House Intelligence Committee.
As for the reasons, McCarthy said Omar had made anti-Semitic comments in the past, while Schiff had misled the American people on the Jan. 6 committee. As for Swalwell, McCarthy referenced the Democrat's alleged relationship with a Chinese intelligence operative.
Omar
In response to McCarthy's remarks, Omar issued a statement on Nov. 21, accusing Republicans of making it "their mission to use fear, xenophobia, Islamophobia and racism to target me on the House Floor and through millions of dollars of campaign ads."
"McCarthy's effort to repeatedly single me out for scorn and hatred—including threatening to strip me from my committee—does nothing to address the issues our constituents deal with. It does nothing to address inflation, healthcare, or solve the climate crisis," Omar added.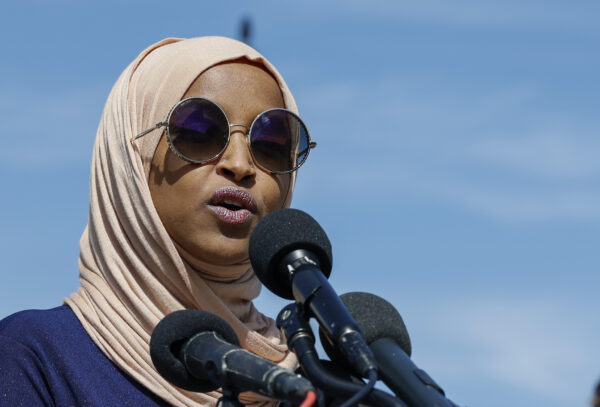 Omar also said Republicans' "constant stream of hate has led to hundreds of death threats and credible plots against me and my family."
"What it does is gin up fear and hate against Somali-Americans and anyone who shares my identity, and further divide us along racial and ethnic lines," Omar continued. "It is a continuation of a sustained campaign against Muslim and African voices, people in his party have been trying to ban since Donald Trump first ran for office."
In February 2019, Omar wrote on Twitter that U.S. support for Israel is "all about the Benjamins." The congresswoman later apologized after House Speaker Nancy Pelosi (D-Calif.) and other Democrats issued a joint statement demanding her to issue an apology, calling her comments "hurtful" and "deeply offensive."
McCarthy's comments to remove Omar have drawn applause from Arsen Ostrovsky, an Israel-based attorney and the chief executive officer of the International Legal Forum.
"Thank you @GOPLeader Kevin McCarthy," Ostrovsky wrote on Twitter.
Adam Milstein, an Israeli-American businessman and philanthropist and a co-founder of the Israeli-American Council, took to Twitter to say that it was "long overdue" that Omar is removed from the House Foreign Affairs Committee.
Swalwell
Swalwell responded by saying he won't stop fighting the Republican Party.
"Kevin can do whatever he wants to pander to the MTG's and MAGA extremists but I promise you, no matter what Committees I'm on (or not on) I not stop fighting to expose the GOP's lies," Swalwell wrote on Twitter on Sunday. MTG is short for Rep. Marjorie Taylor Greene (R-Ga.)
"Please circle back if Kevin McCarthy becomes speaker," a spokesperson for Swalwell told Fox News.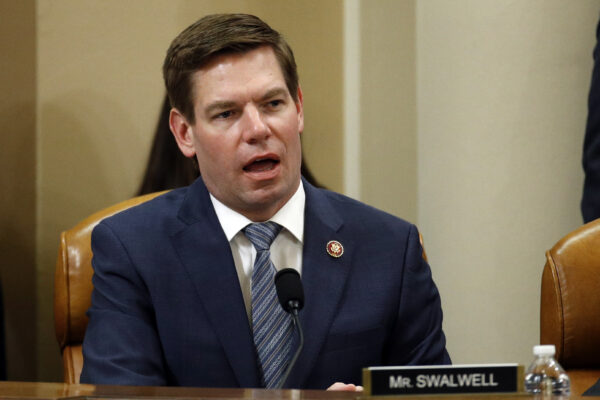 Swalwell was the subject of controversy in late 2020 after it was reported that he had ties with suspected Chinese spy Christine Fang when he was a local city council member prior to 2015.
From 2011 to 2015, Fang, a Chinese student at California State University–East Bay, cultivated extensive ties with local politicians in the San Francisco Bay Area by volunteering in fundraising campaigns and attending political events. U.S. intelligence officials believe she was working under the direction of the MSS, according to an Axios investigation. Swalwell said he severed ties with Fang after the FBI alerted him of her suspicious activities in 2015.
After reports of how Swalwell may have been compromised by the spy, McCarthy filed a resolution in March 2021 to remove the Democrat from the House Intelligence Committee. The resolution was rejected after a mostly party-line vote of 218 to 200.
After the vote, Rep. Diana Harshbarger (R-Tenn.) took to Twitter to criticize House Democrats for killing the resolution.
"Given his years-long relationship with a Chinese spy, amidst the Chinese Communist Party's malign global influence campaign, Rep. Swalwell should be removed from the House Intelligence Committee," Harshbarger wrote. "Sadly, Democrats blocked a vote to do just that tonight."
Schiff
Schiff took aim at McCarthy on Sunday, telling ABC News that the Republican is a "very weak leader" of the Republican conference when asked about being removed from the House Intelligence Committee.
"He will adhere to the wishes of the lowest common denominator, and if that lowest common denominator wants to remove people from committees, that's what they'll do," Schiff said.
He added: "It's going to be chaos with Republican leadership. And, sadly, the crazy caucus has grown among the Republicans."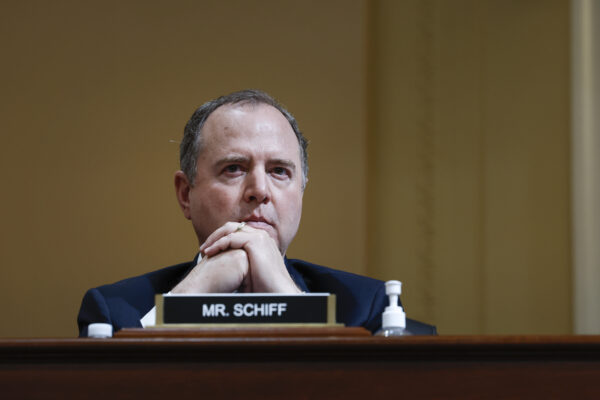 Schiff was the top Democrat on the House Intelligence Committee during the Trump administration and is currently the committee's chairman. He served as the lead House manager during former President Donald Trump's first impeachment trial. He also pushed the now-discredited Steele dossier, which contained false and fabricated claims accusing Trump of colluding with Russia.
In March, McCarthy took to Twitter to say that Schiff should step down from the intelligence panel over his comment on Hunter Biden's laptop.
"Adam Schiff was caught lying AGAIN. In October of 2020, he claimed the Hunter Biden laptop story was merely Russian disinformation," McCarthy wrote. "Now, even the NY Times admits it's real.
"I renew my calls for Schiff to step down from the Intelligence Committee."
Just before the 2020 presidential election, the New York Post and Senate committees were among the first to obtain and review emails on the laptop, revealing Hunter Biden and others in the Biden family were involved in various foreign business ventures, in countries such as China, Russia, and Ukraine. At the time, many media outlets discredited the revelations as "Russian disinformation" and the news was blocked by social media platforms.
The Washington Post and the New York Times waited until March to authenticate the emails and published their own reports relating to Hunter's laptop.