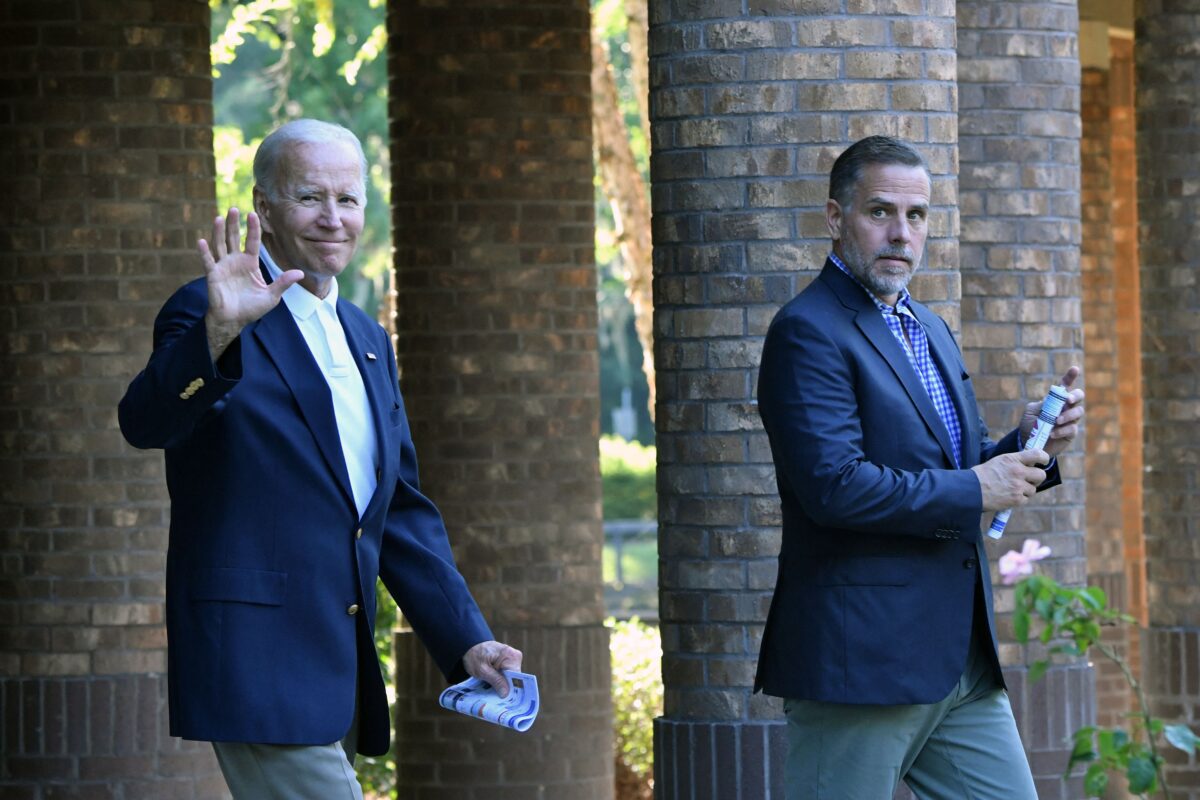 Subpoenaed bank records have opened "new avenues of investigation" into the Biden family's business dealings, according to the House Oversight and Accountability Committee.
News that the committee had subpoenaed Bank of America for the financial records of three of Hunter Biden's associates first broke on March 12, when the Oversight Committee's ranking member, Rep. Jamie Raskin (D-Md.), accused Committee Chairman James Comer (R-Ky.) via letter (pdf) of blocking the committee's receipt of financial records subpoenaed from former President Donald Trump's accounting firm, Mazars USA.
"The Committee simply cannot coordinate with former President Trump's attorneys to obstruct a lawful subpoena investigating his demonstrated corruption, then issue an invasive and overbroad subpoena based on an investigation of the business dealings of his political rival's son, who has never served in government," Raskin wrote.
Responding to Raskin's allegations on Monday, a House Oversight Committee spokesperson told The Epoch Times, "The accusation by Ranking Member Raskin is completely unfounded and untrue. There has been no coordination or discussion with anyone from the Committee's majority with anyone about the Mazars documents. Even Raskin's own letter, buried in footnote 5, admits there's no evidence for what he is accusing Chairman Comer of."
Holding that the point of Raskin's letter was to "try to get ahead" of information that the committee has been receiving on the Biden family, the spokesperson added, "Ranking Member Raskin may want to have his staff conduct another review of the records obtained by the committee, as there are several quite notable developments that have both solidified the committee's understanding of several areas of concern and opened new avenues of investigation about the Biden family's business schemes."
As to the nature of the new developments, the spokesperson did not elaborate.
Confusion Over Trump Records
According to Raskin's letter, Oversight Committee Democrats repeatedly sought and failed to receive confirmation from Mazars that Comer had released the firm from its obligation to produce subpoenaed records.
"According to counsel for Mazars, despite multiple requests, Mazars has not received such a release nor was any filed with the court, which has retained jurisdiction over the matter," Raskin wrote.
Instead, the letter notes that it was due to representations from Trump's attorney, Patrick Strawbridge, that Mazars decided to stop producing the documents.
However, Raskin referenced a communication from Strawbridge to Mazars in which the attorney wrote, "I do not know the status of Mazars production, but my understanding is that the Committee has no interest in forcing Mazars to complete it and is willing to release it from further obligations under the settlement agreement."
When asked for clarification, Strawbridge allegedly told Mazars that he had twice received confirmation to that effect from the acting general counsel of the House of Representatives.
Bank of America Subpoena
Accusing Comer of working to aid Trump's reelection bid, Raskin also charged that it was unfair for the committee to subpoena the bank records of private individuals.
According to the Democrat's letter, the subpoenaed documents covered a 14-year span, from Jan. 20, 2009, to the present, and included the financial records of three individuals, of which only John R. "Rob" Walker—a known business associate of Hunter Biden's—was identified.
"To justify this roving congressional inquisition into the affairs of at least one private American citizen, you have offered that, '[b]y 2017, Biden family members and their associates, including John R. Walker, formed a joint venture with CEFC China executives,' a reference to a now-bankrupt Chinese energy conglomerate," Raskin wrote. "Despite this limited justification, you compelled the production of and obtained thousands of pages of Mr. Walker's private financial information, including statements of his and his wife's joint checking account for a decade."
Raskin went on to suggest that Comer had been "conducting a dragnet of political opposition research on behalf of former President Trump."
Ongoing Investigation
In February, Comer formally requested that Hunter Biden, the President's brother James Biden, and their former business associate Eric Schwerin provide the oversight committee with all documents, communications, and records relating to President Joe Biden's involvement in their business schemes.
"Evidence obtained in our investigation reveals the Biden family business model is built on Joe Biden's political career and connections," the chairman said at the time. "Biden family members attempted to sell access around the world, including individuals who were connected to the Chinese Communist Party, to enrich themselves to the detriment of American interests. If President Biden is compromised by deals with foreign adversaries and they are impacting his decision making, this is a threat to national security."
On March 10, the panel was scheduled to hold a hearing pertaining to the Treasury Department's failure to provide the committee with the records of the Biden family's financial activities linked to foreign entities. But that hearing was postponed due to the requested witness' refusal to attend that day, the committee told the Washington Examiner.
"Biden's Treasury Department continues to make excuses for its failure to provide the suspicious activity reports that are critical to our investigation of the Biden family's business schemes," Comer said in a March 4 statement.
"We are concerned the Treasury Department is acting in bad faith to produce these documents to the Oversight Committee when we know that it has already produced them to another congressional office. At next week's hearing, a Treasury Department official can explain to Congress and the American people why the department is hiding critical information."
The Epoch Times has reached out to the Treasury Department for comment.
Original News Source Link

Running For Office? Conservative Campaign Consulting – Monthly Rates!