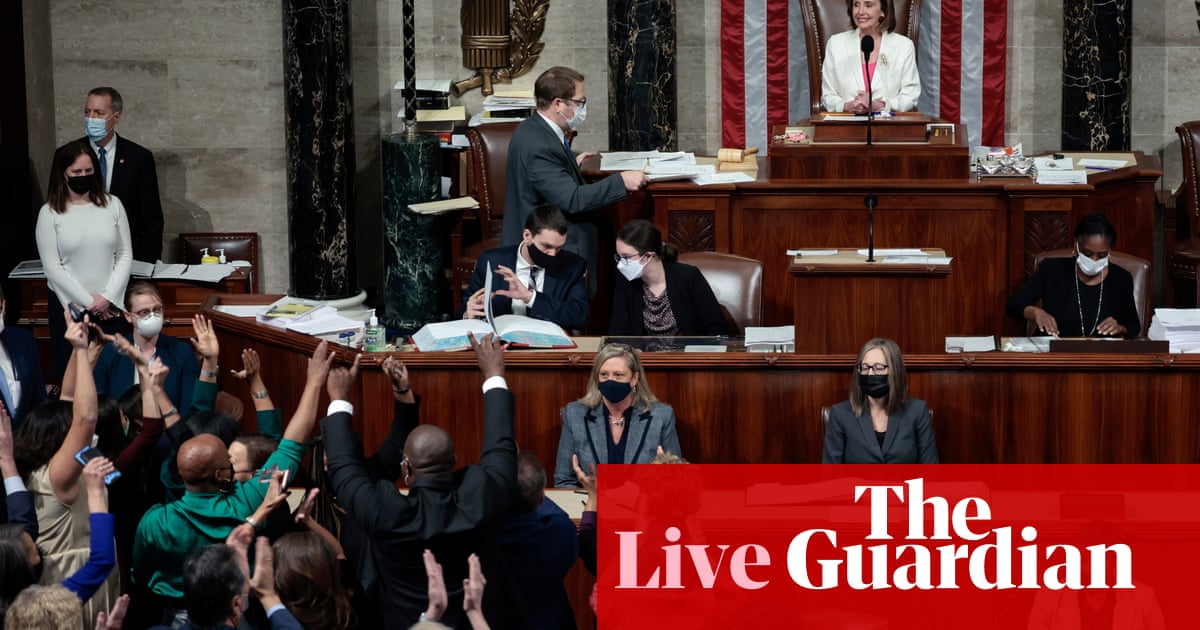 We are closing this blog and heading over to the Kyle Rittenhouse blog for live reactions and updates on the verdict out of Kenosha, Wisconsin. Please follow along here:
Joe Biden issued a full statement on the Rittenhouse case as other Democrats condemned the not guilty verdict.
Republicans celebrated the verdict, with one congressman offering Rittenhouse an internship and telling his followers to "be armed, be dangerous and be moral".
Biden pardoned turkeys Peanut Butter and Jelly in the annual Thanksgiving turkey pardoning ceremony.
The Build Back Better Act heads to the Senate after passing in the House of Representatives today. Read more about it here.
Joe Biden has released a longer statement on the Kyle Rittenhouse verdict:
"While the verdict in Kenosha will leave many Americans feeling angry and concerned, myself included, we must acknowledge that the jury has spoken. I ran on a promise to bring Americans together, because I believe that what unites us is far greater than what divides us. I know that we're not going to heal our country's wounds overnight, but I remain steadfast in my commitment to do everything in my power to ensure that every American is treated equally, with fairness and dignity, under the law.

I urge everyone to express their views peacefully, consistent with the rule of law. Violence and destruction of property have no place in our democracy. The White House and Federal authorities have been in contact with Governor Evers's office to prepare for any outcome in this case, and I have spoken with the Governor this afternoon and offered support and any assistance needed to ensure public safety."
After Joe Biden pardoned Peanut Butter the turkey in the annual Thanksgiving turkey pardoning ceremony, Peanut Butter let out a hearty gobble. Peanut Butter's partner, Jelly, was less willing to be touched, even by the president, but still received a pardon.
"Every American wants the same thing. They want to look their turkey in the eye and tell them it's going to be OK. Folks, it's going to be OK," Biden chuckled.
"In all seriousness, it's important to continue traditions like this – to remind us how from darkness, there's hope and light and progress. That's what this year's Thanksgiving, in my view, represents. So many of us will be gathering with our loved ones for the first time in a long time."
Meanwhile, Joe Biden is preparing to pardon two turkeys, Peanut Butter and Jelly, in the annual Thanksgiving turkey pardoning ceremony.
Joe Biden had little to say about the Kyle Rittenhouse verdict, saying only that "I stand by what the jury has to say. The jury system works".
When he was running for office in September 2020, he included a photo of Rittenhouse carrying his AR-15 in a video about white supremacists. He declined to comment on that to reporters earlier today.
Other Democrats were more vocal in condemning the not guilty verdict.

Republican congressman Madison Cawthorn, spotted last night putting in a dip of chewing tobacco and spitting into a coffee cup during House minority leader Kevin McCarthy's 8.5 hour-long speech, went on Instagram to celebrate the Kyle Rittenhouse verdict and offer Rittenhouse an internship.
"Kyle Rittenhouse is not guilty, my friends," he said in the video clip. "You have a right to defend yourselves: Be armed, be dangerous and be moral."
Cawthorn wasn't the only Republican to celebrate the not guilty verdict.
For more information and reaction on the Kyle Rittenhouse verdict, follow our liveblog here:
Joe Biden spoke to reporters about the Kyle Rittenhouse verdict:
It's been a landmark morning for US politics news. Here's where things stand.
In a trial with many socio-political repercussions, Kyle Rittenhouse was acquitted on all charges in Kenosha, Wisconsin, after he shot dead two people and wounded another during protests in the city after a white police officer shot a local Black man, Jacob Blake, in the back in August, 2020. Our coverage here, also a live blog following reactions to the verdict.
After months of partisan sniping and negotiations, the House of Representatives passed the Build Back Better Act, an ambitious piece of Joe Biden's domestic agenda, which the US president called a "giant step".
Kamala Harris became the acting President of the United States for a little over an hour today, the first time a woman has held presidential power in US history, as she was authorized to assume the role while Joe Biden had anaesthetic briefly during a routine medical check and colonoscopy.
The Food and Drug Administration (FDA) announced it was authorizing booster doses of the Pfizer/BioNTech Covid-19 vaccine for all US adults. The Centers for Disease Control and Prevention still has to approve the move.
The House gathered from 8am ET to pass the Build Back Better act after a record speech by Republican House minority leader Kevin McCarthy overnight delayed the expected vote on Thursday.
The verdict on the Kyle Rittenhouse case came down during the White House press briefing. White House press secretary Jen Psaki declined to comment until she spoke to the president.
Kyle Rittenhouse, the 18-year-old who drove to Kenosha, Wisconsin, and roamed the streets armed with an AR-15 military-style assault rifle, then killed two people and injured another during unrest in the city last August, was acquitted on all charges.
Check back here for more details: