The U.S. House of Representatives approved two bills in observance of National Police Week during its session May 17.
HR 2494 makes illegal immigrants who assault police automatically deportable, and HR 3091 allows retired federal law enforcement officers to purchase surplus federal weapons.
Democrats opposed the bills largely over Republican refusals to amend HR 3091 to require background checks for officers who wish to purchase firearms and their claims that HR 2494 would unfairly target those they said have valid asylum claims.
HR 3091 passed on a vote of 232 to 198, with 219 Republicans and 13 Democrats voting yes, and 198 Democrats and no Republicans voting against the measure. Three Republicans and two Democrats didn't vote.
Republicans raised Democratic ire by expanding HR 3091 to allow retired federal law enforcement officers to purchase more than just their service weapons at lower than fair market value.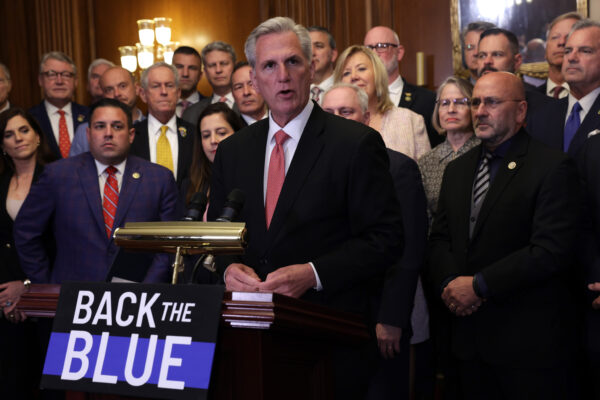 Rep. Jerry Nadler (D-N.Y.) called on Democrats to oppose the bills over what he called the Republicans' "poison pill" amendments.
HR 3091 initially allowed retired federal law enforcement officers in good standing with their agencies to purchase their service weapons at fair market value. During debate, Nadler said a similar bill had been introduced during the 117th Congress.
He said that bill required that officers undergo a background before making their purchase, "Thereby transferring it from it service weapon to a weapon in the hands of a responsible gun owner who is trained to use it."
Rep. Russell Fry (R-S.C.) countered that not only have the officers been trusted with the weapons in their work, but the plan would help the government recoup part of its intial investment in the weapons instead of costing it $8 million to destroy the guns.
By destroying the guns, "Taxpayers are paying for these weapons twice," Fry said.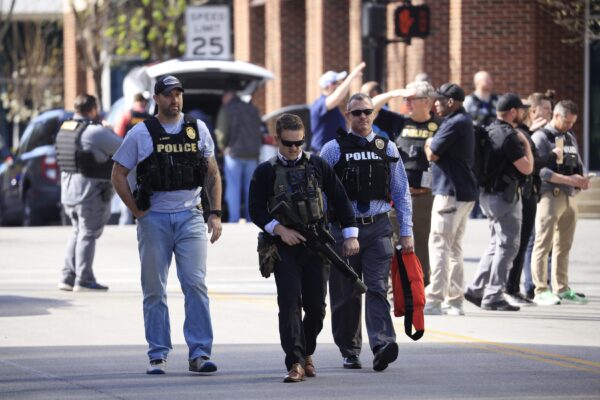 Republicans amended the bill to allow all retired federal law enforcement officers to purchase any federally-owned weapons that are declared surplus at salvage value rather than fair market value.
Those amendments were offered by Rep. Morgan Luttrell (R-Texas), Matthew Rosendale (R-Mont.), and Richard McCormick (R-Ga.), respectively.
The Republican majority defeated an amendment offered by Rep. Sara Jacobs (D-Calif.) to clearly define the term "good standing."
Nadler said he supported the previous version of the bill that called for a background check and would have used proceeds from the purchases to finance gun violence prevention programs.
"The majority will politicize Police Week to promote their radical gun agenda," Nadler said.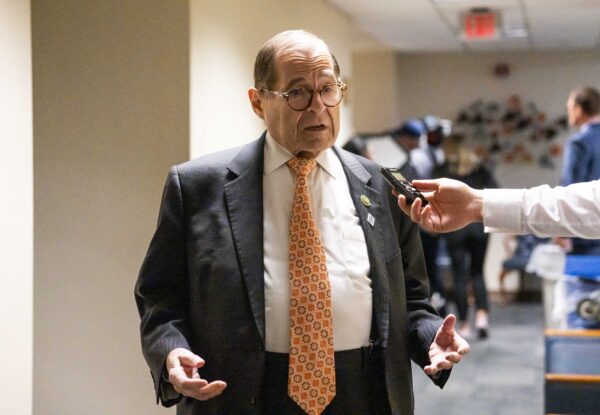 The House also approved HR 2494, which makes the assault of a law enforcement officer by an illegal immigrant an automatically deportable offense.
The bill passed on a vote of 255 to 75, with 219 Republicans and 36 Democrats voting yes. Zero Republicans and 175 Democrats voting against the measure. Three Republicans and 2 Democrats didn't vote.
According to the bill's backers, making assault of an officer a specifically deportable offense will reduce the kind of legal analysis that keeps cases tied up in court for months.
Rep. Lauren Boebert (R-Colo.) offered an amendment to require that the Department of Homeland Security to publish an annual report on its website showing the number of illegal immigrants deported under the law.
Speaking for Democrats, Nadler said he had no argument with Boebert's amendment but he still opposed the bill because it would put legal immigrants with valid asylum claims in danger of being deported.
House To Consider CR 40
The bills will now be sent to the U.S. Senate.
The house will take up a third bill, CR 40 on Thursday, May 18.
CR 40 expresses gratitude for local law enforcement and condemns efforts to defund or dismantle police departments. The legislation is a response to the "Defund the Police" movement in response to the police-involved death of George Floyd, which grew into the 2020 Black Lives Matter protests that saw some people engage in rioting, almost exactly three years ago on May 25, 2020.
Democrats have taken issue with the measure, saying the fact that it specifies local law enforcement agencies is a slap against federal law enforcement. When the bill was before the Rules Committee, Rep. James McGovern (D-Mass.) pointed out that a previous version included all law enforcement agencies. He has repeatedly asked why Republicans changed the bill's language.
Republicans have countered that Democrats have no credibility when it comes to supporting law enforcement as many Democrats called for defunding the police.
Original News Source Link

Running For Office? Conservative Campaign Consulting – Monthly Rates!