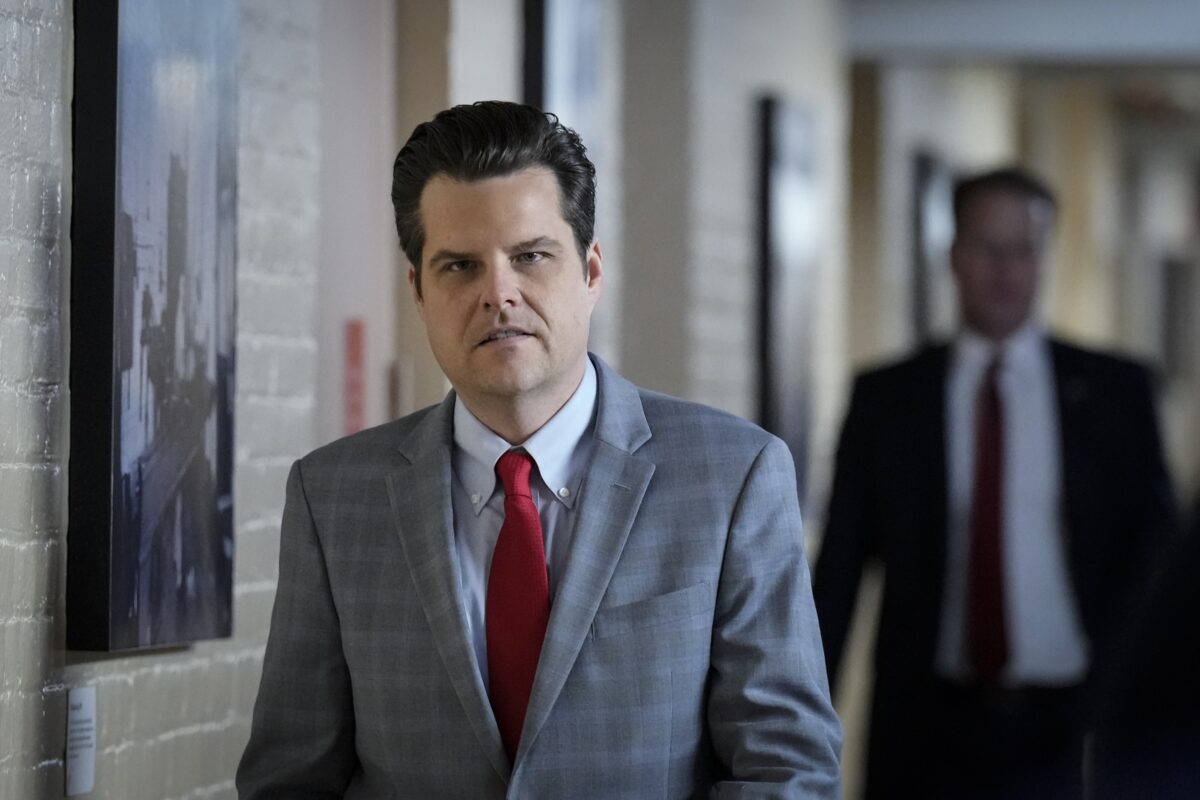 The House of Representatives voted down a resolution on March 8 to remove US troops from Syria.
The tally was 103-321.
Introduced by Rep. Matt Gaetz (R-Fla.), the resolution would require President Joe Biden to withdraw U.S. forces from Syria within 15 days of its enactment.
There are approximately 900 U.S. troops in Syria. U.S. troops have mainly been there to fight ISIS.
Rep. Michael McCaul (R-Texas), the chairman of the House Foreign Affairs Committee, expressed opposition to the resolution. Ahead of the vote, he warned that a U.S. troop withdrawal would be "a win for the ISIS terrorists."
Rep. Gregory Meeks (D-N.Y.), the committee's ranking member, also expressed objections to the resolution, saying that a withdrawal would be "a premature end" to the American mission in Syria and it would threaten U.S. allies and partners including the Kurds. He also lamented that a withdrawal would enable an ISIS resurgence.
In a speech ahead of the vote, Gaetz explained why his fellow lawmakers should vote in favor of the resolution.
"Since we have been there, we have seen Americans die. We have seen tens of billions of dollars wasted," he said.
"What is hilarious about the 2001 AUMF that the neoconservatives wave around like some permission slip for every neoconservative fantasy of turning an Arabian desert into a Jeffersonian democracy is that very 2001 AUMF would justify attacking the people that we're fighting against and the people we're funding because both have ties to Al Qaeda," continued Gaetz.
The 2001 AUMF, or Authorization for the Use of Military Force, allowed U.S. forces to combat those responsible for 9/11.
Gaetz sought to rebut those who said that withdrawing troops would allow for the reemergence of ISIS.
"I do not believe what stands between a caliphate and not-a-caliphate are the 900 Americans who have been sent to this hellscape with no definition of victory, no clear objective, and purely existing as a vestige to the regime-change foreign policy of multiple former presidents," he said.
"Congress has never authorized the use of military force in Syria. The United States is currently not in a war with or against Syria, so why are we conducting dangerous military operations there? President Biden must remove all U.S. Armed Forces from Syria. America First means actually putting the people of our country first — not the interests of the military-industrial complex," he said.
While president, Donald Trump withdrew U.S. troops from northeastern Syria in October 2019 in what was criticized as a betrayal to Kurdish allies. Following the withdrawal, Turkey invaded northeastern Syria to go after the Kurds.
Original News Source Link

Running For Office? Conservative Campaign Consulting – Monthly Rates!