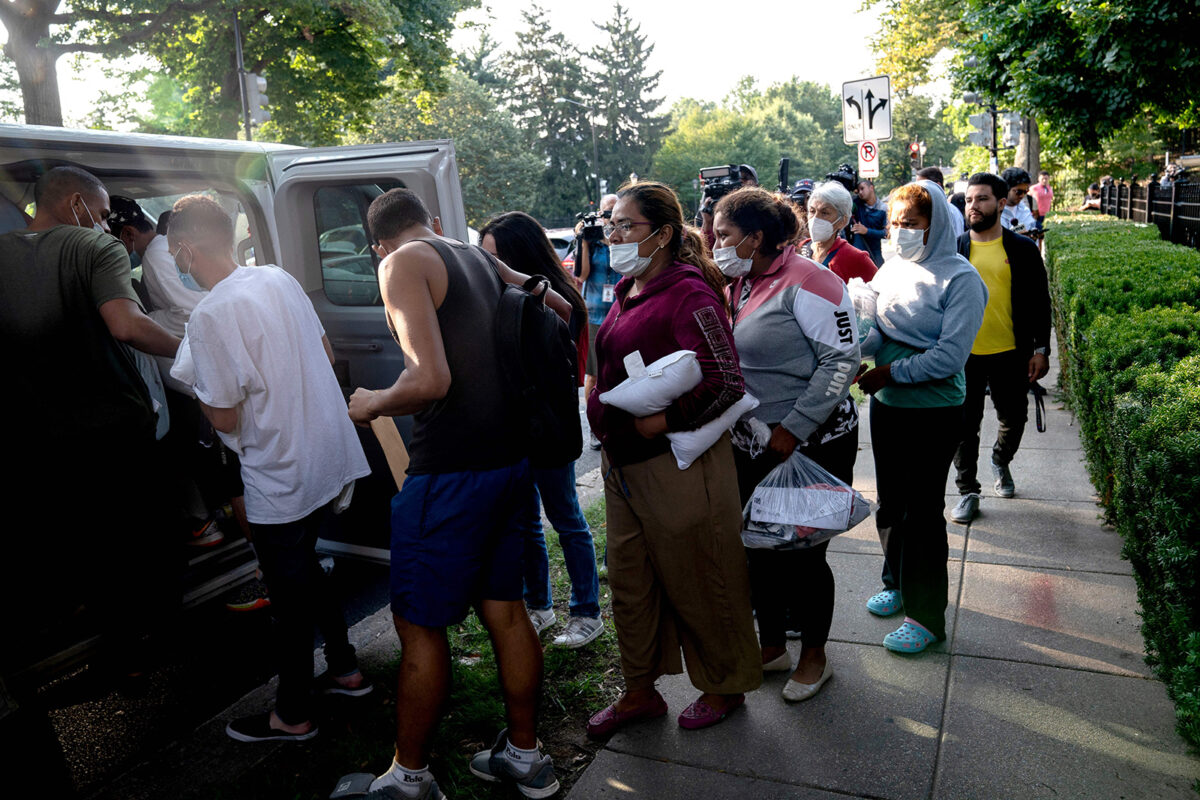 A busload of illegal immigrants was dropped off late on May 14 outside the U.S. Naval Observatory in Washington, where Vice President Kamala Harris' residence is located.
According to ABC7, the bus arrived at around 8:30 p.m. on Mother's Day carrying dozens of illegal immigrants from Del Rio, Texas.
The outlet shared videos on Twitter of the individuals being greeted by humanitarian workers as they disembarked the bus.
#BREAKING A bus bringing migrants from Texas just arrived at the Naval Observatory near Vice President Kamala Harris' residence. Busing has started back up since Title 42 expired, this time on Mother's Day. Texas Governor Greg Abbott also sent busloads of migrants Christmas Eve. pic.twitter.com/L88eBOpwYv

— Christian Flores (@CFloresNews) May 15, 2023
The bus is not the first to arrive near Harris's home.
In September, Gov. Greg Abbott sent two buses of illegal immigrants to the border czar's residence in protest of her management of the crisis at the U.S.–Mexico border.
"The Biden-Harris administration continues ignoring and denying the historic crisis at our southern border, which has endangered and overwhelmed Texas communities for almost two years," Abbott said in a Sept. 15 statement.
"Our supposed border czar, Vice President Kamala Harris, has yet to even visit the border to see firsthand the impact of the open border policies she has helped implement, even going so far as to claim the border is 'secure.' Texas will continue sending [illegal] migrants to sanctuary cities like Washington, D.C., until President [Joe] Biden and Border Czar Harris step up and do their jobs to secure the border."
True to his word, Abbott sent additional buses of illegal border crossers to Harris' residence in October and on Christmas Eve, capping off the year by bringing the total number of illegal immigrants bused from Texas to Washington in 2022 to more than 9,000.
And with the recent expiration of Title 42, it would appear Abbott has resumed the practice.
According to the ABC affiliate, additional buses of illegal immigrants arrived outside the Naval Observatory late on May 10 and at around 6:30 a.m. on May 11, just hours before the public health order—which has allowed for the speedy removal of millions of illegal immigrants since the start of the COVID-19 pandemic—was set to expire.
Texas Takes Action
Last week, in preparation for the policy's sunsetting, Abbott announced the deployment of the new Texas Tactical Border Force to help stem the flow of illegal immigrants into his state.
"With the ending of Title 42 on Thursday [May 11], President Biden is laying down the welcome mat to people across the entire world, but Texas is deploying our new Texas Tactical Border Force," Abbott said in a May 8 statement.
"The Texas National Guard is loading Blackhawk helicopters and C-130s and deploying specially trained soldiers for the Texas Tactical Border Force, who will be deployed to hotspots all along the border to help intercept and repel large groups of migrants trying to enter Texas illegally."
The end of Title 42, he said, would cause "chaos" at the border—a fact even the Biden administration has been forced to acknowledge.
"This is a challenge, and we are going to meet this challenge," Homeland Security Secretary Alejandro Mayorkas noted at a White House press briefing on May 11.
"We're going to meet it within a broken immigration system while adhering to our values."
While Mayorkas said his department was "clear eyed" about the difficulties they would face after Title 42 expired, he nonetheless asserted that the administration was prepared to meet the anticipated influx of illegal migrants at the border, noting that the transition to Title 8 processing would be "swift, immediate."
"We have surged 24,000 Border Patrol agents and officers, thousands of troops, contractors, and over 1,000 asylum officers and judges to see this through," he said.
Abbott, however, has been unimpressed by the Biden administration's efforts.
Referencing reports earlier this month that the administration was sending an additional 1,500 troops to the border to fill administrative roles, Abbott noted in a post on Twitter: "Biden sent 1,500 troops to the border to do paperwork. Texas deployed trained soldiers and troopers to take real action and respond to this crisis."
Additionally, in a statement emailed to The Epoch Times, Abbott's office noted that his "border bus mission," launched in April 2022, has helped to ease the burden on border towns that have been overwhelmed by illegal immigrants.
"Texas has since bused over 18,300 migrants to self-declared sanctuary cities Washington, D.C., New York, Chicago, and Philadelphia, providing much-needed relief," noted Andrew Mahaleris, a spokesperson for the governor's office.
Meanwhile, the Biden administration has been solidifying plans to release some illegal immigrants into the United States without court dates under a new policy that a federal judge has temporarily blocked.
"Now that President Biden has ended Title 42, one of the Biden administration's supposed solutions to the growing border crisis is to mass-release migrants into our border communities with no way to track them and hand them court dates scheduled for more than a decade from now," Mahaleris said.
"These 'safe' mass releases will only further burden and overwhelm small Texas border communities already at their breaking points thanks to President Biden's reckless open border policies.
"Until President Biden steps up and does his job to secure the border, Texas will continue busing migrants to sanctuary cities to provide relief to our overwhelmed border towns."
The Epoch Times has contacted Harris's office for comment.
Original News Source Link

Running For Office? Conservative Campaign Consulting – Monthly Rates!