CHICAGO—On a rainy Friday in South Shore, presidential hopeful Vivek Ramaswamy listened as a group of mostly black Chicagoans voiced concerns about incoming illegal immigrants, reparations for slavery, and more.
He showed up after locals objected to the planned placement of those illegal immigrants at a shuttered high school nearby.
Footage of a protest against that effort circulated widely on social media.
"I saw people here saying the same things that I'm saying," Ramasamy told residents who had gathered at an event venue on 71st Street, Studio 2226.
Readers can see a Twitter thread of the stop here.
Kathy Barnette, Ramaswamy's grassroots director, walked around the room and held the microphone for questioners.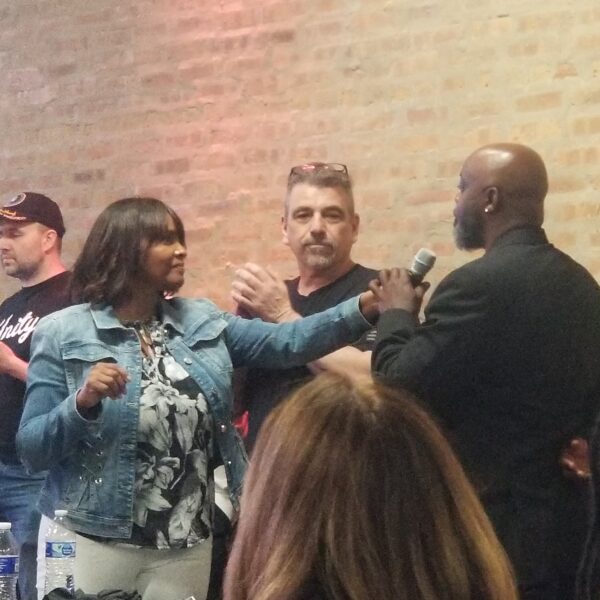 Ramaswamy also unveiled a new slogan at the event, one that may bring to mind former President Donald Trump's social media app: "Truth."
Before the two-hour listening session began, pastors Felix Beard and Louis Reeves spoke with The Epoch Times about why they came to hear Ramaswamy's message.
Beard said he was seeking "information" that might benefit his congregation.
Reeves said he was worried about a possible flood of people who entered the country unlawfully along with other, more local issues.
"Everything illegal is an issue," he said.
"Our community is bound by crime and all kinds of issues that nobody seems to care [about]," he said.
Education is also among the perennial concerns on Chicago's South Side, where charter school advocates and the Chicago Teachers Union have long sparred over the future of children's education.
Latasha Fields, founder of the Christian Home Educators Support System, offered a different paradigm.
Homeschooling is "booming" both nationally and in black Chicago, Fields told The Epoch Times before Ramaswamy spoke.
"Parents are really waking up that this is a viable alternative," she added.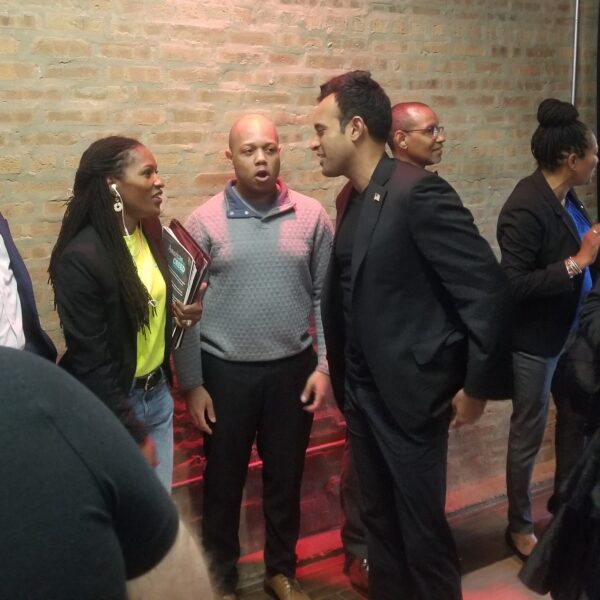 Fields said the COVID-19 response and remote learning "really opened [parents'] eyes up to what was happening in the public education system, especially the sexual indoctrination of our children."
Some have questioned South Shore residents' complaints about incoming illegal immigrants, given their overwhelming support for the Democratic Party—at the upper echelons, an organization now almost uniformly in favor of mass immigration.
Mark Weyermuller, a North Sider, told The Epoch Times that Chicago isn't necessarily doomed to one-party rule.
"We just elected Brandon Johnson mayor. But there's hope. A lot of people want Chicago to do better, with less taxes, less crime, [and] less chaos," he said.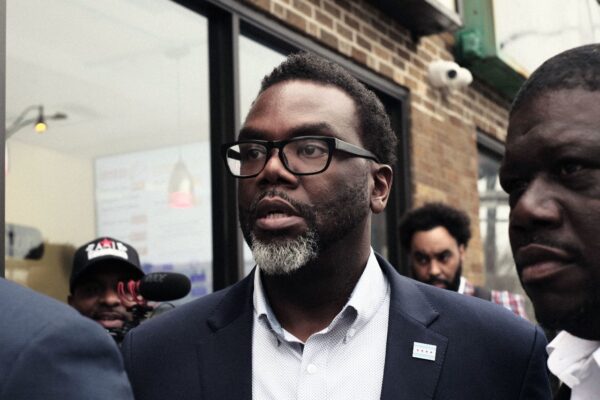 Reparations on Residents' Minds
South Shore residents and other attendees peppered Ramaswamy with questions throughout the lengthy listening session.
While the illegal immigrant crisis did come up, many dwelled on another theme: reparations for slavery.
"Are you a descendant of American slavery?" asked one questioner. She described herself as an Israelite.
Ramaswamy said he was not.
"Don't let people tell you to dismiss the argument about reparation," said another questioner. He characterized California as "serious" about reparations.
The questioner pointed out that financial restitution of this sort had an obvious precedent.
Germany has given upward of $80 billion to survivors of the Holocaust and their heirs. The process began during the early 1950s, when West Germany paid the newborn State of Israel billions in Deutschmarks.
Russia has also compensated victims of crimes under the Soviet regime.
"When they gave the Jewish people like we do now reparations, and when they gave the people who were in camps reparations, nobody said, 'Are you gonna buy salami sandwiches or cheeseburgers?' It doesn't matter what those people bought with their money, and it doesn't matter if we do get the opportunity," he said.
He argued that support for reparations could help Ramaswamy win the presidency.
When asked what he would do about the border, Ramaswamy said he'd send in the military to shut it down.
"It just makes all the sense in the world," he said.
Reeves asked Ramaswamy about immigration and American materiel going to Ukraine.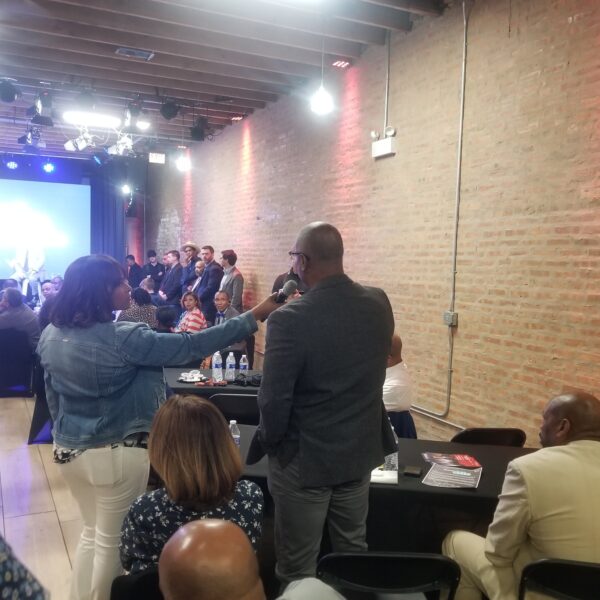 "We need to deal with things lawfully," he said.
After the listening session ended, Reeves told The Epoch Times that "a lot of these conversations" of this sort would be needed.
Beard said he was a little disappointed by Ramaswamy.
"I heard a lot of good information, but I still didn't hear what [is] the plan," he said.
In the Barber Chair
After leaving Studio 2226, Ramaswamy, Barnette, and a scrum of journalists crossed the local commuter train tracks to a barbershop.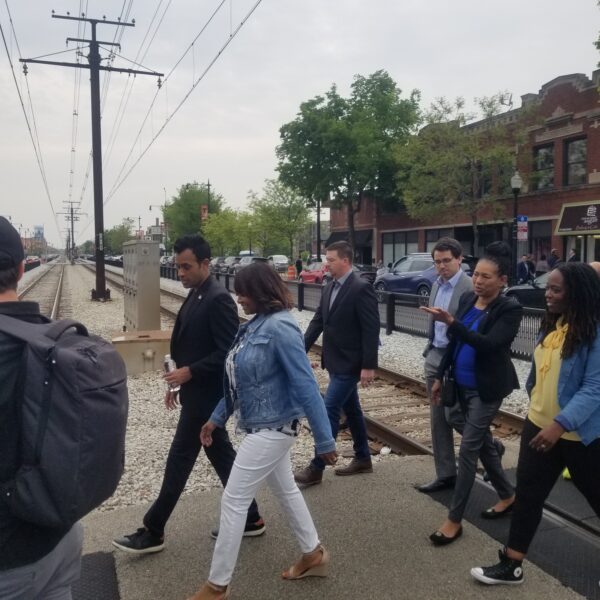 As a barber worked on his hair, Ramaswamy took more questions from locals, including Will Calloway.
"I love my nation," Calloway told Ramaswamy before adding that, "at the end of the day, I'm a black American."
He asked what the candidate would do "for black people in the city of Chicago?"
As with similar questions, Ramaswamy spoke about directing public educational money straight to families.
Calloway told The Epoch Times he found the presidential hopeful's answer unsatisfying.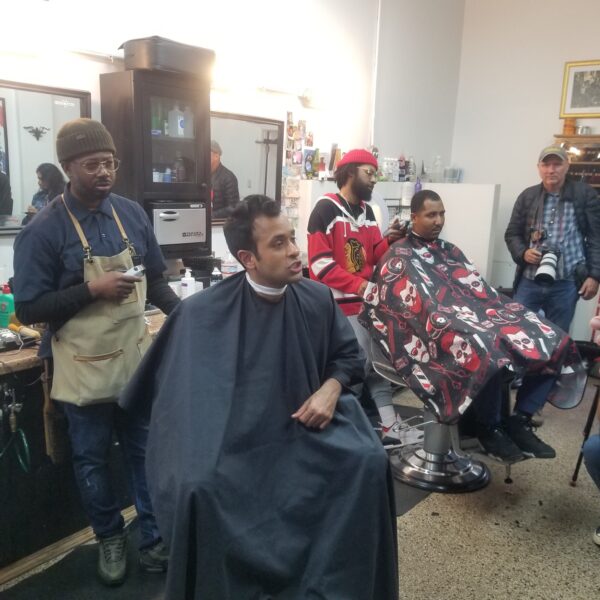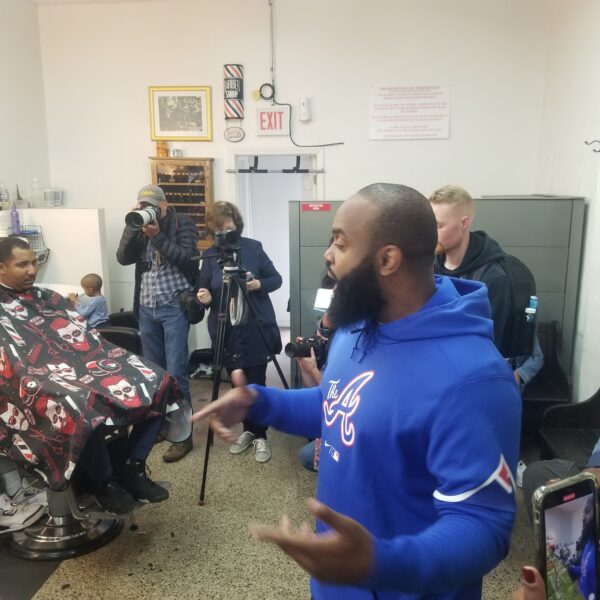 Some attendees shared a similar perspective.
Jeremiah Hinton told The Epoch Times that Ramaswamy should "do stuff for us right now."
Hinton was one of a group of young men who Ramaswamy's co-panelist, Tyrone Muhammad, brought into the room during the listening session.
Muhammad and Hinton are both with Ex-Cons for Community and Social Change, a group that describes itself as dedicated to "violence prevention, social services, life skills, and youth mentorship." As its name suggests, it's intended to smooth reentry into regular life for criminals who have done their time.
Hinton doesn't think Republicans are a lost cause in South Shore.
"We'll vote in support of anybody that supports us," he said.
Yahyness Fields, another group member, thinks the problems he and others like him face are too easily ignored: "We [are] always excluded from the conversation."
"When we hear them talking about funding the police, and it's literally houses falling down that we live next door to—when our community [is] falling apart, drug addicts on the corner, overdosing—y'all funding the police, but they're not protecting and serving how [they're] supposed to be doing," he said.
"We gotta protect and serve each other, and we go to jail for that because we [are] doing that the wrong way," he added.
Others struck a cautiously optimistic note.
"I want to see his integrity," McLean Lomax told The Epoch Times after the event at Studio 2226.
"It sounds very laudable. I'm excited if this is actually 'Truth,' as he's called it," he added.
Original News Source Link

Running For Office? Conservative Campaign Consulting – Monthly Rates!