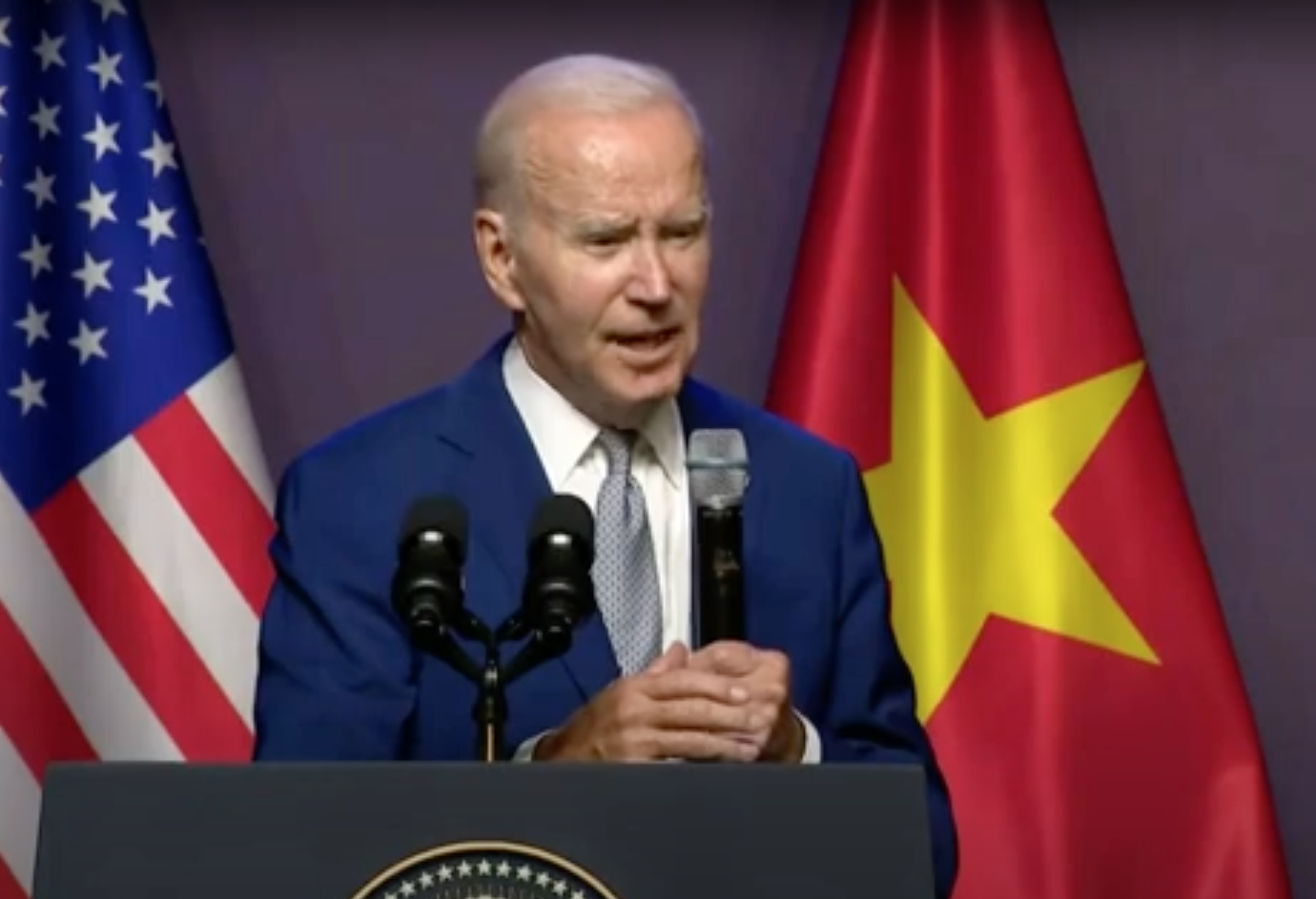 'I don't know about you, but I'm going to go to bed'
White House press secretary Karine Jean-Pierre abruptly shut down a press conference in Vietnam on Sunday as President Joe Biden, 80, was in the middle of a rambling answer about his recent meeting with a Chinese communist.
"I don't know about you, but I'm going to go to bed," he told reporters shortly before his microphone was cut off and slow jazz music started to play.
"Thank you everybody. This ends the press conference," Jean-Pierre interjected as Biden mumbled semi-coherently in response to a question about his conversation with former Chinese Communist Party boss Li Keqiang at last week's G20 Summit in India.
Fox News and CNN both reported on the press conference, drawing angry reactions from members of Biden's staff.
"The President substantively answered questions from 7 reporters," one White House official told Fox. "This is a distraction, and it would do your readers a good service to dive into his answers on China, relations with Indo-Pacific countries, human rights and climate change instead."
In response to a CNN report headlined, "White House press secretary ends news conference as Biden is still responding to questions from reporters," several Biden aides lashed out on social media.
"Here on Earth, we saw the President start his day in India at the G20, end the day in Hanoi with a substantive & detailed 40-minute press conference at 9pm, and continue to answer questions—including from @cnn—as he departed," White House deputy press secretary Olivia Dalton posted on X. "What will be enough?"
Communications director Ben LaBolt slammed the CNN story as "utter BS" written by a "desk jockey" who "was not present at the press conference or the trip, didn't include answers to any of the 7 questions the President gave on topics such as the G20, China, climate, or our Indo Pacific strategy or what was achieved in India or Vietnam."
Biden also made several gaffes typical of a man his age while the press conference was in progress.
He complained that there were "a lot of lying, dog-faced pony soldiers out there" with regard to climate change, and described the 1987 Robin Williams film Good Morning, Vietnam as a "famous song."
Biden's age has especially been an issue as he seeks reelection to the presidency in 2024. Members of the president's staff and his Democratic supporters have sought to downplay such concerns. Jean-Pierre recently suggested, rather unconvincingly, that "it is hard for us to keep up with this president."
WATCH: Dems Say They Can Hardly Keep Up With Biden. Have They Seen Him?
Original News Source – Washington Free Beacon

Running For Office? Conservative Campaign Management – Election Day Strategies!